Samsung Galaxy A22 - Good and cheap
Its weight of 186 grams seems quite acceptable to us considering its large 5,000 mAh battery. Dimensions 159.3 x 73.6 x 8.4 mm.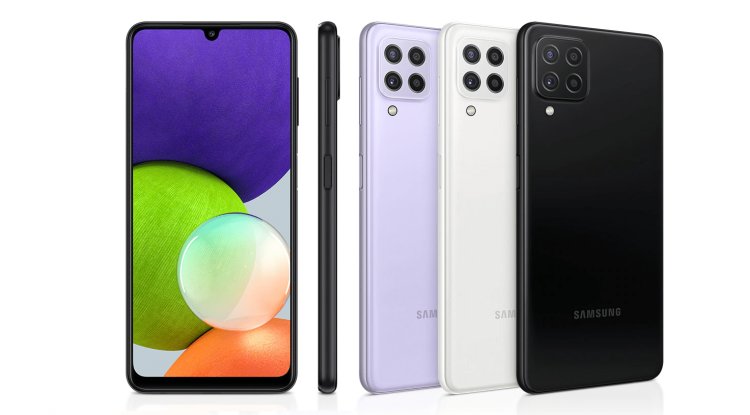 Photo Credits: Samsung/Promo
Design
Simple and minimalist with clean and straight lines is the closest to being able to describe the design of the Samsung Galaxy A22 4G smartphone. Its design can be more or less beautiful for someone, so we didn't bother with it too much, but we focused on the quality of workmanship, ergonomics and the feeling it leaves in the hand. Samsung Galaxy A22 4G does not hide that it is a mid-range device, which is most visible on the back panel, which is made of shiny plastic, which means that it is a real magnet for greasy fingerprints - at least with our black model. In addition to black, this device is sold in white, green and purple.
The metal frame, which is also a guarantee of the strength and durability of this device, greatly contributes to a good impression in the hand. As this is a smartphone with a screen diagonal measuring 6.4 inches and around which there are very thin frames, we can say that it comes with fairly compact dimensions, and due to the curved edges, handling one hand is no problem.
The front of the Samsung Galaxy A22 4G smartphone is dominated by the so-called Infinity-U screen with a modest HD + resolution. The selfie camera is located in a teardrop-shaped cutout, which is no longer the most modern solution this year, and the already mentioned edges of the screen are quite thin, except the bottom. Above the screen was an almost invisible speaker that the untrained eye would look for for a long time. Unfortunately, this device does not have a notification light, but this smartphone comes with an AMOLED screen so you can count on the AOD (Always-On-Display) feature.
At the top of this device, there is only an opening for an additional microphone, while at the bottom there is the main speaker, USB Type-C port, microphone and 3.5 mm audio output. The SIM / MicroSD tray is located on the left edge, and all physical keys are located on the right edge of the frame. The power button also serves as a fingerprint sensor that has proven to be very accurate and quite fast.
The company does not provide any information on whether the front panel is covered with Corning Gorilla Glass or some other type of protection against damage. Let's mention the dimensions of the Samsung Galaxy A22 4G smartphone, which are 159.3 x 73.6 x 8.4 mm. Its weight of 186 grams seems quite acceptable to us considering its large 5,000 mAh battery.
Screen
When it comes to screens on smartphones at Samsung, we usually get the best that is offered on the market and they are often their strongest feature, but when it comes to cheaper models, the situation is often significantly different. The Samsung Galaxy A22 4G smartphone is a Super AMOLED Infinity-U screen that has quite solid characteristics for its price range.
It is a screen that boasts excellent color rendering, contrast and brightness, but one of the main features of this screen is a refresh rate of 90Hz thanks to which it will be super smooth and fluid whatever you do on it. The screen refresh rate can be set to standard 60Hz or 90Hz. Setting the screen refresh rate to 60Hz increases the battery's autonomy, while 90Hz gives more realistic animations and better, faster, more fluid screen movement, which is especially true when scrolling. There's also an Always-On Display that always shows basic information when the device is locked. Always-On Display can be further personalized in the settings according to the user's wishes.
The company states that this screen has a brightness of 600 nits, so the content on the screen can be easily seen even in the open. There is also a popular dark mode that uses a dark color palette for system and application backgrounds, and the main task is to reduce eye strain when using the device in darker areas with less natural light. In the screen settings, it is possible to adjust the colors to vivid or natural, and the user can additionally adjust the white balance.
The diagonal of this screen is 6.4 inches with 720 x 1,600 pixels (HD +) resolution, which means that it has a sharpness of 274 ppi. This is quite sufficient resolution for this diagonal of the screen and it is almost impossible to notice the difference between HD or FHD resolution. Overall, this screen offers great color rendering, contrast and viewing angles, and warm and vibrant colors.
Hardware
Galaxy A22 4G is based on a very capable configuration that should ensure pretty good performance, which we saw for ourselves in the first few hours of using this smartphone. Samsung Galaxy A22 4G comes with a MediaTek Helio G80 processor.
The choice of processor confirms that the target audience of the Galaxy A22 4G model is a population that likes to play games, but is not ready to set aside a larger amount for a smartphone. This conclusion is further confirmed by the high-capacity battery, which will add another plus to the game fans on the side of this smartphone.
The Helio G80 processor consists of two large Cortex-A76 cores running at 2.0 GHz and six small Cortex-A55 cores clocked at 1.8 GHz combined with a large L3 cache with Arm Mali-G52 MC2 graphics running at 950MHz. Combined with this processor comes HyperEngine technology designed to provide faster and smoother playing of demanding games. In terms of memory, the Galaxy A22 4G we tested offers 4 GB of LPDDR4X RAM and 128 GB of internal storage, which is further expandable with a MicroSD card.
What we can conclude after using this smartphone is that the mentioned hardware configuration works very well, but not well enough to be able to say how the Galaxy A22 4G excelled in the field of games. Namely, here and there there were small pauses in playing graphically demanding games, but there is more than enough strength to do other everyday tasks.
Cameras
Four cameras on the back are a standard in mid-range smartphones, and the Samsung Galaxy A22 4G is no exception, but it is an exception in one feature that has never been seen before in mid-range smartphones. It is an optical image stabilization that is usually reserved only for flagship models of smartphones, so it is almost unbelievable to see this feature on a convenient device. We hope that in the future this will become a trend that other manufacturers will follow.
On the back of the Samsung Galaxy A22 4G smartphone, in addition to the primary 48 MP camera with optical image stabilization and f / 1.8 aperture, there are also 2 MP (f / 2.4) macro cameras, 8 MP (f / 2.2) wide-angle camera and 2 MP (f / 2.4) depth camera.
Samsung states that capturing details even in low light will not be a problem thanks to optical image stabilization, but do not expect miracles because this is not a high-end camera sensor that would get the most out of every situation. See some examples of night photos below.
These cameras also bring a lot of features related to the AI ​​segment (AI scene recognition). In addition to the rear camera module, there is also an LED flash. You can zoom with two-finger gestures per screen (pinching), at which point additional 10x zoom levels appear.
In terms of video recording, the rear camera supports recording in HD and FHD resolution at 30 fps, and their stability is greatly aided by optical image stabilization. As for slow motion recording, it is available in HD resolution at 120 fps.
Samsung with the Galaxy A22 4G model has not neglected the selfie population that will be satisfied with the capabilities of the front camera. The front selfie camera is equipped with a 13 MP sensor with f / 2.2 aperture. In addition to taking photos and videos, this camera also serves as a Face Unlock feature that unlocks the Samsung Galaxy A22 4G by recognizing the user's face in good lighting conditions.
Audio and video
The speaker hole on the Samsung Galaxy A22 4G is the same as on most smartphones on the bottom next to the USB Type-C port. In addition to the USB Type-C port, the Samsung Galaxy A22 4G also brings a 3.5mm audio output. We can say that users will be satisfied with the volume of the reproduced sound and its clarity, which is approximately in line with the price range of this device. The same goes for playing games, as well as watching videos that are enjoyable thanks to the large enough and pretty good 6.4-inch screen.
Connectivity
Support for 5G networks in the smartphone industry is slowly becoming standard even for mid-range devices, so Samsung decided to offer customers a variant of the Galaxy A22 smartphone with 5G support, but our test model relies on a good old 4G network.
The Samsung Galaxy A22 4G smartphone can hold two Nano-SIM cards and one MicroSD card in the hybrid SIM tray at the same time to expand the device's internal memory. In the area of ​​Zagreb and its surroundings, the reception of 4G signals was excellent, and the same can be said for the volume and sound quality during the conversation.
Those who like to control TVs, air conditioners and other household appliances with a smartphone will probably not be thrilled by the fact that the Samsung Galaxy A22 4G does not come with an infrared port. In terms of positioning, the Samsung Galaxy A22 4G has support for A-GPS, GLONASS, GALILEO and BDS. WiFi signal reception was quite solid, and the Galaxy A22 4G also offers NFC support.
Battery
One of the key points of this smartphone, and in our opinion one of its best sides, is the 5,000 mAh battery with support for 15W fast charging. The company states that this large battery will provide the user with up to 24 hours of Internet use (LTE), up to 29 hours of video viewing, up to 38 hours of talk time on the 4G LTE network and up to 97 hours of music playback. The device comes with a 15W charger, and charging of course takes place via USB Type-C port.
Throughout the day using the Galaxy A22 4G smartphone which includes our standard actions such as email synchronization, social networking, surfing, taking photos, AOD included and playing games, at the end of the day there would be about 50 to 60% battery left which will be for most users and more than satisfactory data. In any case, even if you overdo it by playing demanding games, the battery of this smartphone will last until the end of the day. We can conclude that this high-capacity battery will last most users for approximately two days. Although this device provides very good autonomy, the charging speed is not something that thrilled us, because it takes up to 50% of the battery charge for more than an hour.