Amazfit Zepp E Review: Elegant and practical
The body of the watch is silver and black. It is waterproof up to 5ATM, which is very important since there is a way to monitor swimming.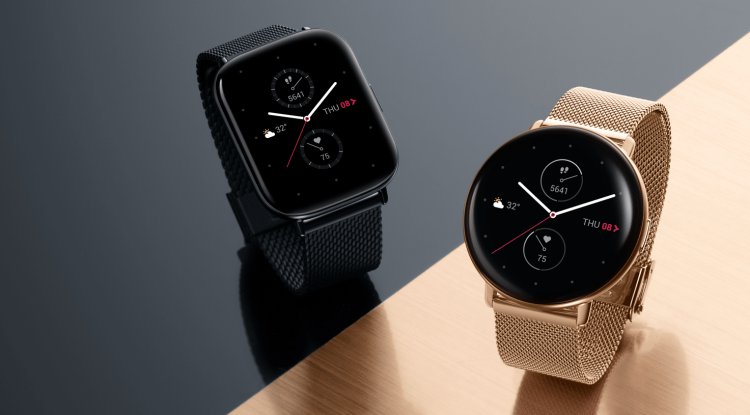 Photo Credits: Amazfit/Promo
Elite smartwatch
Amazfit was a very popular manufacturer of affordable and durable smartwatches, smart bracelets and fitness trackers, and this rebranding was made by the company to get closer to the mid-and high-end market. Although Amazfit has become Zepp, let's add that the company still manufactures smart devices under the Amazfit brand. These moves by the company aren't exactly the clearest, but it looks like the Zepp brand will be reserved for more expensive watch models.
And that's exactly what the Zepp E is. It's a very good and beautiful smartwatch that is in the middle price range for people who don't want the cheapest wearable device, but at the same time don't want to spend a small fortune for a top colorful life companion on the wrist.
The Zepp E smartwatch, will attract attention at first sight. It really looks really nice, and that gives it a subtle two-tone design. The watch has a modest round case and provides a very minimalist impression, which is why it will always fit perfectly with your clothes. It is very light - it weighs only 32 grams. Moreover, it is so light that you will forget to wear it, and this is very important when you use it for exercise or wear it during sleep.
Zepp E is "as created" for exercise as it provides detailed feedback on activities, which helps the user gain insight into their fitness. Also, the smartwatch records the route of your movement and makes a map of your training, which is very interesting during subsequent analyzes.
The watch has several other health features. Zepp E has a very good sleep tracking system and is detailed enough to point out the difference and different types of sleep. In addition, it provides feedback on how you can improve your sleep. There is also an automatic chart of heart rate and built-in monitoring of personal activities, the so-called. AND SO. This is a very interesting possibility, and its use requires a little more time and research to fully understand. But once you master that, that information can be very helpful.
Design and display
The Zepp E circular smartwatch has a 1.28-inch screen and runs at a resolution of 416 × 416 pixels. The watch is equipped with an AMOLED screen that gives a very clear and bright image. Of course, the look of the dial itself can be changed, and there are really many options on offer.
The Zepp E consists of circular housing and a replaceable belt. An additional strap comes with the watch, and we must mention that you can buy the version with a leather or fluoroelastomer strap (artificial rubber strap). The leather belt is good and durable, but we must note that it is not the best solution to use during exercise. In addition, although the leather belt is very comfortable, wrinkles began to form very quickly. If you are going to use this watch for exercise, the solution is a fluorocarbon elastomer belt.
Fluoroelastomer is a slightly sticky material and adheres well to the skin, and it is also breathable, so it is very good for exercise. But it doesn't look as elegant as leather. Therefore, you will need to think carefully about which version to buy. Maybe it would be better, as we are already used to, to get both versions of the belt in the box, so that the watch could be used more easily for going out into the city, but also for running in the rain. But, since the belt is a standard width of 20 millimeters, you can buy a replacement anywhere.
The case of the Zepp E smartwatch is made of stainless steel and as we have already mentioned, it looks quite minimalist. There are no physical frames on the front, and the screen bends slightly at the edges of the body. On the right side of the watch, there is also a button that does not protrude too much on the side. There's a small problem here because Zepp thought more about design than ergonomics, so it's a little hard to press. By default, there is a heart rate monitor and charging magnets on the back of the watch.
Zepp E without a belt weighs only 32 grams. It is very light, so we often forgot that it was on hand. The watch is 9.1 millimeters thick so it practically merges with the wrist. The body of the watch is silver and black. It is waterproof up to 5ATM, which is very important since there is a way to monitor swimming. But you will have a small problem if you buy the version with a leather belt because the leather should not get wet…
Performance and software
Zepp E is working on Zepp, or former Amazfit software. This application is already well known, so it is known that it does not have a wide range of features that we are already used to. Also, let's add that the software does not support third-party applications. Simply put, the Zepp E smartphone app provides a longer list of setup settings and allows you to see more archived data than you can on the watch itself. Also, the application is used to set the clock, but also for its first launch.
You can choose from a large number of dials, most of which can be accessed from the Zepp app on your phone. As is already common, once you select the dial, you will need to transfer it to the watch itself via Bluetooth, while on the watch you can easily switch to other layouts. You can also put your own photos on the screen.
In short, the smartwatch interface is very clear and bright, moving between functions is smooth and easy to navigate, whether it's going through menus or browsing various health charts. There's also surveillance over notifications, and here we must add that you can't reply to messages for over an hour. Also, if you receive more notifications from the same application, they will be easily collected and only their number will be displayed, but not the messages themselves, which you will have to view on your phone. There are also controls for music, but they are very rudimentary and you will need some time to get used to them.
The Zepp E smartwatch also has a weather app, and it gives the user a wealth of information for the day and week ahead. He even talks about how high the sun is in the sky. There is also a compass, timer, alarms and several other handy tools that primarily monitor your health and fitness.
Health and fitness are obviously the most important part of the Zeppa E. From the main interface of the smartwatch, you swipe your finger to the side and access your fitness circles, which is a possibility very similar to Apple watches. There is also a heart rate counter and the aforementioned PAI - Personal Activity Intelligence. You can access other functions by pressing the physical button and accessing the application menu. Let's add that you can access sports functions with a little longer pressure.
Sleep monitoring is quite useful. After a sleepless night, you will receive a sleep assessment and analysis of different types of sleep. The clock will tell you how long you slept deeply or lightly, how long the REM phase of sleep lasted. And there are assessments of the quality of breathing in sleep, comparisons of the night compared to previous nights, and you will get some advice on how to improve sleep. But instead of "blissful peace", sleeping with the Zeppa E is a bit awkward because this smartwatch doesn't have night mode capability. So if you set the clock to light up when you raise your hand, every time you move the clock it will light up and wake you up. Of course, this can also be bypassed. Before going to bed, turn off the screen in auto mode, turn down the brightness all the way, turn on "cinema" mode, and turn on "do not disturb" mode. If these steps are not a problem for you, you will not have problems with night work.
Fitness
Zepp E has eleven sports modes, including "Free Training". This additional option serves as an additional sports activity, and you use it when you do sports that are not listed in the class. Sports modes are more or less expected. There is standard walking and running outdoors or indoors, and there is also skiing, swimming, climbing, cycling…
The watch itself records several different useful metrics, depending on the workout. It measures time, pace, calories burned, average heart rate, rhythm, steps and more. There are also charts for most of the above sports features, and they are available through the app. Let's add that none of this information will delight you, especially if you are used to dedicated running watches. But if you're only used to "standard" smartwatches, the results will be quite impressive.
The watch even shows you a map of where you have been. This feature will not be of much use to you during training, but after training, you will be able to see where you are navigating using Google Maps. Namely, Zepp E uses GPS on a smartphone, and if you want to use this function, the watch will have to be connected to the phone. Let us add that the data collected during the training are quite accurate and in principle, they can be trusted.
In addition to the usual fitness features, this watch also brings the already mentioned automatic PAI tracking. Basically, everything you do during the day Zepp E comes down to a unique metric, in order to know how active you were during the day. Let's add that this smartwatch has a built-in heart rate monitor that works very well, and there's also monitoring blood oxygen levels. All of this information is easily accessible, and the display design is irresistibly reminiscent of the style common to the Apple Watch.
Battery
It is officially stated that the usual battery life is seven days. But it mostly depends on how you use this device. During normal use of the watch, the battery life was within specifications. But if you use all the features available, the average daily drop-in battery charge is about 20%. But when the watch recorded long-term exercise, it also consumed significantly more energy.
The highest consumption was recorded by the operation of the screen. When the watch is set to the brightest screen and set to work in "always-on" mode, the battery lasted only three days. If you bought this watch just for the basic functions, Zepp E has the ability to convert from a "smart" to an "ordinary" watch. This way of using the batteries will last as long as 15 days. The watch itself is charged via the charging cable, and it comes with the device. It attaches to the watch magnetically and takes about 90 minutes to fully charge.