Nothing Ear 1 Review: SOUND OF SILENCE
Battery life of this headphones themselves offer about 4 hours of continuous listening, about 24 hours with active noise reduction or 34 hours without it...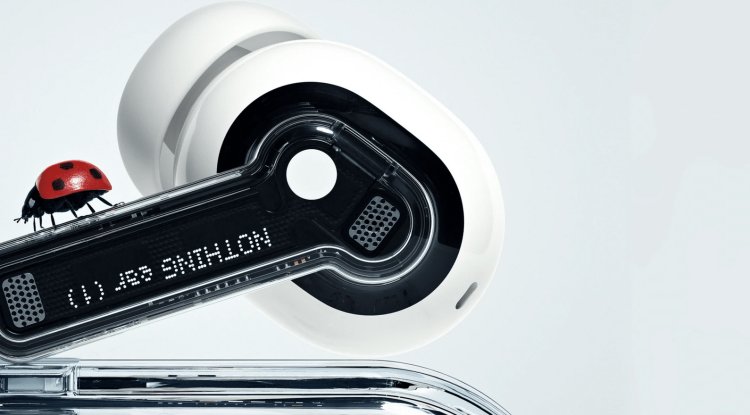 Photo Credits: NothingEar1/Promo
The company, which has only existed a year, managed to raise more dust in a short period with its Nothing Ear 1 model of wireless bugs. Is this popularity justified by the real quality and what all these headphones offer?
Design and features
These are, of course, Nothing Ear 1, a headset that has attracted a lot of attention on a global scale thanks to its smart campaign.
If you're wondering how that comes in a year from scratch to something everyone's heard about, here's how. Behind it, is the founder of OnePlus, Carl Pei, who founded his own after leaving the company. This Swede of Chinese origin obviously knows the business very well, so it is interesting that he recognized the potential for the first product in this category.
Nothing Ear 1 has been advertised from the start as True Wireless bugs for $99 that provide practically everything that some much more expensive models offer, so let's see if they meet expectations.
In the sea of ​​products of this type, it is very difficult to stand out in any way, but certainly easier by design than sound, which, of course, they were aware of in this company. For that purpose, the popular Teenage Engineering was hired, a Swedish company that is known for its extremely creative products, as well as for working for others.
The result is, as expected, very unique, with a recognizable retro-modern style by which Teenage Engineering is recognizable. Namely, the whole theme of these headphones, from the bugs to the charging box, is a combination of transparent parts, white plastic and metal accents, which we admit looks more interesting than the classic monochrome plastic which makes up 99% of models on the market, although it may not be to everyone's taste.
The part of the bug that enters the ear is made of shiny white plastic, as well as silicone extensions, while the extended part where the electronics are located is transparent, which allows you to see part of the printed circuit board, something that tech geeks like us find interesting. Everything is meticulously done, which the company is obviously very proud of.
Details such as the microphone, charging contacts and magnet that holds each of the headphones in position in the box are metalized, and practically the only color detail is the red dot on the right earpiece in its place in the box, of course, to make it easier for you to return to the right place without guessing where it goes. The retro detail, in this case, is the font on the outside of the handset, which resembles dot matrix printers, and which also appears on the box, as well as in the mobile application.
The carrying case itself is mostly transparent, with the exception of the part that contains the battery and electronics, which are white, with a gray metal hinge and a magnet that keeps the box closed. The box is of moderate dimensions, not among the smallest we have seen, but not too big to bother in the pocket, and there is a recess on it that many mentioned holding the headphones in place, which is not true, because they do not even in an open box they move, but which serves to make it easier to take the box out of your pocket or bag, an ergonomically very smart solution.
In ergonomics, the headphones themselves have rounded edges, but the part that rests on the ear is elongated along one axis and fits perfectly in the ear, so passive insulation is great. The headphones are light, firm and do not fall out even when you sweat after a long run, so Nothing Ear (1) is a brilliant choice for active users, as well as IPX4 waterproof.
There are also touch controls on the extended part of the headphones, and in order to avoid accidental activation when you want to adjust the finger of the handset, a single touch is of no use, only double, the triple and long presses are used. However, in addition to that, you will sometimes accidentally activate something with one touch, but certainly much less often.
It is possible to select the triple and long press function independently for both headphones, but the list of options is very limited, so it makes it a bit pointless to have this option.
What we liked is that by pulling your finger along the handset in either, volume control is also possible, which is very practical and something we don't see very often on similar models.
The long-press changes the active noise reduction modes by default, which we can say do its job quite well, although not between the best models we've heard. There are two levels available, Light and Maximum, and active reduction can be turned off and rely only on passive, primarily to save battery.
There's also a Transparency mode that bypasses passive isolation giving you the impression that you don't even have headphones in your ears, which really works great and allows you to hear everything around you almost identically to when you take out your headphones.
In the specification, Nothing states that the Ear 1 headphones come with 11.6mm dynamic driver speakers with a graphene membrane, which sounds promising. The mentioned solution is able to deliver a very loud and solid sound.
The biggest drawback is the slightly accentuated frequencies in the upper middle part of the spectrum, which may seem to have a bit more detail at first, but which can make listening more tiring for the ears in the long run. Also, the rest of the middle spectrum is a bit more withdrawn, which is not so unusual, while the bass is actually solidly balanced, not excessive and with a pretty good response, quite flat up to about 30Hz, after which the volume drops slightly to 20Hz.
Instead of the classic equalizer with which you can slightly adjust the response, Nothing Ear 1 offers only a couple of pre-defined modes, so besides the default balanced there is also an option for more bass or higher, which only takes the sound even further than flat response, although some maybe that's what they like, especially so-called "basshead" users.
As for the connection with mobile devices and computers, it is Bluetooth 5.2, with a very good range, and SBC and AAC codecs are used for audio transmission, so none of some more advanced options like aptX that offer higher bitrate and quality. What should be praised is the low latency mode that can be included in the software, and which allows a very low latency for watching videos or playing games, something that is not exactly a feature of most wireless bugs on the market.
Both headphones offer an independent connection, so you can use only one, or both, but it has occasionally happened that the right handset does not establish a connection, which seems to have not been fixed since the first firmware about two months ago.
In terms of battery life, the headphones themselves offer about 4 hours of continuous listening, while the total duration with the battery in the box is about 24 hours with active noise reduction or 34 hours without it - a correct figure, although we saw better in class. What we definitely didn't see in the class is the wireless charging option, which was usually reserved only for models that are at least twice as expensive, so if this way of charging is more convenient than the USB-C connection that is also supported, this may be the model for you.
Final impressions
Overall, for those $99, Nothing Ear 1 is a very good buy. Solid sound, very good bass response, practical controls, great ergonomics, very good noise reduction and wireless charging and the design that sets this model apart is a solid recommendation for those looking like it at first sight.