NZXT C1200 Gold Modular 1200W ATX 3.0 Power Supply
In the world of gaming and high-performance computing, a reliable power supply unit (PSU) is the unsung hero that ensures stability and efficiency. The NZXT C1200 Gold Modular 1200W ATX 3.0 Power Supply is a powerhouse that delivers on both fronts. With its robust 1200W capacity, 80 PLUS Gold efficiency rating, modular design, and advanced features, it's a PSU designed to meet the demands of gamers, content creators, and PC enthusiasts. In this article, we'll explore the features and advantages of the NZXT C1200 Gold, showcasing how it unleashes the power of reliability and efficiency for your PC build.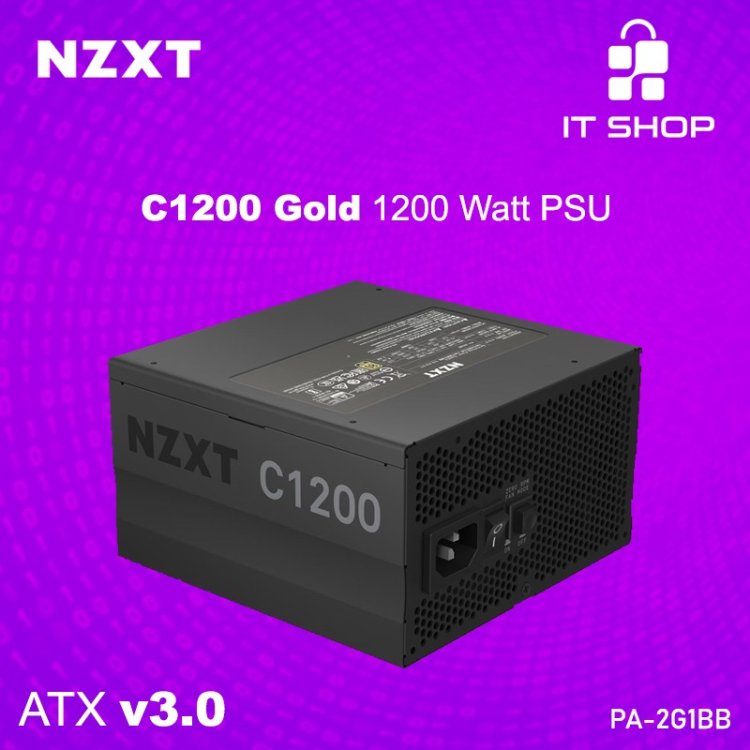 Photo Credits: it-shop.co.id
Robust 1200W Capacity
The NZXT C1200 Gold is a high-capacity PSU, providing a whopping 1200W of power. This level of power is more than enough to handle demanding gaming setups, content creation workstations, and custom PC configurations that require multiple graphics cards, high-performance CPUs, and a plethora of peripherals.
With a 1200W capacity, you can future-proof your system, ensuring it can handle upgrades and expansions without the need for a PSU replacement. It's the ideal choice for those who demand the utmost in power and performance.
80 PLUS Gold Efficiency
Efficiency is a hallmark of the NZXT C1200 Gold PSU, as evidenced by its 80 PLUS Gold certification. This rating signifies that the PSU operates at a high level of efficiency, converting a significant portion of the electrical energy it draws from the wall into usable power for your components.
Higher efficiency means less wasted energy, reduced heat generation, and lower electricity bills. The Gold rating ensures that your PSU optimizes power usage, making it an environmentally friendly choice while saving you money in the long run.
Fully Modular Design
One of the standout features of the NZXT C1200 Gold is its fully modular design. Modular PSUs allow you to connect only the cables you need, reducing cable clutter inside your PC case. This not only improves airflow but also simplifies cable management, resulting in a cleaner and more organized build.
The C1200 Gold includes a comprehensive set of modular cables, including those for motherboard power, CPU power, PCIe connectors, SATA drives, and more. You can tailor the cable selection to your specific components, ensuring an aesthetically pleasing and efficient build.
Advanced Cooling and Silent Operation
Cooling is a critical aspect of PSU performance, and the C1200 Gold doesn't disappoint. It features a 140mm fluid dynamic bearing fan that operates quietly while providing efficient cooling. The fan is designed to stay quiet under normal loads and only ramps up when the PSU reaches higher temperatures, ensuring a peaceful computing experience.
The PSU also includes a Zero RPM mode, which allows the fan to completely stop spinning when the system is under low or moderate loads. This feature not only reduces noise but also prolongs the fan's lifespan.
Comprehensive Protection
The NZXT C1200 Gold is equipped with a suite of protection mechanisms to safeguard your components. It includes over-voltage protection (OVP), under-voltage protection (UVP), short-circuit protection (SCP), over-power protection (OPP), and over-temperature protection (OTP).
These protective measures ensure that your PC components are shielded from electrical anomalies, voltage spikes, and overheating, preventing potential damage or system instability. With the C1200 Gold, you can build with confidence, knowing that your investment is well-protected.
Compact Form Factor
Despite its high power capacity, the C1200 Gold maintains a compact form factor. It adheres to the ATX 3.0 standard, which features a shorter depth compared to traditional PSUs. This design is particularly beneficial for PC cases with limited space, as it provides more room for other components and improves overall airflow within the case.
The compact form factor of the C1200 Gold ensures compatibility with a wide range of PC cases while still delivering the performance and reliability you need.
Sleeved Cables for Aesthetic Appeal
To enhance the visual appeal of your PC build, the C1200 Gold includes sleeved cables. These cables are covered with a fabric material that not only adds to the aesthetic appeal but also provides durability and flexibility. The black sleeves give your build a clean and premium look, whether you have a windowed PC case or prefer a minimalist design.
Also Check Razer DeathAdder V3 Pro Faker Edition Wireless Gaming Mouse
Conclusion
The NZXT C1200 Gold Modular 1200W ATX 3.0 Power Supply is more than just a component; it's a testament to the power of reliability and efficiency in high-performance computing. With its robust 1200W capacity, 80 PLUS Gold efficiency, modular design, advanced cooling, silent operation, comprehensive protection, compact form factor, and sleeved cables, it redefines what a PSU can offer to your PC build.