RAM overclocking record: DDR5-8705 achieved with G.Skill Trident Z5
Extreme overclocker Hocayu from Hong Kong has achieved a provisional record for DDR5-SDRAM, namely a clock frequency of 4,352.3 MHz (DDR5-8705). Like the Intel Alder Lake processor, the RAM modules were cooled with liquid nitrogen.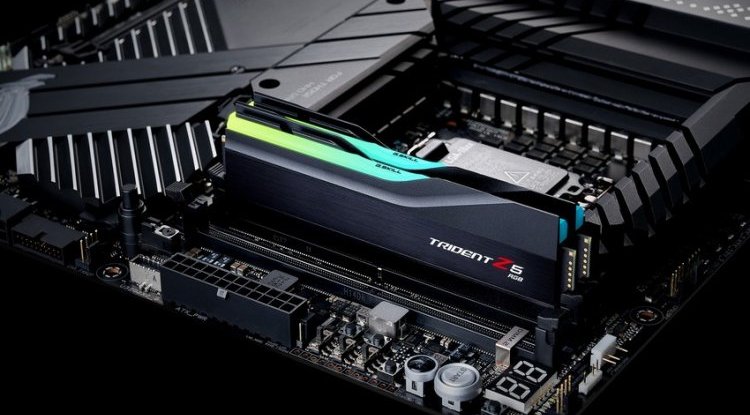 Photo Credits: G.Skill
For the overclocking record, Hocayu used a 16 GiByte G.Skill Trident Z5 bar (F5-60000U4040A16G), which is normally specified for DDR5-6000 with 40-40-40-76 timings. The mainboard used is an Asus Maximus Z690 Apex, a solution optimized for overclocking with only two DIMM slots, which is advantageous for extreme overclocking. The processor used was an Intel Core i7-12700KF, which was operated with four cores (without SMT). Both the Alder Lake processor and the G.Skill module were cooled with liquid nitrogen. The cooling medium is -196 ° C, but it is not known at which temperatures the CPU and RAM were actually operated. The lowest possible temperatures are often inadequate for record attempts; Instead, it is important to sound out the optimal temperature range for a component.
Hocayu managed a CPU-Z validation at 4,352.3 MHz (DDR5-8705), the timings for this were 127-120-120-120-127 2T (CAS, RCD, RP, RAS, RC, CR). Hwbot is the highest validated memory clock to date. The applied RAM voltage is unfortunately also unknown. Incidentally, according to CPU-Z-Info, Windows 7 64 bit served as the operating system, which should allow slightly higher RAM clock frequencies than its successor. Since the test NDA for the first DDR5 RAM platform fell only yesterday, it would not be a surprise if the current record only lasts for a short time and higher memory clock frequencies are achieved in the next few days and weeks. By the way, DDR4 has already been left behind, the world record here is considerable 3,600.2 MHz (DDR4-7200), installed by the Toppc overclocker.
By: Olivia J. - Zexron