Shure SE215
Welcome to our comprehensive review of the Shure SE215 in-ear monitors. As audio enthusiasts, we understand the importance of high-quality sound and reliable performance in delivering an exceptional listening experience. In this article, we will explore the outstanding features, design, and advantages of the Shure SE215. By the end, you will understand why these in-ear monitors stand out as a top choice for musicians, audio professionals, and music lovers seeking immersive sound and proven reliability.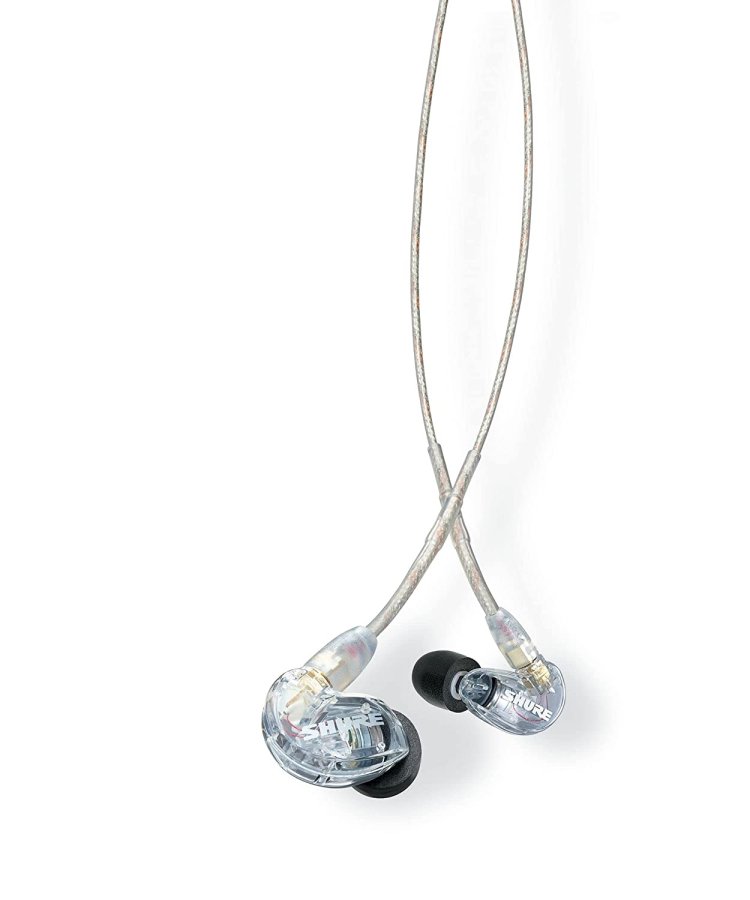 Photo Credits: Amazon.in
Sound Isolation and Immersive Sound Quality
The Shure SE215 in-ear monitors are designed to provide exceptional sound isolation, allowing you to focus on your music without distractions from the surrounding environment. The SE215 utilizes a dynamic MicroDriver that delivers detailed, full-range audio with enhanced bass response. The result is a rich and immersive sound experience, where every instrument and vocal is reproduced with remarkable clarity and precision. Whether you're listening to music, monitoring audio in a studio, or performing on stage, the SE215 ensures that you hear every nuance with astonishing detail.
Comfortable and Secure Fit
Comfort is a paramount consideration when it comes to in-ear monitors, especially during extended use. The Shure SE215 excels in providing a comfortable and secure fit for optimal performance. The monitors feature a lightweight and ergonomic design that contours to the shape of your ear, ensuring a snug and personalized fit. The package includes multiple sizes of soft, flex sleeves that provide a comfortable seal and isolate external noise. The over-ear configuration of the cable further enhances stability and prevents the monitors from dislodging during vigorous activities or stage performances.
Detachable Cable with Robust Design
The Shure SE215 features a detachable cable design that offers convenience and durability. The MMCX connectors allow for easy cable removal and replacement, giving you the flexibility to switch between different cable options or upgrade to higher-quality cables. The detachable cable design also reduces the risk of cable damage and tangling, prolonging the lifespan of your in-ear monitors. Shure is known for its robust cable construction, providing peace of mind and ensuring reliable performance even in demanding professional environments.
Sound Isolating Design
The SE215 incorporates a sound isolating design that effectively blocks up to 37dB of ambient noise. The snug fit of the earbuds and the noise-isolating sleeves create a seal that keeps external sounds at bay, allowing you to fully immerse yourself in your music. This feature is particularly valuable in noisy environments such as public transportation or crowded venues, where you can enjoy your music or monitor audio without interference. The sound isolation provided by the SE215 ensures a focused and immersive listening experience.
Trusted Brand and Durability
Shure has built a solid reputation for producing high-quality audio equipment, and the SE215 is no exception. These in-ear monitors are built to last, with rugged construction that can withstand the demands of daily use and professional applications. The durable housing and detachable cable system contribute to their longevity, making them a reliable investment for years to come. With Shure's renowned reliability and attention to detail, you can trust that the SE215 will deliver consistent performance even in challenging environments.
Also Check SteelSeries Arctis 5
Versatility and Accessibility
The Shure SE215 is compatible with a wide range of devices, including smartphones, tablets, laptops, and professional audio equipment. The included 3.5mm audio cable ensures seamless connectivity across various platforms. Additionally, Shure offers different variants of the SE215, including wireless and Bluetooth options, providing flexibility and accessibility to suit different preferences and usage scenarios. Whether you're a musician on stage, an audio professional in the studio, or a casual listener on the go