Synology DiskStation DS223j 2-Bay Home NAS
In the realm of home network-attached storage (NAS) solutions, the Synology DiskStation DS223j emerges as a powerful and user-friendly option. Tailored to meet the storage needs of home users, this 2-bay NAS device combines simplicity with advanced features. In this comprehensive review, we will explore the key features, performance capabilities, and advantages that make the Synology DS223j an ideal choice for individuals seeking a reliable and efficient home storage solution.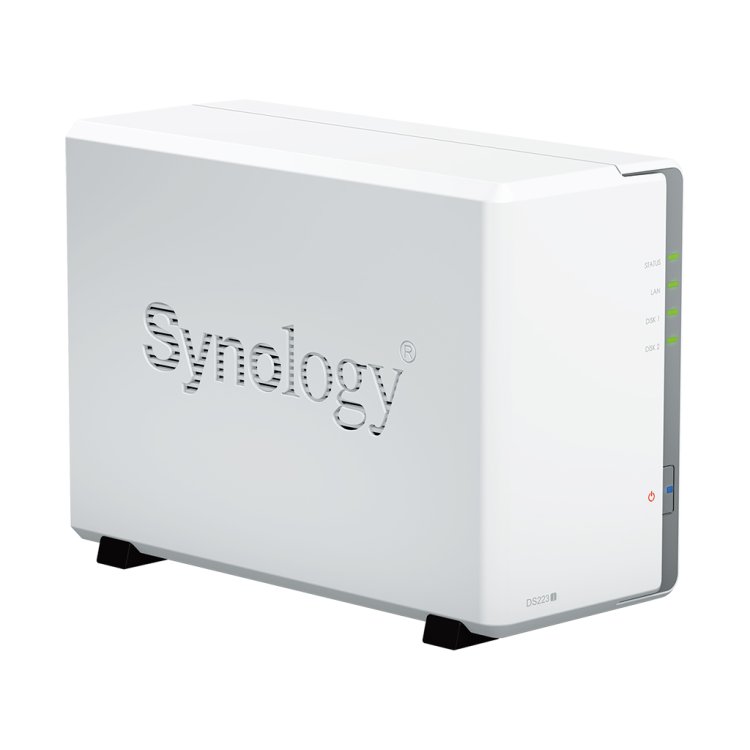 Photo Credits: synology
Key Features
1. Dual-Bay Design for Flexible Storage
The DS223j features a dual-bay design, allowing users to install two hard drives for storage redundancy or increased capacity. This flexibility is crucial for home users with diverse storage needs, whether it's for media storage, data backups, or a combination of both.
2. Efficient and Energy-Saving Design
Designed with energy efficiency in mind, the DS223j ensures low power consumption without compromising performance. This feature not only contributes to lower utility bills but also aligns with the environmentally conscious mindset of many home users.
3. Synology DiskStation Manager (DSM) Software
At the core of the DS223j's user experience is the DSM software, Synology's renowned operating system for NAS devices. The DSM interface is intuitive, providing users with easy access to a variety of applications for file management, multimedia streaming, and data backups. The Package Center allows users to expand the functionality of their NAS by installing additional applications tailored to their needs.
4. Cross-Platform File Sharing and Media Streaming
The DS223j supports cross-platform file sharing, making it an ideal solution for homes with a mix of Windows, macOS, and Linux devices. Additionally, the NAS excels in media streaming, allowing users to effortlessly stream multimedia content to smart TVs, gaming consoles, and other DLNA-certified devices.
Performance
The DS223j, while designed for home use, doesn't compromise on performance. Powered by a capable processor, the NAS ensures smooth file transfers, quick access to stored content, and responsive performance even when handling multiple tasks simultaneously. This makes it suitable for a range of home applications, from serving as a centralized media hub to functioning as a reliable backup solution.
User-Friendly Interface
Synology has built its reputation on providing user-friendly interfaces, and the DS223j continues this tradition. The DSM software simplifies the setup process, guiding users through the configuration of their NAS. The intuitive design of the DSM interface ensures that even users with limited technical expertise can navigate and utilize the full capabilities of the DS223j.
Data Protection and Backup Solutions
For home users, the importance of data protection and backup solutions cannot be overstated. The DS223j addresses this need by offering comprehensive data protection features, including support for RAID configurations, scheduled backups, and the ability to sync data with cloud storage services. These features provide peace of mind, knowing that important data is safeguarded against accidental loss or hardware failure.
Expandability and Future-Proofing
While designed for home use, the DS223j is not limited in its capabilities. The dual-bay design allows users to expand storage capacity as their needs grow. Additionally, Synology's commitment to regular software updates ensures that the DS223j remains compatible with emerging technologies, providing a degree of future-proofing for home users who want their NAS investment to stand the test of time.
Also Check Gigabyte Z790 Aorus Pro X
Conclusion
In conclusion, the Synology DiskStation DS223j stands out as an exceptional choice for home NAS solutions. Its dual-bay design, energy-efficient operation, user-friendly interface, and robust feature set make it a versatile and reliable storage solution for a wide range of home applications. Whether it's for multimedia streaming, data backups, or cross-platform file sharing, the DS223j excels in providing a seamless and efficient storage experience for home users, solidifying its position as a standout home NAS solution.