There has not been such a motherboard yet!
Manufacturers are outdoing each other in creating more fancy motherboards that amaze with their functionality and price. MSI has prepared a proposition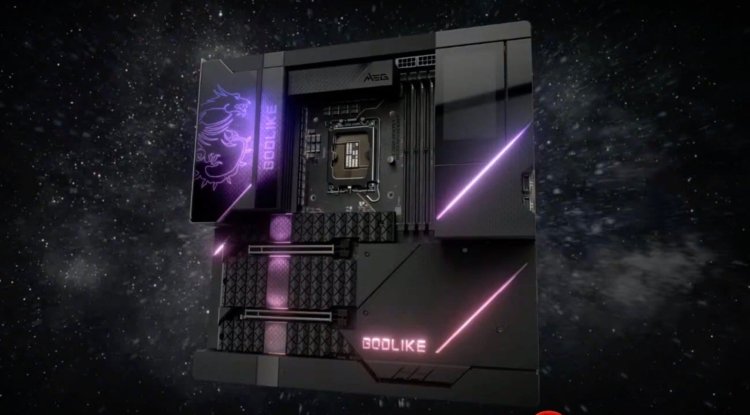 Photo Credits: MSI/Promo
Manufacturers are outdoing each other in creating more and more fancy motherboards that amaze with their looks, functionality… and price. Recently, MSI has prepared a unique proposition
I am talking about the MSI MEG Z690 Godlike model, which is the top offer among Intel Z690 motherboards - this is equipment for players and enthusiasts who create a top, unusual gaming computer and do not care about the price of the equipment.
Below you will find a presentation of the motherboard in the extensive material of the manufacturer, but we have also prepared our description with photos.
MSI MEG Z690 Godlike, the album for those who do not compromise
The new Godlike looks like a unique design at first glance - the manufacturer chose an eye-catching design that should appeal to enthusiasts. There are also impressive heat sinks, effective backlight, and other accessories. It is worth noting, however, that the board is one of the larger E-ATX constructions (and much wider ones).
The most interesting is the M-Vision Dashboard module, which is mounted next to the memory banks - it is a 3.5-inch IPS touch screen, on which you can display diagnostic information from a computer, freely programmed animation, or… weather. The module can also be used to overclock the equipment.
The board is equipped with an LGA 1700 socket and four DDR5-6666 memory banks. Enthusiasts will be interested in the powerful power section (20 + 2 phases @ 105 A), which can easily handle even overclocking top models like the Intel Core i9-12900K .
An interesting fact is also the rich set of ports. Two PCI-Express 5.0 x16 slots are provided for expansion cards (they operate electrically in x16 / - or x8 / x8 mode), and for drives, six SATA 6 Gb / s ports and six M.2 slots (including one operating in PCIe 5.0 mode) x4 for the next generation of SSD drives).
The rear panel is tightly filled with ports - here we can find, among others Eight 10Gb / s USB 3.2 Gen2 ports, two 40Gb / s Thunderbolt 4 connectors (+ two mini DisplayPort inputs), as well as audio connectors for an 8-channel Realtek ALC4082 sound card. The manufacturer also provided two standard network cards: 10G LAN (Aquantia AQC113CS) and 2.5G LAN (Intel i225-V) and wireless in the Wi-Fi 6E standard.
Specification of MSI MEG Z690 Godlike motherboard
format: E-ATX
socket: LGA 1700
chipset: Intel Z690
supported RAM: 4x DDR5-6666
PCIe slots: 2x PCI-Express 5.0 x16
M.2 / SATA connectors: 6x M.2, 6x SATA
audio: Realtek ALC4082
network: 10G LAN, 2.5G LAN, Wi-Fi 6E
rear panel connectors:

8x USB 3.2 Gen2 10 Gb / s
2x Thunderbolt 4 40 Gb / s
2x mini DisplayPort (input)
2x LAN RJ45
2x Wi-Fi
6x audio
MSI MEG Z690 Godlike - it's not cheap stuff
The MSI MEG Z690 Godlike motherboard will be available in a limited amount, and its price is to be a trifle of $ 2099 (!). However, it is worth adding that the set also includes a two-channel Kingston Fury Beast 2x 16 GB 5200 MHz memory set and MSI MEG CoreLiquid S360 cooling.