Acer Predator Triton 300 SE Review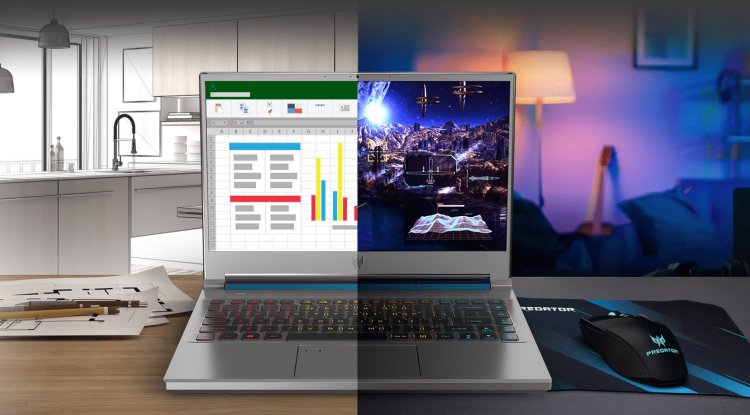 Photo Credits: Acer/Promo
This Predator Triton 300SE doesn't look like a gaming laptop at all, 14" screen, visual elements of chrome moldings, classic appearance of the light aluminum housing, fingerprint reader. So, an interesting laptop for gaming, but also more serious work!
Design and features
In addition to all the above, Acer attempted to give it adequate characteristics: powerful new generation hardware, quality workmanship and what is surprising is a fairly fair price up to $1500, which in this period of shortage and general price overrun, seems almost a surprise.
The appearance of the Triton 300 SE notebook is striking because of the case, which is made entirely of light gray anodized aluminum… Sparkly Silver shades. Apart from the fact that it looks different from the average gaming confection, it also causes a better feeling at hand. Joints are precise and barely noticeable, and the metal body contributes to better cooling of the device. The case is compact in size with a width of 32 and a depth of 23 centimeters at the same time it is moderately thin with 1.7 cm for one portable gaming device. The weight of 1.8 kg is a consequence of the large cooling system, necessary because of the strong built-in hardware.
The lines and metal surfaces are ascetically clean, and their uniformity on the cover of the device is disturbed by the embossed Predator logo. The 35.6 cm screen is actually a 14" standard and is quite rare on gaming models, as it is a cramped diagonal for this purpose. However, as we said, this Triton is more than a gaming notebook and flirts with designers, creators of creative content, those who deal with video editing and similar jobs. Such a scenario, in some perspective, implies the use of a classic monitor with a large diagonal.
The built-in screen uses an IPS panel, is noticeably bright with a brightness specification of 300 nits and with a refresh feature at 144Hz displays a very correct image. However, it lacks a more convincing contrast in order to achieve the HDR effect, which is why we notice the cataract effect at maximum values… mild turbidity. It has active control of Blue LED light emission and has an anti-reflective coating that definitely affects the eyes during long work. We don't like this thick bottom strip either, especially in the context of newer models that have much better effective use of the part in which the screen is located. This is inevitable because of the use of the 16: 9 format and 1920x1080 pixel display. Mostly some personal impression is that the Triton 300SE should get a more convincing HDR screen in the next evolution. Not to be confused, this one is more than good, it is definitely up to the task when it comes to gaming and working in applications.
A detail that you will definitely notice is the general presence of ventilation openings for both fresh and warm air. This is simply necessary for a compact 14" inch model, fast CPU and GPU. Because of the use of two specially designed Aeroblade Bionic fans, the side slots are placed at right angles to the sides and rear, so that the effect of heat dissipation is maximized. The position of the suction openings is affected in accordance with the position of many thin fan propellers whose thickness is less than one millimeter, so besides the large suction surface on the base there is a zone for air intake on the surface - just below the screen. The only thing we don't like is the scheme of this surface, which irresistibly resembles the one on the HP Pavillion model. However, this Triton is two classes above the mentioned HP model and Acer should take care of that.
The need for good cooling is the result of the decision to install a strong pair of graphics and central processors in the Triton 300 SE: GeForce RTX 3060 with 6GB of GDDR6 memory and Intel Core i7 11370H. I have to draw your attention to one detail here. In the past, Intel mobile processors with the "H" suffix signified the strongest series of processors for mobile computers. There are a lot of variations now, so pay attention if you have maximum gaming performance in mind. Namely, it belongs to a more economical series with four cores and 8 "threads" as well as an integrated system and peripheral controller. So don't use a separate chipset, but everything is packed on the same silicon. Since it had to be more economical and with a lower thermal footprint because of the smaller housing, certain compromises and savings were made in terms of the number of physical cores, but also the characteristics of the system controller. Namely, it provides support for connection to the RTX 3060 graphics processor only by the 4th generation PCIe path bus. Although it seems almost catastrophic at first, the situation is not so black, and you will see in the part of gaming results. Mostly a compromise of controlled consumption and heating and on the other hand good performance for compact gaming fourteen which allows it to work quickly in more demanding applications but also play the latest games with highly tuned graphic details and support Ray Tracing effects.
The presence of a 16GB dual-channel configuration of DDR4 memory at 3200 MHz contributes to a good gaming feeling and fast work. 8GB of RAM is soldered to the board, and with the help of an additional SO-DIMM slot, you can expand the RAM to a maximum of 24GB, which will undoubtedly favor work in more demanding applications such as Photoshop or Premiere.
We also praise the decision to install a fast M.2 PCIe SSD with a capacity of 1 TB. Unfortunately, there was no room for an additional M.2 SSD. There's also a great keyboard with a very specific individual key path and RGB adjustable backlight in three zones. Definitely a shift for the better compared to previous models. The touchpad with a metallic feel and pronounced click effects, along the way, has a fingerprint reader as a security element in combination with the Windows Hello function.
Fast connection and uninterrupted flow of data with external devices is a necessity for comfortable work on modern computers. That's why this Triton 300SE is currently equipped with the fastest WiFi 6 wireless standard for communication with the local network and the Internet. A Killer AX1650i solution was used with an obvious emphasis on gaming, but the decision to omit the classic LAN connection is at least debatable in the case of a "purebred" gamer.
The choice of connections is also good. Two second-generation fast USB-A 3.2 ports, the one on the right side supports the charging function of mobile devices. Then there's one USB-C 3.2 10Gbps port with support for the Thunderbolt 4 standard. Besides this, one classic HDMI 2.1 port is used to connect to monitors. Let's not forget the HD webcam with LED activity indication and a pair of digital microphones on the top strip of the screen.
The side-mounted speaker system is just solid, and if you want to enjoy DTS multi-channel, spatial effects while gaming and new movies, headphones are a must. As they are, they are enough just to relax while working with the quiet sounds of ambient music.
The power supply of such a mobile gaming platform is entrusted to a 180W power adapter with the obligatory fast charging function. It takes a little less than an hour to fully charge the 60Wh 4-cell Lithium-Ion battery. It gives autonomy of work at the standard 80% of screen brightness and the use of moderately demanding applications of 3 hours and 15 minutes, which is an expected average for this category of laptops.
When it comes to gaming performance in battery mode, manual adjustment can achieve a frame rate even above 70 fps in some titles. Make sure that the battery is discharged much faster. On the other hand, the Nvidia Battery Boost option with active Optimus technology allows longer gaming on the battery with the option of better autonomy or higher FPS depending on what you play and the ability to adjust the frame rate in 5 fps increments of 30-60 frames per second. Quite enough for a smooth gameplay experience in most games.
And for performance, let's say that the choice of processor and GeForce RTX 3060 graphics card is well matched, regardless of the handicap of the limited bus. However, it is evident that certain penalties in gaming performance are inevitable because of the use of a more economical version of the processor platform, as shown by the charts and similarly configured competition in 15.6" format. However, they are not nearly as big as it sounds when you mention the 4x smaller highway. Far Cry 5 reaches 100fps at Ultra settings and Full HD resolution, Shadow of the Tomb Raider in DX12 and Highest details delivers an equally impressive average of 80 fps. GEARS 5 on Ultra settings averages 83 fps, as does The Division 2. It is clear that in games like this, the Triton 300 SE makes excellent use of a screen with high screen refresh rates. And let's not forget Ray Tracing games where the latest Far Cry 6 with RT effects and active Fideltiy Super Resolution option on Quality settings delivers an average of perfectly smooth 61 fps, and Call Of Duty Black Ops with High Ray Tracing visits and DLSS Qualtiy the function climbs to an average of almost 70 fps. We conclude by stating that he is fully capable of running and enjoying playing the latest AAA games.
It is no less impressive in demanding applications, especially those with CUDA GPU assistance. It is perfect for working in Photoshop and achieved the result in Premier, which is among the best laptops tested so far, and in the end, they are the best in terms of the general level of performance and speed of this computer.
Performance
This laptop knows to warm up. Here we draw your attention to the fact that you must update the computer firmware to the version from December of the previous year, that is. The latest, which solves the problem of overheating. This is especially true if you turn on the overclocking mode with the help of a dedicated Turbo button which, in addition to the maximum frequencies, will increase the fan speed to a higher number of revolutions, which will be accompanied by an increase in noise. By the way, this computer is quite fast and quiet without activating this option, but if you really want maximum performance at any cost, this option is also available. It should be noted that Turbo mode cannot be activated while running on battery power when it is not possible to activate Extreme and Turbo pre-defined hardware modes.
For detailed settings, you will use the Predator Sense application with which you can adjust and monitor the operating modes of the CPU and GPU, the fan, then the temperature, adjust the RGB lighting of the keyboard and much more. All this is graphically flawlessly shown. A special button is provided for calling Predator Sense software.
We read the maximum processor frequency at 4.4GHz while the maximum operating temperature varied from 70 degrees in battery mode, to 95 degrees when the charger was connected. The GeForce RTX 3060 records a maximum of 75 degrees Celsius during gaming.
In terms of possible computer hardware upgrades, one M.2 PCIe x4 2280 slot and one SO-DIMM DRAM connector are available, which in our case were already filled. So there is no extra M.2 connector or extra box for a 2.5" SATA device. This is a consequence of the compact format of the computer and the use of the more economical Rocket Lake UP version of the processor platform, more precisely the chipset.
Great and fast, whether you're playing the latest FarCry 6 with Ray Tracing effects or editing a video in Adobe Premiere ...
https://www.youtube.com/watch?v=sLcThpYLEPI&ab_channel=AcerAmerica