Corsair's memory with high speed, minimal benefits
Corsair currently has only two series of products in its DDR5 module offer - more expensive Dominator Platinum RGB modules and cheaper Vengeance.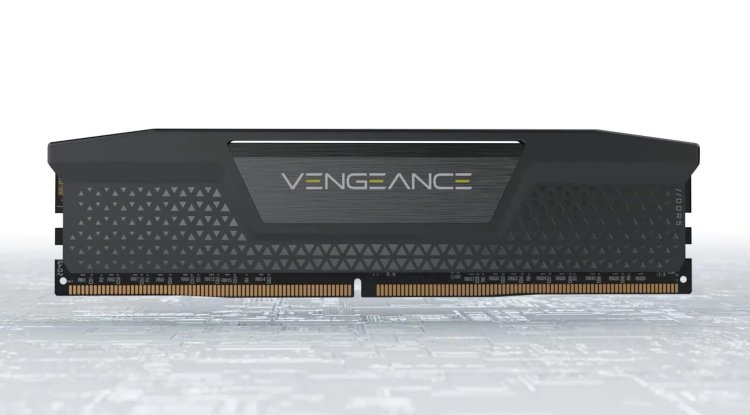 Photo Credits: Crosair / promo
Corsair currently has only two series of products in its DDR5 module offer - more expensive Dominator Platinum RGB modules and cheaper Vengeance. We had the opportunity to try the latter in a 32 GB configuration and a speed of 5,200 MHz.
| | |
| --- | --- |
| Kit designation | CMK32GX5M2B5200C38-PK1 |
| Type | DDR5 DIMM |
| Capacity | 2 × 8 GB |
| Chip configuration | Micron-A, 1 rank |
| XMP profiles | DDR4 5200 38-38-38-84-126 @ 1.25 V |
| Warranty | 10 years |
DDR5 modules are currently priced as dry gold. And despite the significantly higher price compared to DDR4 memory, new modules are practically impossible to buy. We are lucky to have some kind of priority in the delivery of hardware, so we got Corsair's DDR5 modules from the Vengeance series despite the shortages. On the other hand, if you want to buy any DDR5 memory in local stores, judging by the online offer, you will be short-sleeved. The situation on the foreign market is somewhat better, but there are so-called scalpers - hardware dealers who buy components in bulk at the original price and then sell them for much more money.
At Corsair's US web store, they are priced at $ 315. Corsair allows one customer to purchase only one set of memory. In short, DDR5 memory is currently less available than graphics cards, as insane as it sounds.
Corsair currently offers only two series of DDR5 memory - Vengeance as the base model and Dominator Platinum RGB for those who want RGB and higher performance. Vengeance modules are available in speeds from 4,800 to 5,600 MHz and in sets of two 16 GB modules, four 16 GB modules, and two 32 GB modules. As you have probably concluded, the capacity of the DDR5 module is significantly higher than that of a generation older memory. The modules are equipped with simple dark gray coolers, but there is also a white variant. The coolers are 35mm high which is pretty ok in the context of compatibility with different air coolers.
In fact, the question is whether DDR5 modules can be much lower at all because, in addition to memory chips on the PCB, all DDR5 modules also have PMIC - Power Management Integrated Circuit. In this case, it is a Renaissance controller PM8911 that receives a voltage of between 4.5 and 5.5 volts from the board to deliver a lower voltage to memory chips - typically 1.25 V. These chips are a novelty compared to DDR4 modules where the regulation of the final voltage was taken care of by the hardware on the board, not on the module itself.
The tested Vengeance memory kit has an XMP profile with a speed of 5,200 MHz and latencies of CAS 38-38-38-84-126 at 1.25 V. The fastest JEDEC profile loads a clock of 4,800 MHz at latencies of CAS 40-40-40-77-117 with a voltage of only 1.1 V. So, as with DDR4 memory, the standard voltage was 1.2 V, and XMP is usually 1.35 V, so with DDR5 memory, the standard voltage is 1.1 V, and XMP 1, 25 V. We tested the Corsair memory with a number of Z690 boards and it worked without any problems with this XMP profile, which is not surprising because it is not particularly different from the SPD settings prescribed by JEDEC. For comparison, the fastest DDR5 memory in Corsair's speed offer is 6,400 MHz with CAS 38, but it also costs almost twice as much (official price) compared to the tested Vengeance.
Although Vengeance modules do not have built-in RGB lighting, they have built-in temperature sensors, and thanks to the integrated Renesas PMIC, through Corsair's iCUE software we can monitor the total consumption of the module and different voltages - VDD, VDDQ, and VPP.
| | I9-12900K + DDR4-3600 C16 | I9-12900K + DDR5-5200 C38 |
| --- | --- | --- |
| 3DMark Time Spy | | |
| Graphics | 19,062 | 19,062 |
| CPU | 17,373th most common | 18,902th most common |
| Cinebench R23 | | |
| Multi-Core | 26,940th most common | 26,934th most common |
| Blender benchmark | | |
| pavillon_barcelona * | 4 min 22 s | 4 min 22 s |
| Games | | |
| TW: Warhammer 2 | 189 fps | 190 fps |
| Far Cry 6 | 146 fps | 147 fps |
| Red Dead Redemption 2 | 136 fps | 137 fps |
| Hitman 3 | 182 fps | 190 fps |
The question is how much DDR5 has an impact on the performance of the new Intel platform. To find out, we compared Gigabyte's Z690 Aero G board with DDR5 slots, with ASRock's Z690 PG Riptide board that has DDR4 slots. In both cases, the same processor, Core i9-12900K, and Gigabyte RTX 3080 Ti Vision graphics card was used. G.SKILL TridentZ DDR4-3600 CAS 16 memory with loaded XMP profile was used on the ASRock board. The test results are quite disappointing considering that DDR5 is significantly more powerful in terms of raw bandwidth.
We see measurable differences in 3DMark's CPU test and in Hitman 3, while in other tests the results are practically identical. Whether better DDR5 memory, both in terms of clock speed and lower latencies, achieves better results, we will find out when we have the chance, but at the moment it seems that buying DDR5 memory only makes sense in the context of buying some DDR5 motherboards.
When it comes to overclocking, we have not had much success with these modules. We did not reach beyond 5,400 MHz on the latencies from the XMP profile, and only by further relaxing the latencies up to CAS 40 do we get a stable 5,600 MHz. Keep in mind that the memory controller of Intel processors with DDR5 memory works in a 2: 1 ratio because it is simply not able to achieve such high clock speeds as the memory itself if the ratio is 1: 1. It should be noted that in order to increase the clock speed, it was necessary to increase the voltage to 1.35 V.
Corsair Vengeance DDR5-5200 2 × 16 GB is a solid choice if you want to buy a motherboard with DDR5 slots, and you want a quality working memory with a long warranty, but without RGB lighting, and thus more affordable prices compared to make-up modules. Due to its low height, the memory is compatible with most air coolers, without overclocking, although performance gains are ultimately minimal, just as with the transition from DDR4 to DDR5. 
Pros:
Compatible with most air coolers (low altitude)
XMP profile
Slight overclocking
iCUE software for temperature and voltage monitoring
Very long warranty
Cons
High price compared to DDR4
Very high price in practice
Very poor availability
Virtually no performance increase over DDR4