AMD is planning to upgrade its RX 6000 series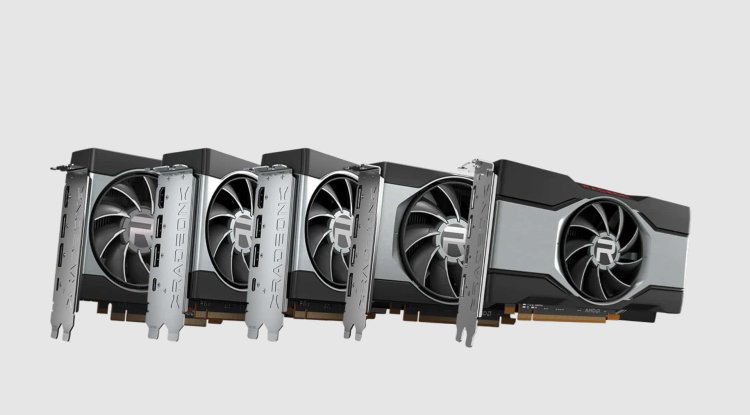 Photo Credits: AMD/Promo
According to numerous reports, including Videocardz.com, AMD is planning to upgrade its RX 6000 graphics card series this summer, just a few months before the arrival of the all-new generation GPU RX 7000.
At first glance, this may seem counterintuitive; GDDR6 memory (18GB/s instead of 16GB/s). This is a little improvement that AMD could easily overlook, so what could be the reasons for it?
The first guide focuses on the freshly released GPU RX 6500 XT.
Although it is a low-end model, AMD has already outfitted it with faster 18Gb / s memory, whilst higher models rely on 16Gb / s modules. This appears to be counterproductive since AMD could save money on this component as well, but the option implies that faster memory is currently more affordable or cheaper than slower modules.
Memory producers are accustomed to steadily improving their products, bringing speedier items to market, and withdrawing older ones from the market. Alternatively, as production capacities increase, quicker memory becomes more affordable.
AMD can also look forward.
It is customary for chip manufacturers like AMD or Nvidia to purchase GDDR memories for their partners and offer them all together as a package. AMD may be concerned about the decreasing supply of 16Gb / s processors, but it does not want to risk the manufacture of RX 6000 Series GPUs.
This is because it will be incredibly beneficial for the corporation, particularly in today's availability situation, to maintain the old generation of cards in production at the 7nm production process while also producing the RX 7000 series at the 5nm (or 6nm) production process.
As a result, production capacity for the two generations will not be lost, and AMD will make more chips.
If the RX 6000 series is just refreshed with new memories (and renamed RX 6X50), the new graphics should be available around June or July. Unfortunately, if nothing changes on the chips themselves, which are the main source of the scarcity, a refresh will not enhance supply considerably.
It will also most likely not provide a big gain in performance, which will occur in the autumn with the RDNA 3 chip architecture, and Nvidia will also bring its trump cards.
AMD Radeon RX 6000 graphics card 
Radeon RX 6400
Radeon RX 6500 XT
Radeon RX 6600
Radeon RX 6600 XT
Radeon RX 6700 XT
Chip, architecture
Navi 24 XL, RDNA 2
Navi 24 XT, RDNA 2
Navi 23 XL, RDNA 2
Navi 23 XT, RDNA 2
Navi 22 XT, RDNA 2
Number of transistors
?
5.4 billion
11.1 billion
11.1 billion
17.2 billion
Production
6 nm
6 nm
7 nm
7 nm
7 nm
Stream processors
768
1024
1 792
2 048
2 560
Compute Unit (CU)
12
16
28
32
40
ROPs
?
32
64
64
64
Game frequency
?
2 685 MHz
2,044 MHz
2 359 MHz
2 424 MHz
Boost frequency
?
2 825 MHz
2 491 MHz
2 589 MHz
2 581 MHz
Capacity and memory
4 GB GDDR6
4 GB GDDR6
8 GB GDDR6
8 GB GDDR6
12 GB GDDR6
Memory bus width
64bit
64bit
128bit
128bit
192bit
infinity Cache
16 MB
16 MB
32 MB
32 MB
96 MB
Computing power (FP32)
?
5.79 TFLOPS
7.3 TFLOPS
8
TFLOPS
11.8
TFLOPS
TDP
53 W
107/120 W
132 W
160 W
230 W