ASUS ExpertBook B5 Flip: For business users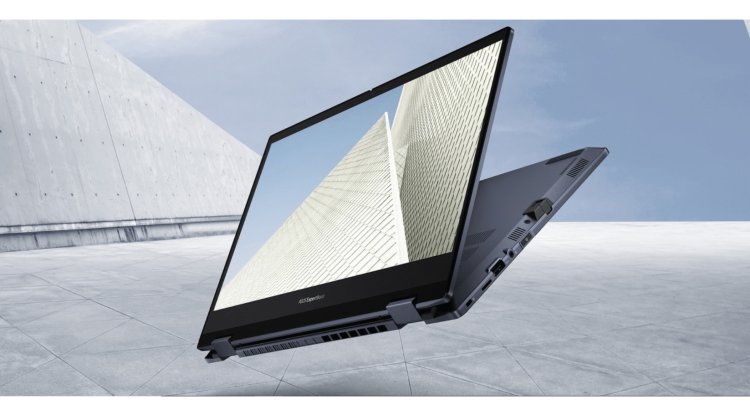 Photo Credits: ASUS/Promo
The ExpertBook product family is primarily aimed at the corporate environment, which is characterized by demanding requirements not only for performance but also for durability and reliability, for ultrabooks and convertible devices for managers, also for premium design.
B5302FE convertible device, equipped with an 11th generation Intel Core i5 processor, 16 GB RAM, a 1 TB SSD, and a 13.3-inch touch screen. The metal body made of magnesium-aluminum alloy gives the device a luxurious look, robustness and, most importantly, contributes to efficient cooling. 
ASUS ExpertBook B5 meets the demanding requirements of the military standard of durability MIL-STD-810H. The elegant soft matte and pleasant-to-the-touch surface have the marketing name, Star Black. Since it is a convertible device, the power button, the volume control, and status diodes are on the sides so that they are also available in the tablet position, ie after flipping the display panel 360 degrees. The design allows the device to be used as a laptop, tablet, tent, or stand.
Although the touch is stylus-supported, it is smooth but not glossy. It has a very effective anti-reflection treatment and the ASUS Private View technology for privacy protection prevents someone from looking at your screen from the side. You will especially appreciate it in the means of transport when your passengers are sitting next to you.
The heart of the convertible device is the 11th generation Intel Core i5 mobile processor, which can run at up to 2.4 GHz with high power requirements, with a power dissipation of 28 W. A well-designed cooling system and metal body allow it to run at full power for longer. Under normal load, this processor can be very economical, it can reduce the operating frequency to 900 MHz.
The keyboard is backlit and spill-resistant. It has a standard key layout, including its dimensions and spacing, so those who master fast ten-finger typing can take full advantage of their skills. The keys have a stroke of approximately 1.5 mm and strong tactile and audible feedback. The absence of a physical numeric keypad will be largely replaced by the function of displaying numeric characters and mathematical operators on the touchpad. The NumberPad has a diagonal of 2 inches.
Biometric authentication using Windows Hello technology using a fingerprint sensor integrated into the power button and the Trusted Platform Module (TPM) 2.0 security chip, which requires an additional layer of security in Windows 10 and 11, is a matter of course for devices designed for business environments as well. 
The device is Intel Evo certified. The webcam has a physical cover with a clearly visible red lens on the indication. 
The 720p camera offers excellent image quality in good lighting conditions. The AI ​​algorithm effectively filters out ambient noise during video calls and video conferencing. The connector equipment is above standard due to its thickness. In addition to two USB-C ports that support Thunderbolt 4.0 technology (40 Gb / s), the user also has a USB-A connector, HDMI for connecting a monitor or projector, and a proprietary connector resembling micro HDMI. 
It is used to connect the reducer to the connector for the Ethernet cable. The reduction is in the package. Thanks to two Thunderbolt 4 ports and one HDMI 2.0 port, up to three external displays with 4K Ultra HD resolution can be connected. For example, you can do a video conference on your B5 Flip's own display and use three screens at the same time to keep an eye on the information that is important to your call. The 65 W power supply is connected via USB-C.
As is customary with professional devices, the manufacturer also remembered the possible expandability. Despite its small size and especially thickness, there is one free memory module slot and also a free M.2 2280 PCIe 3.0 slot, so you can expand both memory and disk capacity. The pair of SSD slots also support the Redundant Array of Independent Disks (RAID) configuration. 
RAID 0 stores data evenly on two disks, which enables twice the speed of disk operations. When equipped with two 1 TB modules, you have a capacity of 2 TB. RAID 1 with redundant data storage ensures that you do not lose them in the event of a failure of any of the modules. Such exemplary scalability is a rarity rather than a rule for convertible ultrabooks and may be one of the important factors why a potential prospect will opt for this model.