Panasonic Lumix GH6 - New Creative Dimension
Photos: ISO 50 (extended) - 25600 / videos: ISO 50 (extended) - 12800. LUMIX GH6 has a 3-inch touchscreen monitor that can be tilted and rotated...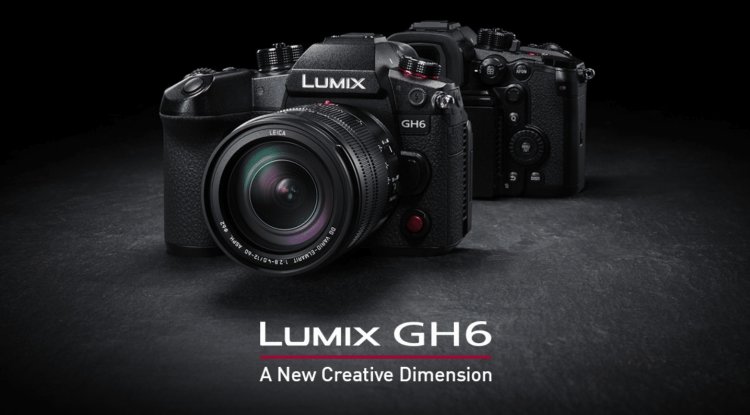 Photo Credits: Panasonic/Promo
Panasonic has introduced a new model from its series of mirrorless cameras on the standard of the Micro Four Thirds system. The Lumix GH6 has been available since March and brings the ability to internally record 5.7K 30p video available in ProRes 422 HQ and ProRes 422 formats to offer non-linear editing without transcoding.
With 4: 3 modes 5.7K 4: 2: 0 10 bits 60p / 50p and 5.8K 30p / 25p / 24p (4.4K 60p) 4: 2: 0 10 bits anamorphic, the LUMIX GH6 offers higher resolutions and higher speeds display than ever before and offers the latest achievements in the high image quality, versatility and range required for film, television and all other types of video production.
The LUMIX GH6 also provides 4: 2: 2 10-bit Cinema 4K 60p internal recording as well as simultaneous output in 4: 2: 2 10-bit Cinema 4K 60p resolution via HDMI. 4: 2: 0 10-bit 4K 120p (equivalent to 5x slow motion * 1) and 4: 2: 2 10-bit FHD 240p HFR (High Frame Rate) video recording with sound are available to allow creative processes such as speed editing. FHD's maximum 300 frames / s (equivalent to 12.5x slow motion * 1) VFR (Variable Frame Rate) allows subjects to move dynamically.
Panasonic has developed a new 25.2-megapixel Live MOS sensor without LPF (Low-pass Filter) that provides high resolution and fast signal reading that reduces shutter lag and achieves a wide dynamic range.
The combination of a new advanced sensor with advanced saturation performance and a new module allows you to draw a clearer image even at a high resolution of 25.2 megapixels and lower minimum ISO sensitivity with ISO 100 [photos: ISO 50 (extended) - 25600 / videos: ISO 50 (extended) - 12800].
The LUMIX GH6 has a 3-inch touchscreen monitor that can be tilted and rotated at a free angle in a 3: 2 ratio and a high resolution of 1840K. This free-angle tilt and swivel screen allows for more flexibility and convenient rotation even when an HDMI and USB cable is connected to the camera.
To support extremely precise focusing, the LUMIX GH6 offers practical manual focusing options.
The 3680K dot viewfinder with 0.76x magnification uses an extremely responsive OLED display that is easily used for detailed shooting of even fast-moving subjects. In addition, a high-contrast screen (about 10,000: 1) displays a subject with fine gradations and high clarity.
The LUMIX GH6 features a new 5-axis super-high-precision gyroscope sensor with a new algorithm that achieves Body I.S. in 7.5 levels * 1 and Dual I.S.2.
With this image stabilization, it is possible to capture even a high-resolution image without a tripod in a special high-resolution mode. By automatically capturing and synthesizing eight images, one after the other, as the 25-megapixel sensor is moved using the Body I.S. (image stabilizer) The GH6 creates an equivalent image with a resolution of up to 100 megapixels (11552 x 8672 pixels). It faithfully reproduces precise details that will be saved as beautiful and extremely realistic photos, not only in RAW format, but also as JPEG. With its compact and lightweight design and powerful feature Body I.S. The LUMIX GH6 makes it possible to capture what was previously considered impossible - like ultra-telephoto handheld shooting.
The LUMIX GH6 offers 12+ levels of wide dynamic range for the factory-offered V-Log shooting capability, and this can be extended to 13+ levels using Dynamic Range Boost mode.
The LUMIX GH6 offers significantly improved sound recording performance: 4-Channel 24-bit recording at 48 kHz or 96 kHz * is possible when an XLR microphone adapter is connected. This allows more flexibility when recording outdoors, for example when we have multiple audio sources, or when recording backup sound. 2-Channel 24-bit recording in the 48 kHz built-in microphone as well as 2-Channel 24-bit high-definition recording in 96 kHz * with an external microphone are also supported.
5-gigahertz (IEEE802.11ac) * 2 is enabled, but also 2.4-gigahertz Wi-Fi (IEEE802.11b / g / n). This allows a secure and stable connection, not only with the smartphone/tablet but also with other devices on-site for smooth remote control.
The Panasonic LUMIX G series offers a choice of more than 30 Micro Four Thirds lenses for a variety of purposes. The latest zoom lenses LEICA DG VARIO-SUMMILUX 10-25mm F1.7 ASPH. (X-H1025) and LEICA DG VARIO-SUMMILUX 25-50mm F1.7 ASPH. (H-X2550) has a large F1.7 full-aperture aperture and is especially loved by professional filmmakers, as well as other F1.2, F1.7 or F2.8 lenses with a single focal length. In addition, the LUMIX GH6 remembers the name and focal length of analog lenses, such as anamorphic or old lenses, so that it can automatically apply the appropriate image stabilizer setting to the camera body when using these lenses.