Asus ROG Strix G15 Advantage Edition G513 Review
The RX 6800M should be by far the most powerful AMD graphics chip for laptops and real competition to the laptop versions of the RTX 3070 and 3080 cards.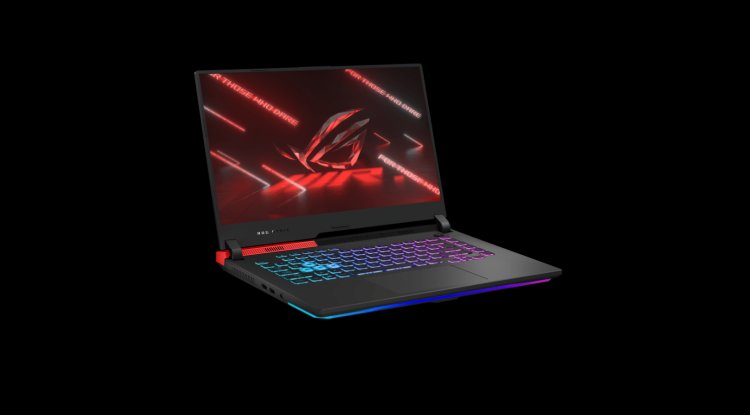 Photo Credits: Asus/Promo
AMD is returning to the world of mobile gaming in style! Asus' latest gaming laptop is fully equipped with AMD hardware, which includes an RDNA2 graphics card and a Ryzen 9 processor. Has the dominance of Intel and Nvidia in the world of high-end gaming laptops finally come to an end?
Advantage AMD
After a long wait, AMD finally recently unveiled its latest generation of mobile graphics processors based on the RDNA2 architecture. At the same time, a completely new series of laptops called Advantage was presented. These are laptops that are completely based on AMD's hardware (main and graphics processor) and bring the optimizations to ensure the best performance and energy efficiency.
Asus is the first manufacturer to introduce the Advantage gaming laptop to the market in cooperation with AMD. Specifically, this is Asus' gaming laptop from the well-known ROG Strix series, which is currently equipped with one of AMD's fastest mobile processors, the Ryzen 9 5900HX, and the fastest currently available mobile RDNA2 graphics card, the Radeon RX 6800M.
As an Advantage Edition model, some of the most modern technologies are supported, such as Smart Access Memory (resizable BAR) and Smartshift, which should dynamically balance the power between the main and GPU depending on the current load and each application. We should also mention that the power of the CPU and GPU is significantly higher in this model, but finely supported in a huge power adapter with a total power of 280 W. High available power means potentially significant heating, so Asus has installed a very competent cooling system based on Vapor chamber technology using liquid metal in the main and GPU.
Design
As for the design itself, Asus ROG Strix G15 Advantage Edition does not differ too much from other models in the ROG Strix series. Its dimensions are quite common for a 15-inch laptop, but it is certainly not among the thinner (27.2 mm thick) or lighter (2.3 kg). Glowing RGB parts on the left, right and front contribute to the gaming look. A special detail is certainly the interchangeable covers in various colors on the left rear. You can choose between red, silver and transparent variants. The design is not overly exciting, nor are high-quality materials used in the production. However, the case is robust enough, and we also liked the front part of the armrest, which is made as a smooth surface and is very pleasant to the touch.
Gaming design and 300 Hz screen
A similar material adorns the surface of the touchpad, which is quite large and has no separate buttons. It supports all the modern gestures and functions we expect from a device like this and we can say that it is quite comfortable to use. The keyboard is a classic chiclet design with rubberized keys, noting that the W, A, S and D keys are light or transparent, while the other keys are dark. The keys are slightly smaller but respond well to pressure and have enough to travel. RGB lighting visually looks very attractive, and you can adjust it separately in four different zones.
When we talk about the equipment of this Asus gaming laptop, we would certainly have a few objections here. First of all, Asus decided to completely omit the webcam and card reader.
There is also no support for Thunderbolt, and only one, namely the USB-C port, supports USB 3.2 Gen 2 speed. It is commendable, on the other hand, that Asus offers two PCIe NVMe disk slots here, and it is also interesting to limit it to 32 GB of RAM via the two available slots.
This model from the Asus G15 Advantage series is equipped with a super-fast 15" IPS screen with a refresh rate of 300 Hz and a response speed of 3 ms, and there is also support for FreeSync. The built-in 300 Hz screen is extremely fast and provides excellent image quality for faster games. There is no sign of blur.
Finally RDNA2 for laptops!
Finally, we come to the most interesting part of this gaming laptop, the hardware configuration with AMD's trademark. The main features are certainly Cezanne APU Ryzen 9 5900HX with eight cores and 16 threads an integrated Vega graphics chip and the latest RDN2A graphics RX 6800M.
The hottest hardware novelty here is certainly the RX 6800M card based on the Navi 22 graphics processor, which has a total of 2560 shadow processors, 160 textures and 64 ROP units. It also comes with 12 GB of GDDR6 memory running at 2000 MHz. In terms of specifications, this card is very similar to the Radeon RX 6700XT desktop, with significantly higher limitations in terms of maximum power consumption.
It should be noted here that this laptop actively uses AMD's Smartshift technology. Within this technology, the CPU (better said APU) and GPU together have 190 W of power available.
Turbo, Silent and Manual profiles are also available.
The Ryzen 9 5900HX is characterized by excellent performance and is currently the fastest mobile processor currently available in terms of multi core performance, rendering performance and video encoding. A comparison to faster desktop 8-core processors is definitely in place here, with the proviso that we're talking about a 15-inch laptop here. The place of Intel-Nvidia domination?
What about gaming performance?
What about gaming performance? Finally, the RX 6800M should be by far the most powerful AMD graphics chip for laptops and real competition to the laptop versions of the RTX 3070 and 3080 cards. We can say that the performance is expected to be more than good. Honestly, we might have expected a little more from the built-in RX 6800M card as well. We kind of get the impression that the full potential of this chip is still hidden somewhere, especially in performance at 1080p resolution.
One reason could be the fact that the integrated graphics chip on the processor is always active and through it the image always comes to the screen. If you connect an external monitor with this laptop, only a separate RX 6800M graphics processor will be active, which brings slightly better performance. Also, if you set the CPU and GPU limits within the power profile yourself, you can get 5-8% more performance at 1080p resolution, for example by limiting the CPU power limit to around 40-50 W. Finally, performance with Ray tracing enabled is not too good, not even at 1080p resolution, which is pretty disappointing for such an expensive gaming laptop.
Of course, such powerful components inside the laptop case get hot. Processor temperatures often reach 90+ ° C, and the graphics chip is at some 80-85 ° C. The noise of the cooling system is noticeable when using the Performance and Turbo power profiles, while the silent profile allows for slightly less noise.
We welcome the competition and the return of AMD's graphics processors to the world of high-end gaming PCs.