Best components and network devices in 2021
The end of the year is the traditional time to review the most interesting products we have encountered in the previous 12 months.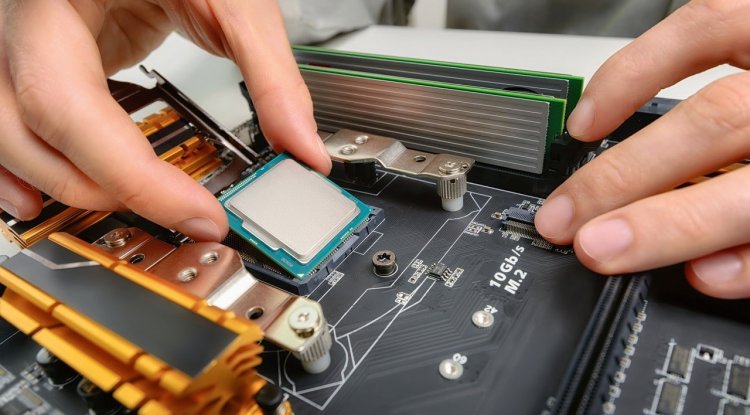 Photo Credits: DepositPhotos
The end of the year is the traditional time to review the most interesting products we have encountered in the previous 12 months. The list that we have been publishing for years includes products that left the biggest impression on us. These are not only the fastest and most expensive models but also those whose appearance has influenced the entire market or brought a new idea.
We divided the lists into several categories, and in each of them, there were products that clearly segment the market.
Multifunction monitor: Philips Superwide 499P9H / 00 VA
The growing need for two monitors has created a new class of Superwide monitors. And among them, during 2021, the Philips SuperWide 499P9H stood out. It is a curved monitor with a diagonal of 49 inches, with a resolution of 5,120 x 1,440 pixels and an aspect ratio of 32: 9. The monitor is huge, literally replacing two 27-inch screens. It is ideal for business applications, especially when working with huge Excel spreadsheets, for graphic design when it is necessary to open a bunch of windows with pallets, and whatnot, and for games. Interestingly, in addition to the standard features, this monitor also has MultiViewoption, when an image from two sources can be displayed on the screen at the same time, and the built-in KVM switch allows you to control several different computers with one keyboard and mouse. Let's not forget the Pop-Up camera that supports the Windows Hello login system.
Gaming monitor: LG UltraGear 38GN950-B
The LG UltraGear is the most powerful monitor in LG's offering, the dream gaming monitor. It has a curved screen with an ultrawide aspect ratio, a diagonal of 37.5 inches, and a resolution of 3,840 x 1,600 pixels. The screen refresh rate is 160 Hz, and the response time is only 1 ms. It is compatible with NVIDIA G-SYNC and AMD FreeSync Premium Pro technologies that allow players to experience flawless and fluid movements during fast games in high resolution. These technologies effectively eliminate screen braking and freezing and provide the perfect gaming experience.
Graphics card: NVIDIA GeForce RTX 3070 TI
The GeForce RTX 3070 TI is based on the Ampere, the second generation of NVIDIA RTX architecture. It has an improved Ray Tracing core, new streaming multiprocessors, and very fast memory, so enough power to play the most demanding games in high resolution. AI specialized Tensor cores provide additional acceleration with uncompromising image quality. At a time of chronic chip shortages, this graphics card (if you can find it in stores) has remained relatively normal, although still high in price.
Gaming CPU: AMD Ryzen 9 5900X
The AMD Ryzen 9 5900X has brought the biggest generational leap in performance, meaning it is far more powerful than its direct predecessor. This is not only a faster and more powerful processor for common tasks but also a powerful CPU for gaming and creative work. It's quite affordable, and the fact that you won't have to buy a new motherboard because of it (if you already have an AMD compatible one) is an added bonus. If the board is older, a BIOS upgrade will be required. The processor is based on the 7-nm Zen 3 architecture and has 12 cores with 24 threads, and runs at 3.7 GHz.
Mid-range universal CPU: AMD Ryzen 5 5600G
In a situation when the prices of graphics cards have jumped, PC gamers are turning to integrated solutions to overcome this obstacle. And that's where the AMD Ryzen 5 5600G found its place as the ideal solution. This processor has integrated seven-core Radeon graphics running at 1,900 MHz, while the CPU itself has a base clock of 3.9 GHz. This setting may not provide top performance in 4K resolution, but at 1080p everything works more than well enough to give users great entertainment.
Budget CPU: AMD Athlon 300GE
Whether you're looking for a processor for your PC-based media center or a general-purpose desktop, the AMD Athlon 300GE is the best choice when you consider performance and price. It is cheap and surprisingly fast for that price. Of course, it will not be able to compete with much more expensive processors, but you will be impressed by its capabilities. The processor runs at 3.4 GHz, has two cores, and is a small consumer of energy, so a cheaper power supply will meet its needs quite nicely. And as an added bonus, this processor has integrated Radeon Vega 3 graphics.
Internal SSD: ADATA XPG Gammix S70
The XPG Gammix S70 is a fast M.2 2280 NVMe 1.3, the first ADATA SSD to use the PCIe Gen4 * 4 interface. A combination of Phison controller and TLC (triple-level cell) NAND is responsible for achieving results of 7,400 MB / s for sequential reading and 6,400 MB / s for sequential data entry. The SSD comes with a beautifully designed and, more importantly, efficient metal heat dissipation system, making it ideal for gamers, PC enthusiasts, overclockers, and video rendering professionals.