CES 2022: New Samsung Bespoke Jet Vacuum Cleaner
Bespoke Jet brings an All-in-One Clean Station that provides users with room hygiene during cleaning. This vacuum cleaner is designed to fit into any home.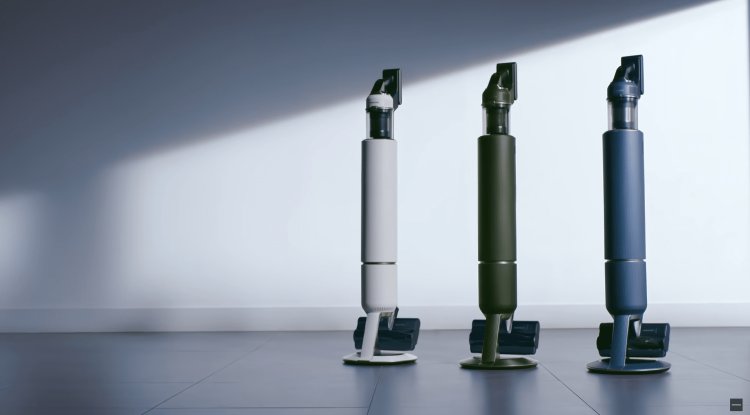 Photo Credits: Samsung/Promo
Hygienic cleaning performance
Samsung Bespoke Jet brings an All-in-One Clean Station that provides users with room hygiene during cleaning. When plugged in, the All-in-One Clean Station can automatically empty its trash can without releasing tiny dust particles, all thanks to Air Pulse technology. Also, it automatically charges the Bespoke Jet vacuum cleaner at the same time.
The rod vacuum cleaner also contains a multi-layer filtration system of 99.999 percent, which allows only clean air to be released and a healthy environment to be created. As the air is sucked in, the main cyclone separates large dust particles, which are then collected in a metal mesh filter. The micro-filter then traps fine dust particles, and finally, the fine dust filter retains micro dust that can easily escape. All parts and filters are washable, so they can be kept hygienically clean.
Powerful cleaning in a lightweight design
Whether used on hard floors or carpets, the Bespoke Jet provides efficient cleaning and generates up to 210 W of suction power, all thanks to Samsung's digital inverter motor which is 47 percent lighter than the Jet 90 vacuum cleaner motor.
With the Jet Cyclone filtration system, the user can enjoy cleaner air and powerful suction power. It contains a highly efficient, multi-cyclonic structure, thus creating an optimal air path to reduce air resistance and minimal loss of dirt suction, all in order to hygienically trap small and unhealthy dust particles.
The body of the Bespoke Jet vacuum cleaner weighs only 1.44 kg, which is easy enough to maneuver and clean the whole house and various surfaces such as seating furniture, tables, cabinets, window blinds, stairs and even those hard-to-reach places under household appliances.
Easy and practical cleaning
Bespoke Jet has a convenient LCD digital display with support for 28 languages ​​that provides users with all the necessary information, including settings for suction levels as well as the remaining battery time. It also provides information on all problems - clogging, jammed items in the brush or missing filters, and provides instructions to help solve the problem.
Despite its high-specific features, the Bespoke Jet features a high-capacity battery. It can run for up to an hour, and when that time expires, the user can simply replace the spare battery to extend the cleaning time by up to two hours. Additionally, it allows the rod vacuum cleaner to retain 70 percent of its original performance for up to 500 cycles.
Furthermore, to make it easier for users to clean hard floors, the Bespoke Jet comes with an upgraded Spray Spinning Sweeper extension. This extension contains double rotating wet pads that rotate for up to 100 minutes, thus providing stable and efficient cleaning of hard floors. The advanced Spray Spinning Sweeper has a 150-milliliter water tank that is easy to maintain, thus providing a more practical user experience for manually spraying water when cleaning.
The arrival of the Bespoke Jet vacuum cleaner opens a new and modern age of home appliances. Embracing the philosophy of Samsung's already recognizable Bespoke brand, the sleek Bespoke Jet cordless vacuum cleaner is designed to fit perfectly into any home, and is available in three sophisticated colors - midnight blue, misty white and woody green - and allows users to install vacuum cleaners in the living room. Stay without disturbing the overall interior design.
https://www.youtube.com/watch?v=M7OjElxxxjM&t=120s&ab_channel=SamsungUS