Cyberpunk 2077 received next-gen versions
Cyberpunk 2077 today has reached version 1.5 which finally brings a whole host of concrete novelties and things that were missing from the game...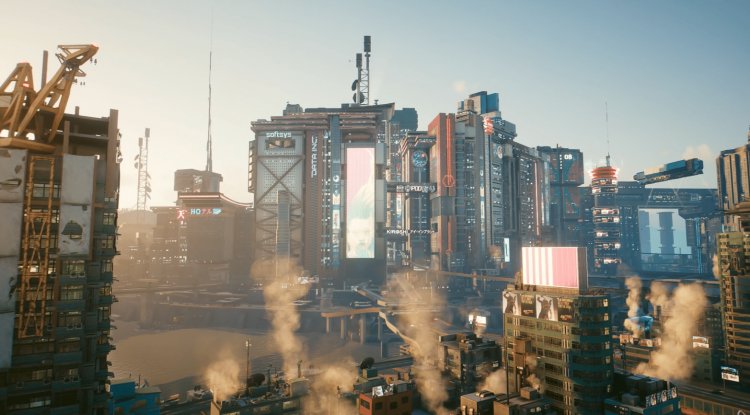 Photo Credits: Cyberpunk/Promo
Cyberpunk 2077 today has reached version 1.5 which finally brings a whole host of concrete novelties and things that were missing from the game after its release a year ago. Version 1.5 is also the "next-gen", a separate version of the game for the PlayStation 5 and Xbox Series X / S consoles has finally been launched.
Let's first clarify what's new with these versions. Cyberpunk 2077 on PS5 and XSX consoles will have two performance modes: in 4K resolution at 60 fps without raytracing effects, and in 4K and 30 fps with raytracing shadows. On the Xbox Series S console, there will be only one performance mode in 1440p resolution and 30 fps without raytracing.
Players who have an Xbox One console version will be able to upgrade the game to the next-gen version by updating an existing installation (weighing about 63 GB). Players on the PlayStation 5 will have to download the entire game in a separate PS5 version (96 GB) and transfer the recorded position from the PS4 version if they have it (only one recorded position can be transferred).
The good news for all those who don't have Cyberpunk 2077 but have PS5 or XS consoles is that the game will be free to try out for a total of five hours of gaming in the next 30 days. So, you have 30 days to try the game, and that trial can take a maximum of five hours. Everything you achieve during this trial will be saved for the full version of the game if you decide to purchase, so you can continue where you left off. By the way, the game is currently at a 50% discount.
That's what the next-gen version is all about, and now let's see what new features and changes the 1.5 version update brings, available for all existing versions of the game (PC, PS4, XBO and new consoles).
Total redesign of the Perk system, skills development for the character. Some pointless perks have been dropped and some new ones have been added. The idea is to encourage players to play more different styles of play instead of hiding in a shelter while shooting. For players who have unlocked some skills, the points will be saved, but the skills will be canceled, so they will have to redistribute to new skills when they return to the game.
The knife-throwing system has been redesigned. Now the knife functions like a boomerang - after you throw it at the enemy, after a while it comes back to you without you having to look for it. But if you don't want to wait for it to come back to you, you can also pick up the knife by hand if you know where it is.
From the CD Project, they say that they have significantly worked on the artificial intelligence of the characters. Enemies now have more reactions, they are more mobile during the fight and the like. Civilians in the city are also behaving differently - some can now return fire if you attack them, they can fight with each other.
Changes in behavior also affect drivers in traffic. The so-called panic driving - when you attack people while driving a car, they will not just get out of it or stand still but will run away and in a panic they can tread on foot in front of them.
The map in the game has received several useful changes. This separates the main and secondary content more clearly, and adds filters that allow you to turn off the display of what bothers you or you just don't need on the map.
The economy in the game has received a rebalance. Rewards for completing missions are now higher, and the prices of everything are lower - e.g. cars are cheaper than before.
It will finally be possible to exclude stressful phone calls from individual contacts.
Four new apartments have been added that can be purchased in the game in different locations. The apartments come with an item storage container that is shared among all the apartments you buy.
In the apartment it is now possible to change the appearance of the character (hairstyle, makeup, etc.). New colors have been added to tidy up the character, as well as new makeup.
New activities in the apartment have been added - playing guitar, drinking alcohol, smoking cigarettes, etc.
All activities from now on have buffers if you do them, e.g. you can get more energy after showering or sleeping.
Romances have expanded, so now you can call the characters more often, and if you are in a relationship, you will see them more often, wake up next to them and the like.
An option for walking in the PC version has been added so you don't have to run around town like a maniac.
Two new weapons and new optics were added.
The PC version received a built-in benchmark for performance testing.
The PC version received support for AMD FSR