EShark Shuriken - For competitive players
Pixart PWM 3370 optical sensor supports up to 19,000 DPI with precise 400 IPS which means it will be able to track your movements very accurately.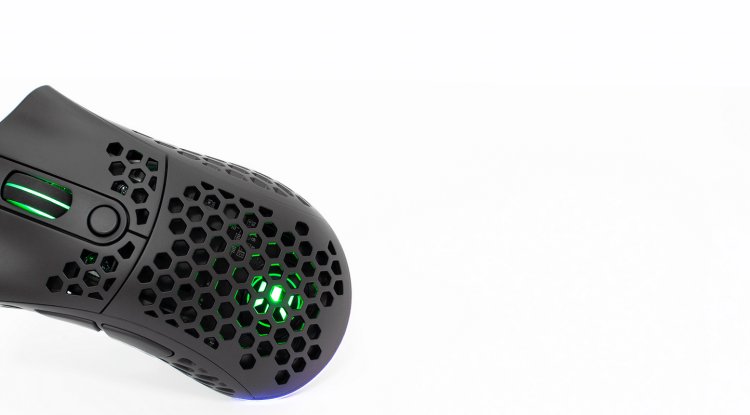 Photo Credits: EShark/Promo
If we can be sure of one thing, then these are definitely the crazy prices of new PC hardware for which you will think carefully when buying or upgrading a computer, considering that there are no price reductions in the coming years. Fortunately, when it comes to peripherals, prices can be much more competitive when it comes to premium product performance. If you are a competitive player, the most important thing for you is to interact with the computer, which means that the periphery must have a solid performance in order to be able to compete in your favorite titles. Peripherals will still cost more than the average PC user is willing to pay, but the model's large range also means the right price-performance ratio can be found.
Here, the new ESHark Shuriken jumps into the story, a mouse that follows design trends and is also armed with the latest PixArt sensor to provide users with competitive performance. It has a perforated outer case that offers it a weight of only 65 grams. While not the lightest in its class, it can be compared to the lighter mice on the market. The perforated design extends to the entire mouse, including the lower part of the case, and only the front two buttons are made of solid plastic, as well as two auxiliary ones on its left side.
This design often boasts of reducing hand sweating, so if this is a problem you are facing, it is definitely worth investing in a mouse like this. It contains a total of 6 buttons that you can program to your liking, and these are the two main front buttons that use advanced Light Strike switches and have an average lifespan of 100 million clicks, which will long serve fans of Clicker Heroes games. On the left side of the mouse, we have a recessed mouse body ideal for positioning the thumb and of course two buttons that you control with your thumb.
In addition to standard actions, you can also program these buttons, depending on the title you are playing. Omron switches with 20 million clicks are used here, and we must point out that these are buttons that do not have "idle" but accept clicks quickly and clearly. The last two buttons that EShark includes here are on the top of the mouse, and of course, it's a scroll wheel made of clear plastic for RGB effects and has a rubberized surface on top to make it easy to operate, but don't expect infinity scroll functions. A little above the scroll wheel is a button that is used by default to change the DPI of the sensor. The whole mouse is black, and as a finish, it uses a powder coating so you have a firm feel when using it even though no rubberized grip stickers are used. On the bottom of the mouse, you have two more buttons next to the sensor itself. The left button changes the frequency or frequency of updating the mouse position on the computer. Since this is a wired mouse, this button doesn't make any sense, so be sure to always have a 1000 Hz operation turned on. On the right side of the sensor, you have a switch with which you can control the lighting on the mouse, depending on your own preferences. You can control all this and additional settings such as key programming in the mouse software, which offers a solid number of options.
New PixArt PWM 3370
The main star of the show is certainly the new Pixart PWM 3370 optical sensor for competitive gaming, which is easy to see from the specifications themselves. It supports up to 19,000 DPI with precise 400 IPS which means it will be able to track your movements very accurately. In addition, it can monitor acceleration up to 50G, which is also the maximum currently offered by optical sensors. The gaming scene has yet to be tested properly, but for now it is praised because almost all the shortcomings of previous models have been resolved, and after a few millimeters it stops tracking the surface so your eyes will not escape when you have to lift it.
Specifications:
Chipset: PMW 3370 + MCU 8948 + TTC encoder
Lifetime: 100 M - LK switches(L+R); 20 M Omron(side buttons)
Illumination: RGB 16.8 M colors
Surface finish: Powder coating
Dimensions (mm): 123x70.4x39.5
Mouse compatibility: Windows 7/8/10/MacOS