Fast and effective - ADATA boasts new DDR5 memory
DDR5 memories are slowly entering the market, and manufacturers are preparing more and more interesting offers.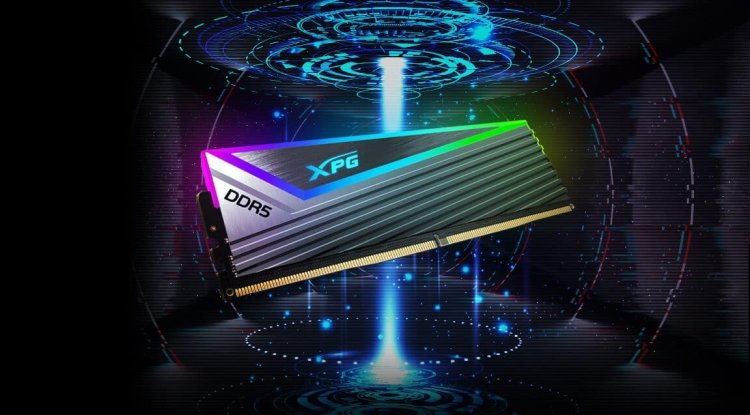 Photo Credits: Adata/Promo
DDR5 memories are slowly entering the market, and manufacturers are preparing more and more interesting offers. ADATA has just introduced the announced XPG Caster DDR5 models to its offer. This is a proposal for enthusiasts who are looking for efficient and effective modules.
ADATA XPG Caster DDR5 - top memory for enthusiasts
The fresh memories will work well in modern computers (so far they are only supported by 12th generation Intel Core processors). ADATA offers one of the faster DDR5 modules that should offer better performance (compared to standard 4800 MHz models).
The manufacturer's offer includes single modules with a capacity of 16 GB and two-channel sets with a capacity of 32 GB (2x 16 GB) - we can find here memory clocked at 6000 MHz (CL40-40-40) and 6400 MHz (CL36-36-36), and in In the future, they are to be joined by sets with a speed of 7000 MHz (unfortunately, no delays were disclosed).
It has saved the appropriate settings in the XMP 3.0 profile, thanks to which users will be able to set the appropriate memory parameters quickly. It is worth noting, however, that the fastest memories can only be supported by top motherboards.
The impressive design of the modules draws attention. The manufacturer used an aluminum heat sink in a steel gray color. Optionally, you can decide on modules with RGB back-light, which gives an even more interesting look - the user can adjust the lighting to his preferences (we can control it from the level of a dedicated application or motherboard software).
Futuristic style
With its steel gray heat sinks, striking triangular RGB light, and streamlined shapes, the XPG CASTER Series DRAM conveys a sense of speed, sophistication and futuristic style. Users can configure RGB lighting any way they want. They can choose from different effects (static, breath, and kite) or sync the lights to their favorite songs via music mode. All of this can be done through RGB control software from major motherboard brands.
ADATA XPG Caster DDR5 memory specification
type: DDR5 U-DIMM
capacity: 16 GB, 2x 16 GB
clock: 6000 MHz (CL40), 6400 MHz (CL36)
voltage: 1.25 V, 1.35 V
additional: RGB LED backlight (Caster RGB DDR5 models)
height: 37.5 mm (Caster DDR5), 43 mm (Caster RGB DDR5)
ADATA XPG Caster DDR5 modules are expected to be available in the first quarter of 2022. The standard 16 GB 6000 MHz CL40 module is expected to cost around $160, while the back-lit version is a bit more - $170  (two-channel sets should cost more or less twice as much).
New XPG HUNTER DDR5
Besides the XPG CASTER series DDR5 DRAM, XPG will also release the new XPG HUNTER DDR5 DRAM later this year. This new module is the successor to XPG HUNTER DDR4 DRAM and offers improved 5200MT / s performance and a revamped heat-sink design.
Additionally, two prototype ADATA PCIe Gen5x 4 SSDs will make a special appearance. They include "Project Nighthawk", with a Silicon Motion SM2508 controller and capable of delivering sequential read / write performance of up to 14 / 12GB / s.
"Project Blackbird", with an InnoGrit IG5666 controller, will offer a read / write performance of 14 / 10GB / s; both SSDs have capacities up to 8TB.
Adata's new Elite SE920 USB4 external SSD will also be there. The external SSD reaches transfer speeds of up to 40 Gb / s and is equipped with a patented thermal cooling design with a built-in fan.