First OLED foldable laptop - Asus Zenbook 17 Fold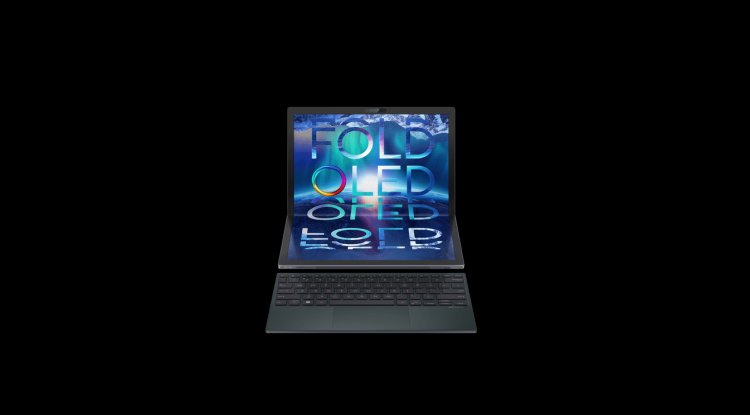 Photo Credits: Asus/promo
Brand
ASUS
Model
ZenBook 17 Fold OLED 2022
Status
Announced
Release Date
Exp May 2022
OS
Windows 11 Home
Physical Stats
Dimension
31.10 x 22.30 x 1.59 ~ 1.59 cm (12.24" x 8.78" x 0.63" ~ 0.63")
Weight
1.65 kg (3.6 lbs)
Color
Pine Grey
Display
Screen Size/Type
17.3 inches, 90 Hz, OLED
12.5 inches, Folded
Resolution
QHD (2560 x 1920) Unfolded
FHD+ (1920 x 1280) Folded
Touchscreen
Yes
TouchPad
Yes
Keyboard Backlit
Yes
Hardware
CPU
Intel Core i7-1250U
GPU
Intel Iris Xe Graphics
RAM
16GB LPDDR5
Memory HHD/SSD
1TB SSD
Battery
75Whr, 4-Cell
Adapter
100W
Built-in Devices
Fingerprint
Yes
Microphone
Array Microphone w/ Cortana and Alexa Voice Rec.
Speakers
2 Speakers, Harman Kardon
Audio Jack
3.5mm
Interfaces/Ports
HDMI
2.0b
USB
1x USB Type-A Gen 2, 3.2
2x Thunderbolt 4 supports display/power delivery
VGA
Yes
This year could be the year of foldable computers. In the last two years, we have become accustomed to a lot of news about flip smartphones. It is a brand that is growing frequently in all markets and has some great products like the Samsung Galaxy Z Fold 3 smartphone.
As early as 2022, things are clearly changing as Asus proudly announces the arrival of "the world's first foldable OLED laptop".
I guess now it's time for folding computers that will surely delight many users with their design and capabilities.
Asus is currently the only company to announce a new model of folding computer called the Asus Zenbook 17 Fold for this year. This is Asus' first flap computer presented at a recent event called CES 2022. Asus Zenbook 17 Fold will, unfortunately, have to wait a bit because its release is announced for the middle of the year, but at first glance, it is a powerful device with excellent performance.
It is immediately apparent that the Asus Zenbook 17 Fold has slightly different specifications when in full size and when folded.
When in full size, it is a fairly large device with a 4: 3 aspect ratio and a 17.3-inch screen. We really need to emphasize this screen because it is enough to imagine the iPad Pro with that size, and it will be clear to us how big the device is.
The special feature of the Asus Zenbook 17 Fold model is the possibility of its folding and only then we see that it can be reduced to smaller dimensions and that the impression of a large device is suddenly lost.
When folded, the Asus Zenbook 17 Fold reduces the aspect ratio to 3: 2, and the screen gets a size of 12.5". The device will have a software package that will allow the user to decide which applications will be on each side of the folded computer. Asus Zenbook 17 Fold has an OLED display with a refresh rate of 60 Hz.
No matter what size Asus computer you use, the wireless Asus ErgoSense Bluetooth keyboard is always an integral part of it. An alternative can be an on-screen keyboard, so each user will customize the way they work.
It should be noted that the wireless keyboard is the same model that comes with other Asus devices from the new series and has a built-in stand.
Without a keyboard, the device weighs just over a kilogram and a half, and together with the keyboard about two kilograms, which is acceptable. It has two USB-C Thunderbolt slots, a headphone jack and a standard "Power" button and volume buttons.
It is impressive that the Asus Zenbook 17 Fold has a powerful Intel Core i7 U-Series processor of the twelfth generation and 16 GB of LPDDR working memory as a switch device. The device also comes with 1 TB of internal memory on the SSD, Wi-Fi 6 and a 75 Wh battery.
Additional features of this device that are also thrilling are 65 W USB-C charging (Easy Charge), excellent speakers (powerful DSP chip) and Windows Hello camera support. The aforementioned Windows Hello and Harman / Kardon audio are the features that will be given to Zenbook computers coming out in 2022 and it is great that Asus Zenbook 17 Fold will also get them.
Asus states on the official website that you get two devices in one, and this at the same time entails the possibility of creating a desktop on multiple screens.
By using the ScreenXpert software, the user of the Asus ZenBook 17 Fold computer can use one screen in its full size, and when folded, it uses a screen divided into two or three parts (one part of the folded device can be divided into two parts).
The variety and innovation of the visual display have an extra dimension when setting up the device. You can set up the Asus ZenBook 17 Fold as a laptop, PC, tablet, smartphone, or in book form.
The device also has a color sensor according to which it adapts to ambient light to make work more comfortable, which is something similar to Apple's True Tone on the iPad. The official Asus website states that the Asus Zenbook 17 Fold has an OLED screen that emits 70 percent fewer shades of blue light than any LCD screen.
The device's camera has 5 MP and can be great for video calls or online meetings, as the device has built-in AI noise cancellation to make the conversation experience even higher.
It is an HD infrared camera powered by a technology called Intel visual sensing controller, which is used to detect when the user moves away from the device and it locks automatically. It also unlocks automatically when the user returns. Interestingly, the screen will darken when the user is not looking at it to save battery power.
The Asus ZenBook 17 Fold comes equipped with Windows 11 Pro operating system, and the use of Glide X screen sharing tools will bring even more workspace and show the true versatility of the device.
Asus also states that the device has passed many tests (overlap test in 30,000 cycles) and confirms that it is a screen made of quality materials and that it will be used for a long time.
https://www.youtube.com/watch?v=okourwo8sms&ab_channel=ASUS