Gainward GeForce RTX 3080 Ti Phantom GS review
We are testing the Gainward GeForce RTX 3080 Ti Phantom GS graphics card - this version is equipped with three 8-pin power sockets.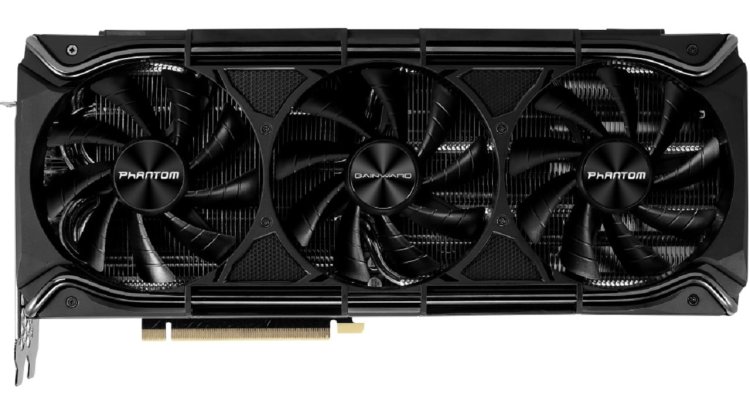 Photo Credits: Gainward / promo
We are testing the Gainward GeForce RTX 3080 Ti Phantom GS graphics card - this version is equipped with three 8-pin power sockets, but will it allow overclocking fans to get the best out of this system?
We know. You are all waiting for cheaper models of GeForce and Radeon cards, which are to appear in 2022 (come on, how "cheaper" they will be, it remains to be seen). Recent reports tell the truth that NVIDIA has revised its publishing plans for early 2022, but the premiere of the mighty GeForce RTX 3090 Ti and the refreshed GeForce RTX 2060 with 12 GB VRAM seem to be safe.
Before we get our hands on new card models, however, let's take a look at one of the most powerful GeForce graphics cards on the market today (excluding the RTX 3090 models). And we're talking about the Gainward RTX 3080 Ti Phantom GS model - a powerful design, the performance of which should satisfy the most demanding PC players.
Gainward GeForce RTX 3080 Ti Phantom GS - a strong man with a great appetite for energy
The dimensions are 304mm x 138mm and the thickness is 2.7 slots. Three fans ensure that the solid heat sink does not "sweat" too much. There is a backlight, an ARGB connector, a metal backplate, and a handle that stabilizes the mounting of this monster in the housing.
Gainward GeForce RTX 3080 Ti Phantom GS - price
Okay, we've barely started the review and come to the most sensitive point. A horse with a row of those who will find the GeForce RTX 3080 Ti at a decent price. Practically speaking, the RTX 3080 Ti (store) prices start at $ 2500. The Phantom GS model is difficult to find in our country - in the most popular stores we only managed to find the Gainward GeForce RTX 3080 Ti Phoenix model, and it costs over $ 3000. Will the next year be equally disastrous for the graphics card market? We will find out soon.
GeForce RTX 3080 Ti - specification and comparison to other models
Model
GeForce RTX 3080
Gainward RTX 3080 Ti Phantom GS
GeForce RTX 3090
Generation
Ampere / 8 nm
Ampere / 8 nm
Ampere / 8 nm
Graphic layout
Ampere GA102
Ampere GA102
Ampere GA102
Shading units
8704
10240
10496
Texturing units
272
320
328
Rasterization units
96
112
112
Tensor Cores
272 (3rd gen)
320 (3rd gen)
328 (3rd gen)
RT units
68 (2nd gen)
80 (2nd gen)
82 (2nd gen)
Core clock
1440/1710 MHz
1365/1725 MHz
1395/1695 MHz
Computing power
29.77 TFLOPS
34.10 TFLOPS
35.58 TFLOPS
Video memory
10 GB GDDR6X 320-bit
12 GB GDDR6X 384-bit
24 GB GDDR6X 384-bit
Memory clock
19,000 MHz
19,000 MHz
19500 MHz
Memory bandwidth
760.3 GB / s
912.4 GB / s
936.2 GB / s
TGP (power)
320 W
(1x12-pin)
400 W
(3x8-pin)
350
(1x12-pin)
Interface
PCIe 4.0
PCIe 4.0
PCIe 4.0
Price*
$ 699
$ 1200
$ 1499
Once again, we feel sad when we look at NVIDIA's startup prices, which have long been telling us nothing about the actual prices of graphics cards in stores. But let's focus on the card itself - it is factory overclocked (the power limits are also increased) and requires connecting as many as three 8-pin power plugs. So it's a model for enthusiasts who don't care about power consumption but want to get the most out of the 3080 Ti.
In the case of top models, it is worth remembering the principle that each power cable should come from a separate power supply line - only then will we provide the card with the maximum amount of "pap". Theoretically speaking, two separate PCIe cables (2 x 150 W) and the slot itself (75 W) should provide adequate power, but in the case of the most demanding designs (especially if we are trying to overclock), even this may not be enough.
The manufacturer recommends using a power supply with a capacity of at least 750 watts, and this is really the absolute minimum. 
Gainward GeForce RTX 3080 Ti Phantom GS - is it worth buying?
The graphics card market is still dry and expensive, so finding this model may be difficult, and at an attractive price even impossible. Actually, we should ask whether we will be able to count on an improvement in this segment in 2022, but so far the forecasts are not very enthusiastic. The store prices of the 3080 Ti models start at $ 2500, and when it comes to models from the Gainward stable, we managed to find only the RTX 3080 Ti Phoenix for over $ 3000 ... Just crying and gnashing of teeth.
Gainward GeForce RTX 3080 Ti Phantom GS is a very efficient (factory overclocked) graphics card for gaming in 4K UHD resolution. It's big, power-hungry, but overclockers will surely enjoy it. This model, of course, is more efficient than the reference 3080 Ti models, but in total, it will be only a few percent. The energy limits of this model can be increased to 440 watts, but in fact, when three eight-pin sockets have already been installed in the card, why has it not been possible to increase it even more?
We have absolutely no objections to this model. The cooling system is efficient, the machine has its power, and for lovers of flashing lights, there is even an ARGB connector. The problem still remains the poor overall availability of graphics cards and their exorbitant prices.
Pros
One of the most efficient RTX 3080 Ti models
Efficient cooling system
Solid backplate
Factory overclocked
Increased default power limits
12 GB VRAM GDDR6X
Dual BIOS
0 dB mode (fans stop completely at low load)
Backlight and ARGB connector
Cons
Very high price
Very high energy consumption