Geforce RTX 3080 Ti for notebooks: GA103-GPU with 7,680 shaders appeared
A new Nvidia GPU called GA103 has appeared in Techpowerup's GPU database. Allegedly, this should be used in Nvidia's new flagship notebook and come onto the market as RTX 3080 Ti or RTX 3090.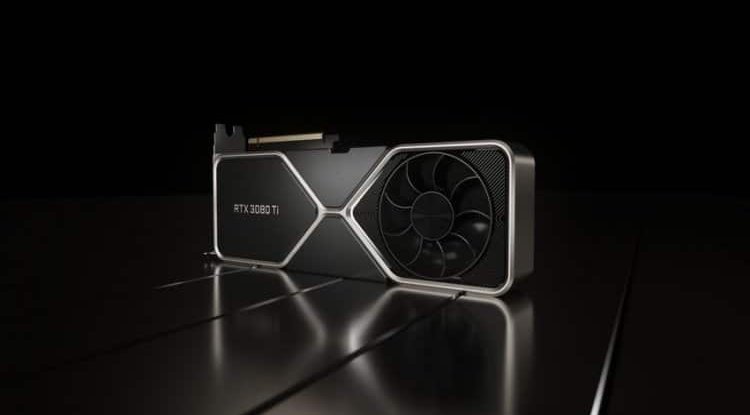 Photo Credits: Nvidia / promo
It has now been almost 14 months since Nvidia introduced the first-ampere graphics cards. In the coming months, a small upgrade, for example in the form of super graphics cards, could appear. But new editions are not only possible in the desktop market: Nvidia could also add more graphics cards from the RTX 3000 generation to the notebook.
GA103 as RTX 3080 Ti Mobile
This is particularly supported by the appearance of a new GPU: Matthew Smith, who is responsible for the Techpowerup database, recently entered a GA103 in it. The GPU data comes from the database in which the PCI device IDs are stored.
Allegedly, the
GA103
is supposed to offer 7,680 shaders and thus position itself between the GA104 with its 6,144 shaders and the GA102 with its 10,752 shaders. The other computing and administration units are also scaled accordingly, and the manufacturing process at 8 nm is just as identical to the already known GPUs. With the exception of the TDP, nothing really special about the GA103 can be read from the data published so far. The stated TDP, on the other hand, is comparatively low at 125 watts. In keeping with this, Smith thinks it is possible that the GA103 is intended for use in a notebook.
| GPU | GA102 | GA103 | GA104 |
| --- | --- | --- | --- |
| Transistors | 28.3 billion | - | 17.4 billion |
| production | 8 nm | 8 nm | 8 nm |
| Shader | 10,752 | 7,680 | 6,144 |
| Max. TDP | 450 W | 125 W | 290 W |
Specifically, there is speculation on Twitter about a release as Geforce RTX 3080 Ti Mobile, whereas the leaker kopite7kimi also considers a release as Geforce RTX 3090M to be possible. So far, Nvidia's fastest notebook graphics card is the Geforce RTX 3080M, which, like the RTX 3070 Ti, relies on a full GA104 expansion with 6,144 shaders.
Even if the release of a GA103 in a notebook is quite possible, it would be unusual for Nvidia to have a new GPU manufactured solely for the mobile high-end segment. However, it is conceivable that a potential GA103 could also play a role in a potential ampere refresh. With the said 7,680 instead of 6,144 shaders, the chip could be placed between the RTX 3070 Ti and the RTX 3080.
By: Amber V. - Zexron