Gigabyte Z690 Aorus Master review
Master-branded motherboards are at the top of Gigabyte's offerings, although the company has even stronger, and therefore more expensive, models.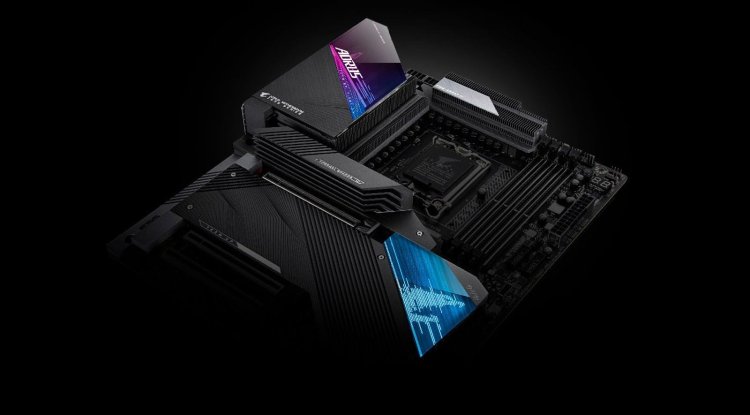 Photo Credits: Gigabyte/Promo
Master-branded motherboards are at the top of Gigabyte's offerings, although the company has even stronger, and therefore more expensive, models. The Z690 variant boasts a state-of-the-art voltage unit, 10-gigabit network and the implementation of as many as five slots for M.2 SSDs.
Chipset
Intel Z690
Socket
LGA-1700
Memory
4 × DDR5, up to 128 GB
PCIe connectors
1 × PCIe 5.0 x16 (CPU)

2 × PCIe 3.0 x16 (x4, chipset)
SATA / M.2 / U.2
6 × SATA, RAID 0, 1, 10

(chipset) 4 × M.2 NVMe PCIe

4.0 x4 1 × M.2 NVMe PCIe 3.0 x4
Network
1 × 10 Gb/s Marvell AQtion AQC113C

Wi-Fi 6E Intel AX210
Audio
Realtek ALC1220-VB

ESS ES9118 DAC
Rear connectors
BIOS Reset Button BioS

Auto FlashIng Type

2 × Antenna

1 × LAN (RJ45)

1 × DisplayPort

4 × USB 3.2

Gen1 5 × USB 3.2 Gen2

1 × USB-C 3.2 Gen2

1 × USB-C 3.2 Gen2×2

5

× audio connector 1 × SP/DIF out
Credits: Bug.hr
Despite the high price, the board does not arrive with any special accessories. There are SATA cables, screws for mounting M.2 SSDs, twormistors (thermo-probes), extension cables for connecting RGB strips and a noise measuring sensor. The latter sensor, a de facto tiny microphone that listens to computer noise from the inside, is not new to Gigabyte motherboards, and allows us to automatically regulate fan speed using Gigabyte's SIV software according to its readings. The motherboard itself is quite large and heavy due to the need to implement numerous connectors, but also massive cooling. Fortunately, although it technically follows the EATX format, the Master is narrow enough to fit seamlessly in larger mid tower enclosures, such as the popular Fractal Design Define or Meshify models, for example. In our Meshify 2, the right edge of the board just fits to the rubber-coated holes designed to hide the cable behind the motherboard mount.
The RGB lighting is quite discreet, but also less impressive in person than in the attached illustration. The motherboard is armored on all sides, including the back, where there is a large metal plate that protects the PCB and provides additional strength, while on the upper side we have a massive ribbed cooler on the voltage unit, a huge plate-shaped two-part cooler, covering the chipset and most M.2 slots, and a separate massive cooler for the primary M.2 SSD, located above the primary PCIe slot. One of the striking features of the Master model is support for the installation of as many as five NVMe SSDs. Four use the NVMe Gen4 interface and one uses the Gen3. The primary SSD is connected to dedicated channels in the processor, and the other four use a PCIe chipset controller. In terms of installing these SSDs, it is a little frustrating that the screws that hold the coolers to the board do not have a stopper on the underside, so they very easily fall out when we take the cooler off the board.
Focus on the essentials
The occupancy of M.2 slots also has an impact on the availability of PCIe slots. Gigabyte engineers have abandoned the implementation of two PCIe slots that share the controller from the processor, already all 16 PCIe 5.0 channels are connected to the primary PCIe x16 slot. There are two more slots of the same size on the lower part of the motherboard, but internally they offer only a quarter of the maximum bandwidth, with a PCIe 3.0 generation interface. In addition, if the M.2 slot with the Gen3 interface is filled, one of the PCIe slots loses functionality. Luckily, few actually use these secondary slots.
At the lower edge of the board we have a standard offer of two USB 2.0 ports, connectors for connecting RGB strips, three connectors for fans and connectors for additional sensors (temperature and noise). Gigabyte engineers also placed a small PC reset button there (its function can be changed via a BIOS), but it would be better if it, along with the larger PC power button, located above the ATX connector, was on the right edge of the motherboard. Nearby are an LED diagnostics screen, two connectors for RGB strips and four fan connectors. On the right edge of the motherboard are rotated SATA connectors, and upright connectors for connecting Thunderbolt card, 20-gigabit USB-C and two 5-gigabit USB 3.2 connectors.
Gigabyte has been using very impressive passive coolers on its stronger boards for years. The stunt is that these are coolers with classic thin ribs, which have a large disipathetic surface and very easily leak air that takes on heat and takes it out of the system. That is why these coolers do not need to be as huge as on the boards of other manufacturers. In practice, this means that the motherboard is lighter, but more importantly, that access to the processor is more open. Above the metal liners of reinforced memory slots there are contacts for direct measurement of critical voltages of the processor. The cpu power supply is taken care of by a 19-phase assembly, based on 105-amp elements, which is why master tolerates energy-hungry Core i9-12900K as a joke, with a maximum voltage unit temperature of only 52 °C. However, it should be emphasized that for some reason this motherboard powered the i9 with more voltage than Asus's Maximus Extreme, which is why the processor, with the same average cadence, consumes more energy (273 to 249 watts) and is heated more (an average of 96 to 87 °C). This can, of course, be regulated manually, but these are factory settings that will be used by most users.

The offer of external connectors is excellent. Master offers four 5-gigabit USB, six 10-gigabit, one type C, one 20-gigabit USB-C, DisplayPort 1.2 for processor graphics, two connectors for antennas of the built-in Wi-Fi 6E adapter, one network connector, followed by a 10-gigabit controller, bios reset buttons and automatic BIOS upgrade, and analog and digital connector sound card. The latter is based on an older but still high-quality ALC1220-VB codec, which is combined with hi-fi capacitors and a dedicated DAC to connect the headset to the front connectors on the case (ESS Sabre Hi-Fi 9118).
All in all, it is a high-class board, which balances quite well with the offer of additional options and price. For example, we only have one network controller, but it is 10-gigabit. The cpu power supply is excellent, but it has not been forced with overclocking accessories, which are important to a very small number of users. There is no Thunderbolt 4, which is the most powerful external interface of today, but it finds significantly more application in laptops than on desktops.