Asus TUF Gaming B660M-Plus D4 Review
10 + 1 phase VRM will suffice for 12900K, and has two M.2 PCIe 4.0 slots for high-end SSDs. In this variant, we will not have Wi-Fi...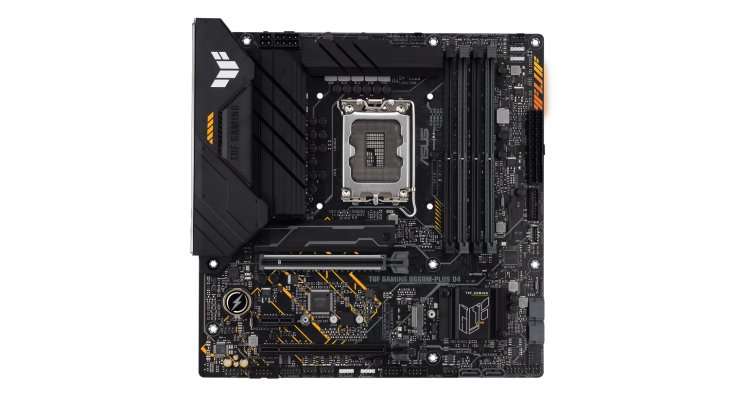 Photo Credits: Asus/Promo
We analyze the Asus TUF Gaming B660M-Plus D4 board, a workable mid-range option for those planning to upgrade their computer to the new Alder Lake CPUs, while maintaining DDR4 memory at a good price. Its 10 + 1 phase VRM will suffice for 12900K, and has two M.2 PCIe 4.0 slots for high-end SSDs. In this variant, we will not have Wi-Fi, but we will have dedicated video ports, 2.5G LAN and USB Gen2k2.
The Asus TUF Gaming B660M-Plus D4 comes in a solid cardboard box with dimensions tailored to the format of the board in question, with the usual TUF series decoration and product information on the back. The subject plate is placed on a cardboard mold and placed in an insulating plastic bag under quality standards.
The contents of the box:
Asus TUF Gaming B660M-Plus D4 motherboard
1k screws and rubber for mounting M.2 SSD
The content in this model will be quite basic, because we don't have external temperature sensors, nor accessories like USB with drivers, although that's what we expect from a mid-range motherboard like this.
Design and specifications of Asus TUF Gaming B660M-Plus D4
It belongs to the basic middle range. It is located just above the B660M-E D4, but it can still get the best out of the i9-12900 or Gen4x4 SSD.
The design of this board is the one that Asus is used to for its TUF models, with a PCB with a black background and a white-orange screen printing, this time opting for the Micro ATKS format with a compact chassis. The style is quite neat thanks to the presence of a solid plastic cover for the rear port panel, which also has a pre-installed wallpaper.
Under this cover, we find a large VRM cooler made up of two aluminum blocks. It increases in size compared to the previous generation by improving the strength and quantity of feeding phases and adding feathers at higher levels to increase its efficiency. These blocks are not connected to each other, nor integrated directly with the cover because they have thermal pads in contact with MOSFETs and chokes.
In this upper area, next to the header for the CPU fan or AIO RL system, a post-boot board with 4 CPU, RAM, VGA and Boost LEDs was installed. Obviously, we don't have an LED for debugging on this price, although Asus had the detail to include the RGB AURA Sinc area in the upper right corner. You can't miss its 4 headers for lighting, 1 12VRGB and 3 5VDG for addressable tapes.
In the inner half, we only have the heat sink for the main M.2 PCIe 4.0 slot, besides the small size and something basic we could say. This puts it a little below a direct rival like MSI's MAG B5660M Mortar DDR4, as it has coolers in both slots and aesthetics at a higher level. Care was taken to implement K-Latch quick fixes for SSDs in these slots, so we would not have to use screws.
Other design details to mention include a small passive chipset heat sink as well as a steel boost for the main PCIe slot. We do not forget that this TUF board is certified with 24/7 stress tests to ensure the durability of its components. Its 6 headers for fans and external RL systems can be managed from Fan Xpert 2+, either from the BIOS, or from the AI ​​Suite 3 software.
VRM
We continue with the power supply part of the Asus TUF Gaming B660M-Plus D4, which has a 10 + 1 + 2 phase configuration that will guarantee stable performance for top CPUs such as the Intel Core i9-12900. The power input consists of two solid 8 + 4 pin proCool headers.
As for the DC-DC conversion phase, it will be divided into three sections regarding the MOSFET. The main section in charge of Vcore consists of 10 phases DrMOS NCP302150 manufactured by ON Semiconductor, with a nominal capacity of 50A. This is followed by 1 dedicated Vishai SiC643 VccGT unit rated at 60A, along with 2 separate high and low state MOSFETs that handle VccAUX.
Vcore will control the DIGI + ASP2100 EPU, a classic in these TUF boards and mid-range models of this brand, to provide us with digital control via a PVM signal that can be controlled from the BIOS. We will have a surge protection system, as well as a signal equalization stage consisting of 13 metal chokes and electrolytic capacitors.
The Asus TUF Gaming B660M-Plus D4 features a mid-range Intel B660 chipset, which is just below the H670 with connectivity. Its compatibility is no different, it supports Intel Core 12th Gen, Pentium and Celeron 12th Gen processors thanks to the LGA 1700 socket. Although it does not support manual overclocking for the CPU, it has RAM, so a board for serious K blue labels will not be recommended.
Focusing on its capacity and the capacity of this board, the B660 offers 6 PCIe 4.0 and 8 PCIe 3.0 strips for expansion cards and M.2 slots. Support for SATA ports will be 4 motherboards, only the one we have on this board. It supports up to 12 USB 2.0 ports, which is equivalent to 6 USB 3.2 Gen1, or 4 USB 3.2 Gen2, or up to 2 USB 3.2 Gen2k2 at 20 Gbps. Supports Intel Rapid Storage on M.2 slots, Intel VMD and RAID 0, 1, 5 and 10 on SATA ports. The DMI interface has been updated to 4.0, using 4 communication strips with a 128 Gbps CPU, without limiting the original PCI 5.0 CPU capacity.
It seems that none of the B660 TUF Gaming boards will support DDR5 memory, so this model will be prepared for 128 GB of DDR4 RAM. It supports maximum frequencies of 5333 MHz thanks to Intel KSMP 2.0, as well as Dual Channel and OptiMem II technology.
Storage capacity and PCIe slots
We continue this analysis with the Asus TUF Gaming B660M-Plus D4 now focusing on its ability to connect for expansion, with the Micro ATKS format being a small limitation in this regard. We find a total of 3 expansion card slots, two of which will be k16 format and one k1. MultiGPU compatibility has not been reported and is not intended for them.
The working conditions for them will be:
PCIEKS16 (G5): Main board slot, which is directly connected to PCIe 5.0 CPU strips without bus sharing. It is interesting to note that this slot is not limited to PCIe 4.0 and takes advantage of the potential of these processors.
PCIEX16 (G3): This will be the third slot in terms of location on the board, which really only has 4 effective PCIe 3.0 tapes connected to the chipset. It does not share the bus with other slots, so there are no restrictions other than its k4 interface.
PCIEX1 (G4): This is the second available slot, which is connected to the chip in one of its PCIe 4.0 tapes.
Now we move on to the data storage connection, which consists of 4 SATA 6 Gbps ports and 2 M.2 slots. As for SATA ports, they support RAID 0, 1, 5 and 10 configurations, while high-performance slots only support RAID 0 and 1, plus Intel Rapid Storage.
His working conditions will be very simple:
2_1: This is, so to speak, the main slot, because it is connected to the 4 PCIe 4.0 lanes of the Alder Lake CPU without sharing the bus. It supports formats up to 2280 and has an integrated passive cooler.
2_2: The slot is between two PCIe k16 slots, supports 2280 formats, and is connected to 4 PCIe 4.0 chipsets without bus sharing. It will be a good slot for Gen4x4 SSDs that already contain a heatsink.
All 20 available lines on the CPU, as well as 5 PCIe 4.0 and 4 PCIe 3.0 tapes on the chipset, are used efficiently. Without those for network and USB connectivity, there would still be room for expansion for the board, but the rule of volume and price is obvious. The good news is that none of them are shared, so with the available link we can use it without restrictions.
Network connection and card
This part will be quite fast, as this Asus TUF Gaming B660M-Plus D4 has one Ethernet LAN interface controlled by a Realtek RTL8125 chip that offers a bandwidth of 2.5 Gbps. We have to switch to TUF Gaming Plus Wi-Fi variants to get them with a wireless connection, since this model we are analyzing does not include a CNVi slot.
As for the sound card, we are surprised because it uses a Realtek ALC897 codec, basic and old for the current board. It supports high-definition sound up to 24 bits / 192 kHz, as well as 7.1 channels for surround sound. Not a bad codec, it even has a complete rear panel with 5 analog ports and optical S / PDIF output, which supports Jack detection, multiple streaming and active noise cancellation using software. The ALC1200 version would be a better option.
I/O ports and internal connections
Ports available in the rear panel of this Asus TUF Gaming B660M-Plus D4:
1k USB 3.2 Gen1 type-A (blue)
4k USB 3.2 Gen2 Type-A (turquoise)
1k optical S / PDIF for digital audio
This is a very good connection because it has up to 4 interfaces at 10 Gbps and USB-C at 20 Gbps if we consider the scope of membership of this board. It will also not give up on two dedicated video ports, although limited to 4K resolution at 60 Hz integrated Intel CPU graphics. We can't find the Clear CMOS button, although that's not a very relevant loss because it's a board that doesn't support overclocking.
Regarding internal connectivity, it is complemented by the following headings:
6k fan headers (1 for CPU_FAN, 1 for CPU OPT and 1 for AIO_PUMP)
1k USB 3.2 Gen1 Type-C connector
1k USB 3.2 Gen1 connectors (supports up to 2 ports)
2k USB 2.0 connectors (supports up to 4 ports)
4k RGB header bar (3k 5VDG A-RGB, 1k 12VRGB RGB)
1k Thunderbolt Extension Card Header
The BIOS is customized to re-create the TPM and thus offers compatibility with Windows 11. Also, we will have the FanXpert 2+ tool to be able to manage fans or RLs associated with motherboard headers from both the BIOS and AI Suite 3 in Windows.
BIOS
We have a 128MB CMOS chip instead of 256MB as the BIOS will be a bit more basic in the number of options than more expensive boards. We will have the same graphical interface, with TUF skin and a neat look.
In EC mode we will find practically everything that is most important that a lower and middle-level user needs to know, with real-time hardware information and telemetry, direct access to KSMP profile, fan profiles with KFan access, startup sequence and other additional options such as is the activation of ReSizable BAR or AURA RGB.
If we switch to advanced mode, we will find the Twaker section just like the one on Z690 boards, but limited in options because it does not support overclocking the processor. From it we will have access to VRM LLC and the options that DIGI + has, overclocking RAM and assigning offsets and voltages in the CPU among other less important options for the non-professional user.
For the rest, what is really important is to integrate the virtual TPM for Windows 11, good stability and voltages, and updates for the new hardware that is appearing, and we have that ensured with Asus.
VRM temperature
This board provides perfect performance for CPUs that are actually designed for the B660, from 12,900 and below. If you can with TDP Boost and the consumption of this CPU in Turbo Mac 3.0, you can with others.
Continuing with the basic BIOS settings and Intel Core i9-12900K, we see this board assigns a minimum voltage of 1.23 V and a maximum of 1.34 V when turbo boost mode is activated. It will be a bit high voltage, but not unlike the Z690 models specially designed for this CPU and K series, so we consider the correct and stable configuration for this BIOS.
Closing remarks and conclusion on the Asus TUF Gaming B660M-Plus D4
This board is an opportunity for those users who, without a big budget, plan to switch to the new Intel platform. Also, without giving up on any actual needs you may have, other than the absence of a Wi-Fi connection.
Among the most relevant features of this board, we have the essential quality that this TUF series has always had, this time accompanied by 10 + 2 + 1 phase VRM suitable for any of the Alder Lake CPUs, including 12900. It represents good stability under stress, customized and adjustable voltages by the user and BIOS always with warranties like Asus.
We recommend that you read the best motherboards on the market
The port panel includes USB-C at 20 Gbps, up to 4 interfaces at 10 Gbps and LAN at 2.5 Gbps, covering the needs of each user. We missed some details like the sound card with higher performance than the ALC897 it has, the front USB-C Gen2 or the cooler in the second M.2 slot. They are in direct rivals such as MSI's B660M Mortar Wi-Fi.