G.Skill Trident Z5 (RGB): RAM series announced - Update: DDR5-6800 official
Upcoming G.Skills Trident Z5 series is supported at the start clock rates up to DDR5-6400. Buyers also have the choice between a black and a silver-black color variant. The DDR5 RAM modules will be available from November.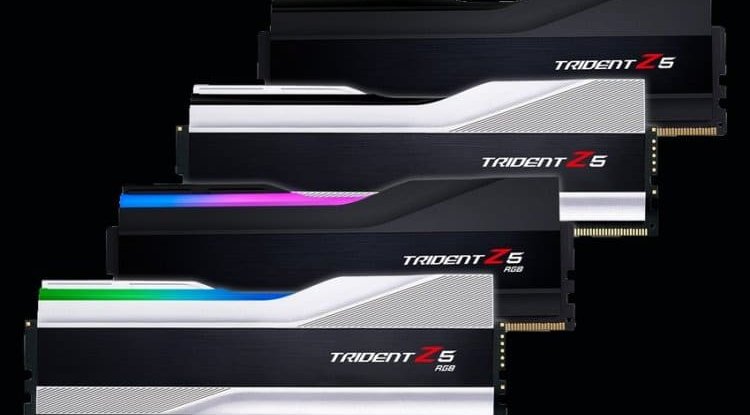 Photo Credits: G.Skill / promo
Update from October 27th, 2021: DDR5-6800 official After G.Skill added the DDR5-6600 to the Trident-Z5 (-RGB) series a few days ago, the Taiwanese company is now going a step further and specifying the new top models for DDR5-6800. However, the clocks are a little higher, these are 38-38-38-76 and 42-42-42-76. According to CPU-Z, the faster variant is based on Samsung components, while the other one uses SK Hynix chips. The manufacturer did not name the voltage intended for this.
Original article: The G.Skill series Trident Z5 relies on a cooler design that is based on the previous Trident Z kits. However, the Taiwanese want to have implemented hypercar elements in the design. Both the matt black powder-coated optic version and the version with a silver-colored brushed surface are characterized by a black aluminum strip that runs along the module. Modules from the Trident Z5 RGB series have a transparent cover on the top, while G.Skill uses a black cover for the LED-free sticks. The LEDs can be controlled using the manufacturer's own Trident Z Lighting Control software or synchronized using tools from the mainboard manufacturer.
At the start, the capacity of the Trident-Z5 kits is 2 × 16 GiByte, the clock levels are DD5-5600, DDR5-6000, and DDR5-6400. With all three clock speeds, buyers can choose between the timings 40-40-40-76 and the faster latencies 36-36-36-76. In the top model, which offers 2 × 16 GiByte DDR5-6400 RAM with 36-36-36-76 timings, G.Skill guarantees the use of Samsung memory modules - an indication that the South Koreans are the most potent at the DDR5 start Provide chips for overclockers.
In the press release, G.Skill highlights some important differences between DDR5 RAM and its predecessor technology: A PMIC (Power Management Integrated Circuit) sits on the bolt, which is supposed to guarantee a more reliable power supply and higher signal integrity at high clock frequencies. In addition to twice as many banks/bank groups, the division into two 32-bit sub-channels per module should enable a higher data throughput compared to the known DDR4-SDRAM technology.
By: Amber V. - Zexron