Jurassic World Evolution 2: Dino Manager Launch Trailer
To match the release of Jurassic World Evolution 2 there is a launch trailer from developer Frontier Developments. The fact that the scenes shown are called "Beta InGame-Footage" is a bit strange.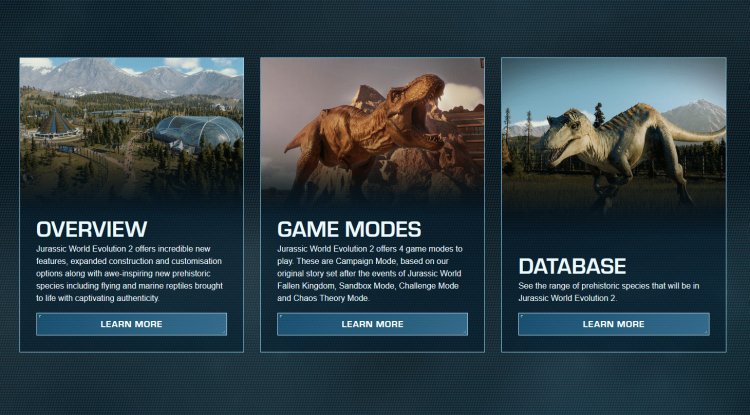 Photo Credits: Jurassic World Evolution/Promo
This is what the developer says about Jurassic World Evolution 2:
"Jurassic World Evolution 2 is the highly anticipated sequel to Frontier's groundbreaking management simulation game Jurassic World Evolution (2018) and features a brand new story campaign set to music by actors from across the Jurassic World series, exciting new features, four exciting Game modes as well as more impressive dinosaurs."
A Story in Jurassic World
Immerse yourself in a compelling new story in Jurassic World, set after the harrowing events of Jurassic World: The Fallen Kingdom. Work with popular characters from the movies, including Dr. Ian Malcolm (voiced by Martin Umbach - originally by Jeff Goldblum) and Claire Dearing (voiced by Maria Koschny - originally by Bryce Dallas Howard) to keep and protect dinosaurs that are now roaming wildly across the United States.
Create your own Jurassic World
With more extensive management tools, creative design options for new buildings, and the possibility of hiring new scientists, you can create a park that meets the demands of your guests and your dinosaurs. Let your creativity run free in the sandpit mode or show your skills in the challenge mode and master different locations and natural disasters.

Play with chaos theory
Experience famous moments from your favorite films in the game yourself - with a special highlight. Master scenarios from the Jurassic World and Jurassic Park films based on the motto "What if?", with levels spanning different points in time and locations from all five films. Dive into the Jurassic World franchise and find out how the situation plays out when you are in charge.
Discover breathtaking dinosaurs
Over 75 prehistoric species come to life in Jurassic World Evolution 2, including flight and marine reptiles as well as community favorites from the first part. The animals now behave even more lifelike by showing territorial behavior, fighting for dominance, and reacting intelligently to their environment. Through genetic engineering, you can give dinosaurs new colors and change their genomes to unlock traits.
https://www.youtube.com/watch?v=g76Zx7zydXQ
By: Amber V.