Mass Effect 5: New teaser picture shows hidden details
Bioware has published a new teaser image for Mass Effect 5 and has hidden some interesting details in the image that could provide information about the future of the token. That should certainly make fans speculate.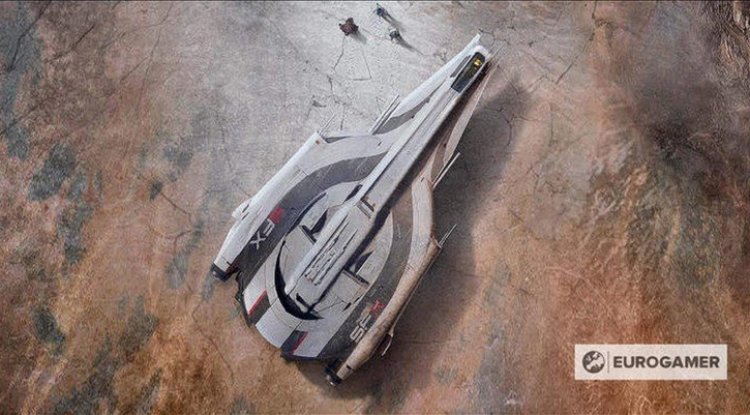 Photo Credits: eurogamer
Fans who are waiting for
Mass Effect 5
should now sit up and take notice: Developer Bioware has published a new teaser image for the next part via
Twitter
on the
recently held N7 day to celebrate the Mass Effect series
(on November 9th). Thanks to certain hidden details, the community pounced on it like a hungry dog in order to analyze the picture precisely and to derive further information.
We have another #N7Day surprise for you from the team working on the next Mass Effect.
Thank you all for being the best fans in the world!
pic.twitter.com/kUwASGJhcx
— Mass Effect (@masseffect)
November 7, 2021
Teaser image for Mass Effect 5: Lots of hidden little details
The published teaser image for Mass Effect 5 superficially shows a top view of an impact crater, while a typical Mass Effect spaceship is parked not far from it. Also recognizable are four figures who have probably got out of the spaceship to approach the crater and a figure lying on the ground.
It is interesting that the design of the impact crater was modeled on the head of a geth. And the figure lying on the ground also seems to be the destroyed body of a geth machine being. On the four figures, however, the red armor of a krogan can be seen. Is it even Wrex himself? The blue and white armor of the other characters, however, suggest a reference to the Andromeda Initiative. With Mass Effect 5, will Bioware perhaps merge elements from both galaxies (Milky Way and Andromeda) in a new story? It will be a little while before we find out - after all, the release of Mass Effect 5 is still a long way off (only after Dragon Age 4, which will take at least another year).
In another piece of news to the Mass Effect series, the lost DLC Pinnacle Station could be added again thanks to a mod from the Master Effect Legendary Edition. This was the only extra content that was missing from the Remaster Collection because the original source code was lost. While Bioware shied away from the months of work to restore the DLC, a team of fans has now done it and fixed bugs in the meantime. You can read about the adventure of restoration in detail on the
blog entry
. You can
download
the Pinnacle Station DLC
here from Nexus Mods
.
By: Amber V.