Mediatek Dimensity 9000 - a new high-end SoC
Mediatek has announced a new high-end SoC with the Dimensity 9000, which is to rely on the ARMv9 architecture and TSMC's N4 production for the first time.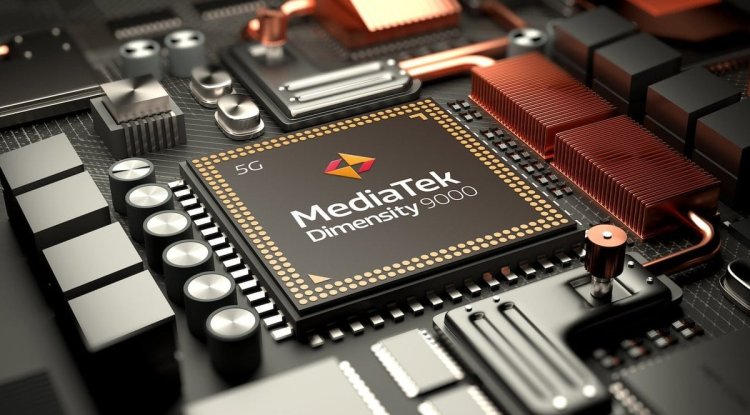 Photo Credits: Mediatek / promo
The Taiwanese company Mediatek wants to go all out with the newly announced Dimensity 9000 smartphone SoC. For the first time, the chip is to use TSMC's N4 process and CPU cores based on ARM's new ARMv9 architecture. Overall, the SoC should give a significant performance jump in the areas of CPU, GPU, and RAM.
GPU with volcano and ray tracing support
MediaTek
Mediatek installed an eight-core processor in the Dimensity 9000 consisting of a Cortex-X2 with 3.05 GHz, three Cortex-A710 with 2.85 GHz, and four Cortex-A510 with 1.8 GHz. For the first time, there is support for LPDDR5X memory with 7,500 Mbps and a Mali-G710 MC10 as GPU. This should support the graphics API Vulkan and, surprisingly, even ray-tracing. There is also talk of support for 180 Hertz displays with the FHD + resolution (2340 x 1080 pixels) widespread in the smartphone market.
According to the benchmarks published by Mediatek, the Dimensity 9000 should trump all other Android SoCs in terms of multi-core performance and almost reach Apple's A15, which is built into the current iPhone 13. There is also talk of a clear performance advantage over other Android SoCs in terms of single-core and GPU performance. In addition, the efficiency of the SoC should also be significantly higher. Unfortunately, in all of these comparisons, it is not specified which model was used as a reference. The published values ​​, therefore, do not have too much informative value.
Concerning the other features of the Dimensity 9000, Mediatek speaks of support for the wireless standards 5G, Bluetooth 5.3, and Wi-Fi 6E, among other things. In addition, MediaTek speaks of a revision of the AI ​​processing unit, which should now work much more efficiently. In addition, the SoC should be able to handle a 320 MP camera or three HDR cameras at the same time. This should open up exciting opportunities for upcoming smartphones. However, it is not yet known which specific models will rely on the Mediatek Dimensity 9000. The first smartphones with the chip will supposedly appear in the first quarter of 2022.