Microsoft Suface Laptop Go Review
The base model comes with Intel Core i5 processor with 4GB and 64GB of storage, which clearly shows that this computer model is not suitable for advanced users.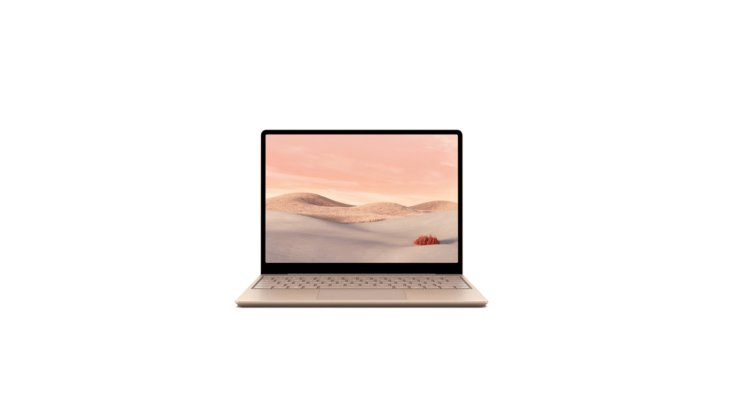 Photo Credits: Microsoft/Promo
Dimensions
10.95" x 8.10" x 0.62" (278.18mm x 205.67mm x 15.69mm)
Display
Screen: 12.4" PixelSense Display
Resolution: 1536 x 1024 (148 PPI)
Aspect ratio: 3:2
Touch: 10 point multi-touch
Memory
4 GB or 8 GB LPDDR4x RAM
Processor
10th Gen Intel Core™ i5 processor – 1035G1
Battery life1
Up to 13 hours of typical device usage
Graphics
Intel UHD Graphics
Storage3
eMMC: 64 GB
SSD: 128 GB, 256 GB
Connections
1 x USB-C
1 x USB-A
3.5 mm headphone jack
1 x Surface Connect port
Security
Firmware TPM
Enterprise-grade protection with Windows Hello one touch sign-in
One Touch sign-in with Fingerprint Reader Power button (Surface Laptop Go i5/4 GB/64 GB does not include Fingerprint Power Button.)
Cameras, video and audio
720p HD f2.0 camera (front-facing)
Dual far-field Studio Mics
Omnisonic Speakers with Dolby Audio
Software
Windows 10 Home in S mode2
Microsoft 365 Family 30-day trial
Wireless
Bluetooth Wireless 5.0 technology
Wi-Fi 6: 802.11ax compatible
Sensors
Ambient light sensor
Exterior
Top: Aluminium
Base: Polycarbonate composite resin system with glass fibre and 30% post-consumer recycled content
Colours: Platinum
What's in the box
Surface Laptop Go
39W Power Supply
Quick Start Guide
Safety and warranty documents
Weight
2.45 lbs (1,110 g)
We present a new Microsoft laptop from the Surface line called Microsoft Surface Laptop Go. The laptop comes in multiple models with a difference in RAM and storage size. The base model comes with a single Intel Core i5 processor with 4GB and 64GB of storage, which clearly shows that this computer model is not suitable for advanced users. We recommend that you, if you can, do not opt ​​for this basic model, because these amounts of memory are small in today's world of memory of ever larger and more demanding programs. There are also models with 8GB of RAM and 128GB or 256GB of storage.
Coming from the Surface series, Laptop Go shares (most) of the DNA with the rest of the family. From the outside, it is a very small laptop weighing only 1.11kg. It is folded 15.69 mm thick, which did not make us too happy, considering that most of us are already used to elegantly thin laptops. On the top, only the glossy Windows logo is on the lid, which equally adorns other devices from Microsoft's Surface line.
The top and cover of the keyboard are made of aluminum, but the rest is made of what Microsoft calls a system of composite polycarbonate resins with glass fibers - in translation, it is made of plastic, which is the biggest minus of the design of this device. The keyboard is slightly smaller and has no backlight, but has a pleasant typing experience. But the only illuminated key on the Laptop Go is the Windows Hello Unlock fingerprint sensor on the power button.
The touchpad is large and precise, making it one of the best you can get on a Windows computer. The screen itself is a 12.4" LCD frame with a thin frame and 3:2 aspect ratio, which makes it great for scrolling the web and long documents and for sharing the screen, but not really for watching movies. Although the screen resolution of 1536 x 1024 pixels with a pixel density of only 148ppi did not disappoint us. It is sharp and the colors are vivid. Another advantage of the screen is that it is touch sensitive. The screen has a maximum brightness of 319 nits, which is okay, but below the competition average and could create visibility problems when working in daylight.
Performance
Another way Microsoft has reduced the price of this model is by choosing Intel's 10th generation "Ice Lake" processors instead of the new 11th generation "Tiger Lake" processors. It is important to mention that this device comes with Windows 10 Home S mode, which restricts the installation of some applications from the Microsoft store. This limitation can be easily disabled in system settings and upgraded to the full version of Windows 10, but we must warn you that once you do, there is no going back to the S version.
The laptop comes with a 39W charger with Surface Connect. Of the other ports, the Surface Laptop Go has a 3.5mm headphone jack, standard USB and a USB-C port. The interesting thing about this laptop is that, besides the standard charger port, the device can also be charged via a USB-C slot using a USB-C cable. The battery itself, as well as its charging, disappointed us. Charging from 0 to 100% takes almost 2 and a half hours, while the battery life with an average mode is just over 7 hours.