Mountain Everest Max mechanical keyboard Review
This mechanical keyboard has Cherry MX switches in a compact tenkeyless design. The color is gunmetal, and the keyboard itself is mostly made of metal...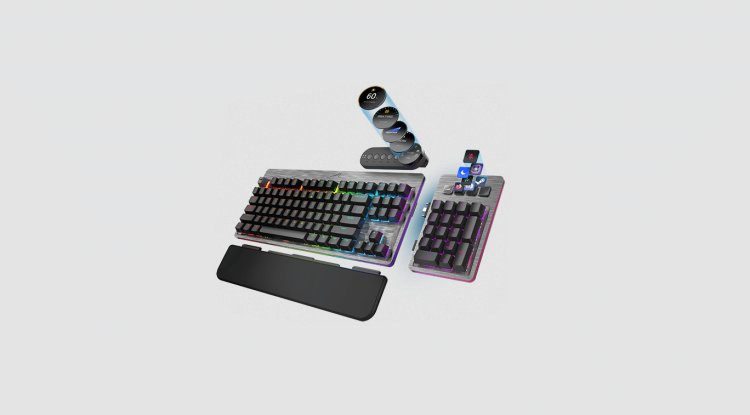 Photo Credits: Mountain/Promo
Maximum flexibility
Innovatively designed and distinctively designed luxury keyboard, which is primarily characterized by a modular design and includes several interesting accessories as a detachable numeric keypad and a media dock with a separate screen
A keyboard we haven't seen before? A completely different approach to computer peripherals? When you are just breaking into the market, you have to do something different to get noticed by everyone. Mountain succeeds in this with this keyboard, which is certainly a specific and somewhat unusual piece of computer peripherals. By the way, the story about the Everest keyboard started with a Kickstarter campaign. The campaign was successful, however, pandemic conditions delayed the market premiere of this interesting keyboard.
A keyboard like Lego bricks!
Everest is based on a modular concept, the idea of ​​a luxury keyboard that allows you maximum modularity and adaptability. The Max version we tested includes all the extras, however, a Core version of the Everest keyboard is also available, which is slightly cheaper and doesn't have fancy extras.
The Everest Max keyboard is packed in an extremely attractive box that emphasizes the luxury of the product from the very beginning. At its core, this keyboard consists of four parts.
The main part is a mechanical keyboard with Cherry MX switches in a compact tenkeyless design. The color is gunmetal, and the keyboard itself is mostly made of metal, which ensures exceptional robustness. The keyboard is available with Cherry MX Brown, Red, Blue, Speed ​​Silver and Silent Red switches.
In addition to the basic part, the package also includes three accessories. First of all, here we have a detachable numeric part, which at the very top has four fully programmable, separate keys to which it can assign the desired function. It is important to note that you can remove the detachable numeric keypad at any time (even when using the keyboard), and you can also place it to the left or right of the main part of the keyboard.
Furthermore, there is a particularly attractive Media Dock with a separate IPS screen with a resolution of 240 x 204 pixels! In addition to containing multimedia keys, this screen can display the time or current load of the computer's processor, and around the screen there is a wheel with which you can select the desired function. This accessory can also be placed on the top left or right side of the base of the keyboard.
Attractive Media Dock
Finally, the keyboard comes with a slightly smaller armrest that connects to the base with magnetic connectors and is upholstered in faux leather that is quite comfortable to the touch. To illustrate the richness of the sales package, we mention that with this keyboard come 5 replacement Cherry MX switches, an additional replacement Esc key and a special tool for removing and replacing keys (switches).
But let's go back a little to the extras themselves. The detachable numeric part is very well made and it completely follows the basic part of the keyboard. The Media dock is not on the same level, it is mostly made of plastic, which in some parts does not instill confidence. The numeric part is extremely easy to install and remove thanks to the slider mechanism, and the four programmable keys on its top are extremely useful to us. Below each of these keys is a small 72 x 72 pixel screen that displays the corresponding icon, depending on the function you have assigned to the key.
Through Mountain's Base Camp software, you can assign various functions to these keys, such as opening individual applications or researchers in Windows, executing macro commands, or other functions. Basically, we liked the numerical part a lot more than Media Dock.
Clearly, the small screen combined with the round wheel really looks cool and allows you to display and in real time adjust various things, such as keyboard lighting, volume, profile change. The screen can "play" the clock in analog and digital versions and, for example, display the current CPU load. These are all handy features, but nothing we couldn't live without.
For gamers and streamers
On test is Everest Max keyboard with the firmware version 43.22.18. The new software brings one significant innovation in terms of integration with the popular streaming application, OBS Studio. Primarily, this refers to the possibility of using additional keys on the numeric part for OBS functions of streaming and recording content.
In terms of normal daily work, Everest Max is a very comfortable keyboard to use. Cherry MX Brown switches are not too loud and allow fast and comfortable typing. They are quite easy to press on to this performance, which surprised us a little. This keyboard will also be very good for gaming, as it is very responsive, with support for N-key rollover.
When we talk about RGB lighting, we can say that it is not as impressive as with some other gaming keyboards.
When we draw the line, he can say that Everest Max is really one specific keyboard. It is characterized by an abundance of various possibilities, the quality of workmanship is top-notch, and some design ideas are to be commended.
However, it is definitely not for everyone. Primarily because it is extremely expensive, at least in the Max version. Mountain here is primarily playing the card of modularity and luxury. We welcome innovation and a bunch of interesting features, but if you're not too interested in accessories and just want a quality higher-end keyboard, we're afraid that at its core (without accessories) the Everest keyboard is too expensive for what it ultimately offers.