New: Marantz introduces MODEL 40n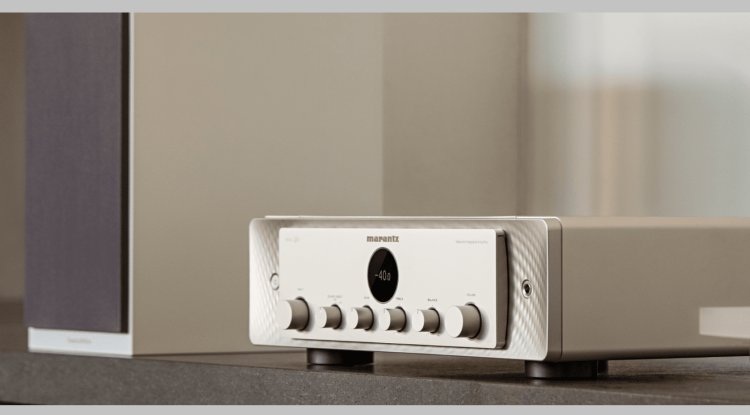 Photo Credits: Marantz/Promo
In HiFi technology, we are currently in the midst of a generational shift. Streaming functionality has progressively become a "feature-on-a-chip" in recent years, and as a result, the price has constantly decreased. From a purely functional standpoint, what used to require a full-fledged computer or, at the very least, a mini-computer such as the Raspberry Pi may now be done by simple and affordable circuit boards or chips.
It is now almost expected that almost every new hi-fi component will include a built-in network or streaming feature. The most common are integrated amplifiers, which have an integrated streaming module and are thus a (nearly) all-in-one solution. Only the loudspeakers must be connected before the hi-fi system is complete.
Aside from products that place a high priority on streaming functionality, such as the Cambridge Audio EVO, other manufacturers do not place a great value on this function. The Marantz MODEL 40n integrated amplifier can likewise stream, but it lacks supporting aspects like a huge visual display and music control on the device. This is mostly the responsibility of a related app. Furthermore, the MODEL 40n's provided infrared remote control includes buttons for music control - and, due to the microphone, voice control via Siri and Alexa.
The device allows users to access Spotify Connect, Amazon Music, TIDAL, TuneIn Internet Radio, and a variety of other services. The DAC in the integrated amplifier can handle PCM files up to 192 kHz/24-bit and DSD files up to 5.6 MHz. With its inbuilt HEOS module - Denon/streaming Marantz's platform - it can stream music via AirPlay 2 and Bluetooth in addition to music listening via the HEOS app.
The features of the Marantz MODEL 40n
The 40n, as a "traditional" integrated amplifier, has a plethora of analog and digital inputs for a wide range of sources. An HDMI ARC input for TV, Record In/Out, and a Marantz Musical Phono EQ stage - a Phono MM preamp for turntables - are also included. Dedicated subwoofer output with an adjustable crossover is also provided.
The MODEL 40n's newly constructed Class A/B amplifier stage has an output of 2 x 70 watts (at 8 ohms) or 2 x 100 watts (at 4 ohms). A bigger mains transformer, four output transistors per channel, solid copper busbars, and very short signal pathways are designed to reduce internal impedance and ensure the device's high current delivery capacity. According to the company, as a result, the MODEL 40n is extremely dynamic and can readily handle any loudspeaker.
For the greatest possible sound, the MODEL 40n is outfitted with high-quality components. Marantz's proprietary HDAMs are used in the amplifier (Hyper-Dynamic Amplifier Modules). The MODEL 40n HDAMs should provide uncompromised listening enjoyment thanks to separate components and the shortest feasible signal routes.
The Marantz MODEL 40n integrated amplifier is offered in black or silver-gold. It is expected to be available from specialized shops in March 2022.
| | |
| --- | --- |
| Technical concept: | Integrated amplifier with streaming module |
| Power 8 ohms / 4 ohms: | 2 x 70 watts / 2 x 100 watts |
| power amplifier | HDAM-SA3 |
| Digital inputs: | digital: 1 x optical, 1 x coax, 1 x USB, 1 x HDMI |
| Colors | Silver Gold / Black |
| Particularities: | Phono (MM), Subwoofer PreOut |
| Subwoofer setting frequencies: | 40Hz / 60Hz / 80Hz /100Hz / 120Hz |
| Dimensions (W x H x D): | 44.3 x 13.0 x 43.2 cm |
| Weight: | 16.7 kilos |