New OLED televisions from Sony and Panasonic
ony and Panasonic have now also presented the top devices with OLED panels. Sony is the first provider to use its QD OLED panel from Samsung,.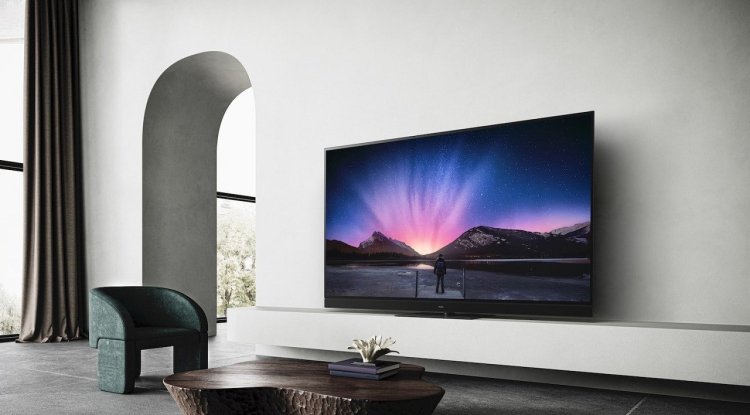 Photo Credits: Panasonic / promo
Sony and Panasonic have now also presented the top devices with OLED panels. Sony is the first provider to use its QD OLED panel from Samsung, while Panasonic stays with LG and recognizes Geforce graphics cards.
Sony and Panasonic presented their top models with OLED panels at CES 2022 in Las Vegas. At Sony, it is the A95K, at Panasonic the LZW2004. While Sony emphasizes the Quantum Dot in the OLED panel and thus clearly indicates that it is being obtained from Samsung, Panasonic remains loyal to LG and uses a self-modified Evo panel.
Sony with QD OLED panel
Sony will offer three series, the A80K, the A90K, and the A95K. The highest-ranking series was the most informative and named 4K / UHD resolution with 3,840 x 2,160 pixels on either 55 inches or 65 inches screen diagonal. Sony calls for higher maximum brightness and a higher color volume for the Samsung panel than with the LG panels last year. The background is probably that Samsung works with three pixels and LG increases the brightness with a fourth white pixel, which is at the expense of color fidelity. This is marketed by Sony as the XR Triluminos MAX and is intended to attract attention, especially with green and red, with even deeper colors. XR OLED Contrast Pro is the name given to the heat-conducting layer including functions such as a heat map.
Ultimately, the new panels should have three advantages over the panels installed so far: a higher color range, more brightness, and, ultimately, a larger viewing angle. The A95K should also have a special anti-reflective layer. Sony also mentioned two HDMI 2.1 ports with 48 Gbit / s and two ports with HDMI 2.0 and 18 Gbit / s. For HDMI 2.1, VRR and ALLM are supported, one of the ports is equipped with eARC. The compatibility with Dolby Vision remains in the gray area for now. Sony does not have a new CPU this year, but the usual renovations in the software, which among other things supports better color rendering. Sony now also supports the Netflix Adaptive Calibrated Mode. Acoustic Surface Audio + is also a specialty, which in the A95K has two actuators with 20 watts each. There are also two subwoofers with 10 watts and the device can serve as a center in larger set-ups. Sony also now includes a camera that allows additional features. The new remote control is particularly illuminated, but only has half the buttons, which allows a 36 percent more compact design.
As usual, prices and availability have not yet been announced. Sony is thus the first manufacturer to confirm the use of OLED panels from Samsung - even before Samsung itself. The announcement for the CES was expected, but it did not come and it is now assumed that the devices will be released in the course of the Still to be presented year after year.
Panasonic with Geforce recognition
At Panasonic, the LZW2004 comes with a panel from LG in the Evo version, so that you can still modify it and thus it becomes the Master OLED Pro in Panasonic marketing. A higher light yield should effectively be achieved through better heat dissipation. The devices are available in 55, 65, and 77 inches. Panasonic had some catching up to do with gamers and this year they are doing justice to the fact that they are paying more attention to the integration of features such as HDMI 2.1 including VRR and ALLM. For TV fans, the full range of HDR and audio formats is supported again and you work with film colorist Stefan Sonnenfeld to coordinate the image. There is also an HLG Photo Mode, which uses sensors to precisely determine the surroundings and thus perfect the image reproduction.
A Panasonic specialty is the soundbar built into the LZW2004, which was coordinated in cooperation with partner Technics. Like many other providers, Panasonic uses AI algorithms to perfect the sound and get the most out of the soundbar's capabilities. This goes so far that the sound range is also optimized for several viewers distributed in the room. In addition to the revised and forward-facing speakers, there are also some that emit sound upwards and to the side.
Various features have been introduced for gamers, which are now displayed and managed in a central panel. In particular, Panasonic also recognizes Geforce graphics cards of the current generation and coordinates with them. Panasonic supports 4K / UHD with up to 120 Hertz but also offers a special mode with a particularly low input lag of less than 2 ms at 60 Hertz. Panasonic did not manage to reproduce 4K / UHD with 120 Hertz and Dolby Vision; this also plagued Sony in the generation that was still sold and LG had to patch the function.
The Panasonic Penta tuner with five inputs and twin functions, which is second to none, should also be mentioned. Two CI slots complete the offer, as does the IPTV function. Unlike Sony, the usual high-quality remote control has not been purified and offers many buttons for direct access to functions. The My Home Screen operating system has been updated to version 7.0. Prices and availability were not mentioned here either.