Nvidia Jetson AGX Orin: AI supercomputer with 200 TOPS will come to Mercedes from 2024
The graphics card manufacturer Nvidia has presented the new supercomputer Jetson AGX Orin. The handy PC is now powered by the Ampere architecture and will be used in new Mercedes-Benz vehicles from 2024.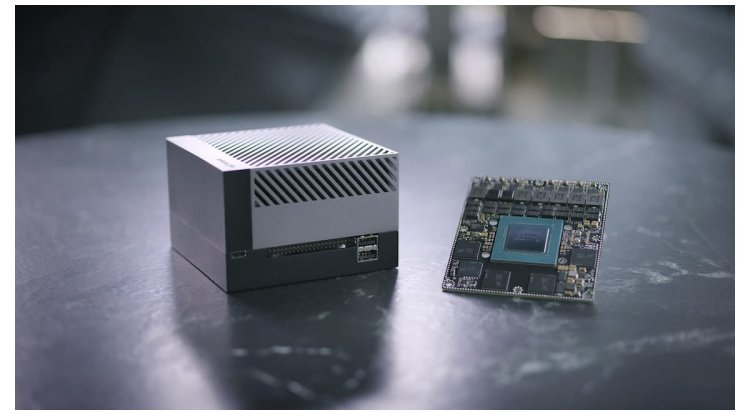 Photo Credits: Nvidia
The new AI supercomputer from Nvidia can perform 200 trillion arithmetic operations per second and is not even as big as a human fist. The Jetson AGX Orin is designed to control complex AI tasks and robots. In the supercomputer, Nvidia combines ARM CPU cores of type A78AE with an ampere graphics chip. In the first quarter of 2022, the Nvidia Jetson AGX Orin is to be delivered to developers and corporate customers as a module or developer kit. Anyone who would like to have such an AI supercomputer can register now.
Jetson AGX Orin comes into the car - Mercedes is the partner
In addition to robots, the Jetson AGX Orin will primarily be used in the automotive industry. The supercomputer forms the chipset for the Nvidia Drive AGX Orin platform. The drive platform takes care of driver assistance systems and autonomous driving. Together with Nvidia, Mercedes-Benz will be relying on the graphics card manufacturer's platform from 2024. Retrofitting in existing Mercedes vehicles is not permitted.
We reported last year that Mercedes and Nvidia were doing something together. For the market launch from 2024, there should be an automated parking function according to level 4 of the five SAE levels for new Mercedes models. In addition to the hardware, Nvidia will also take care of the software in Mercedes automobiles from 2024. With this partnership, the Swabian car manufacturer sees itself well-positioned and does not want to develop a common operating system in the car with the other German manufacturers BMW, Opel, and VW. In the next few years, Opel will switch from the Tomtom Linux solution currently in use to Google's Android Automotive OS, while BMW and the VW Group are each developing their own operating systems for their vehicles.
By: Amber V.