Possible Steam hit - Hollow Knight: Silksong
Hollow Knight: Silksong is the official sequel to indie Metroidvania gem Hollow Knight currently in development. Success as a Steam hit already seems certain.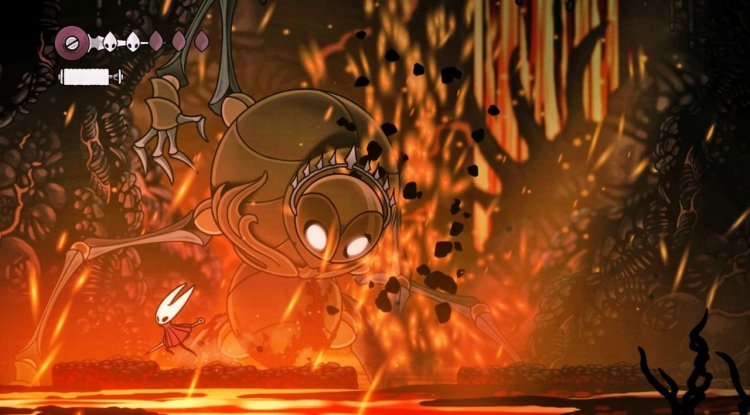 Photo Credits: TEAM CHERRY / Promo
Hollow Knight: Silksong is the official sequel to indie Metroidvania gem Hollow Knight currently in development. Success as a Steam hit already seems almost certain - especially when you consider the qualities of the predecessor. We take a closer look at Team Cherry's project.
As a possible Steam hit, Hollow Knight: Silksong initially offers lovingly hand-drawn graphics with its own unique style - just like its predecessor. The beautifully animated characters act in front of particularly detailed backgrounds, which are peppered with many small environmental details through parallax scrolling. The gloomy cave worlds in their diverse forms are conveyed in a particularly atmospheric way. And all this is accompanied by an impressive orchestral soundtrack, which was again composed by the previous composer Christopher Larkin.
Hollow Knight: Silksong - Metroidvania like the beloved predecessor
At the center of the plot is the insect character Hornet, who is both a princess and a knight of Hallownest. As befits a true Metroidvania, the adventure takes her through many different areas while fighting numerous beetle enemies while solving challenging puzzles and mysteries. She will discover new underground lands and gain new powers, allowing her to find new ways through the labyrinths.
In terms of gameplay, there will be a new move set for Hornet, with which she can defend herself against the enemy insect creatures by dancing. According to developer statements, there should even be over 150 types of them - the screen-sized bosses are of course particularly impressive. You will also be able to craft certain tools and weapons as a player. Of course, it will take time for the player to solve all the puzzles and find all the hiding spots and items to complete the game. But if you are still looking for a challenge, the Silk Soul mode should give you a unique way to experience Hollow Knight: Silksong in a new way. A specific release date for the title has not yet been announced.
In other news, on March 4th, the full version of the Ranch Simulator will appear on Steam as a possible new insider tip. Toxic Dog's rural ranching simulator has already been released in Steam Early Access, so any interested player can try it out for themselves. We present the title to you in more detail.
In Ranch Simulator the player has to transform the neglected family farm into a profitable and successful ranch. In addition, you slip into the role of a cattle breeder, a hunter, a construction worker, and a trader at the same time. This all sounds like a Stardew Valley or Harvest Moon title. However, the ranch simulator does without pixel graphics from above and presents the events in 3D graphics from the first-person perspective. A comparison with the farming simulator would therefore be more appropriate. But while a game series like Farming Simulator tries to present a very realistic simulation of the equipment and work processes of farming, Ranch Simulator is more accessible and down-to-earth – especially when it comes to the animal husbandry aspect.
https://youtu.be/yQxwbZsL14Y