Realme GT Neo 2 Review: Everything in NEO
GT Neo 2 arrives with a 6.62-inch AMOLED screen. Standard FHD + resolution that gives 398 pixels per inch, refresh rate 120 Hz, HDR10 + support.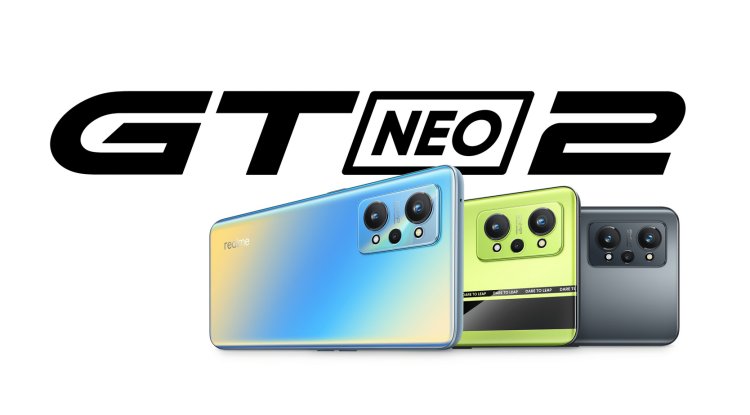 Photo Credits: Realme/Promo
Design and features
GT Neo 2 arrives with a 6.62-inch AMOLED screen. Standard FHD + resolution that gives 398 pixels per inch, refresh rate 120 Hz, HDR10 + support, but let's pay attention to the really great screen brightness, as much as 1300 nits at the peak. In parallel, we tested YouTube playback on this phone and Moto G200: at 50 percent screen brightness, GT Neo 2 is absolutely good for watching video content, while the opponent really needs to increase the brightness to really consider the display good enough to watch. All praise for this, otherwise completely flat screen. And while we are still in that matter, let's mention the extraordinary response of the touch screen of 600Hz, which will certainly be welcomed by those who like to play in shooters on the phone, and if you are wondering what kind of screen protection is in question, let's find out - Gorilla Glass 5. And on top of that, additional factory foil.
When it comes to phone design, Realme has opted for a more classic phone look with the GT Neo 2. The model in our test arrived in the so-called Neo Black variant and it is a matte variant that it is, print friendly - and your phone will not look messy. Just in case, in the otherwise always attractive packaging when it comes to Realme phones, there is also silicone in an unusual, black color. The structural strength of this phone is provided by the metal frame which is the main culprit for the weight of the GT Neo 2 device of exactly 200 grams. By the way, the back of the phone is made of polycarbonate. The phone brings a very nice weight balance and is pleasant to hold in your hand: it is a little heavier but gives a very good impression of solid workmanship.
On the right side is a finely serrated power button that does not have a fingerprint sensor - it is below the phone screen, as we are used to from Realme in this class. On the other hand, again, something that is a feature of this manufacturer's phone - two physically separated volume keys, so it's not the usual seesaw. Their position is exactly flush with the power button on the other side. Above the secondary microphone is in charge of stereo sound when recording video, below the SIM card tray (no support for Micro SD), primary microphone, USB Type C and speaker grille. The role of the second speaker is performed by the handset of the phone, and although we don't like to share praise as far as the sound is concerned, we have to admit that the GT Neo 2 sounds quite decent.
Processor as we said in the introduction, the exceptional Snapdragon 870, which Realme completed the offer in this class: the strongest, first to strongest and third 778G that simply every manufacturer must have on offer today. Although Realme offers GT Neo 2 in several memory combinations, the most powerful one came to us for testing, with as much as 12 GB of RAM and 256 GB of data space, which can be important for those who take a lot of photos and videos since there is no support for memory cards. One might want a lighter variant because this amount of RAM and storage space is very much reflected in the price of the smartphone. This kind of phone costs 65 thousand dinars (550e) in retail, and if we look through that prism, it is the most expensive model with this chip - but there are also specific reasons why it is the way it is. But you heard our recent guest from another company - over 60 percent of phones are sold in this country under contract, and then the situation becomes a little different. Like when you buy a car on lease, that you need to set aside a few thousand euros at once for additional equipment, it is not the same as when you pay it in installments. Our choice is of course Telenor, GT Neo 2 is in the offer of this teleoperator and see if their current offer suits you. And be sure to take that junk out of the drawer that doesn't work for recycling, you will further reduce the price of the device. As far as heating is concerned, there are no dilemmas and let's just mention the excellent Realme Vapor Cooling steel system, no worries.
Battery, 5000 mAh, the largest battery of all three mentioned Realme models. In fact, two batteries, one of 2500 mAh and the other of 2440 - and two batteries are charged in parallel when you connect the phone to the charger to avoid overheating and unplanned inconveniences. In our YouTube test, after ten hours, there are 58 percent of the battery left, but we said that even with 50 percent, the screen of this phone is very bright and if you decide on a movie marathon, GT Neo 2 will allow you to watch 24 hours of video continuously. It charges quickly, in about 37 minutes from 0 to 100 percent as we measured during testing - and this device allows a 65-watt SuperDart charger, which is in the attractive packaging of this device. Realme really pays attention to those details: it may not be too important for someone, but we like to see someone deal with those little things as well.
Camera
64 + 8 + 2 MP. So the Realme GT Neo2 comes with such cameras - 64MP main, 8MP ultra-wide and 2MP macro sensor. Sony IMX682 with an aperture of f / 1.8 - a proven solution that adorned, say, the first-generation Galaxy A52 and we can say perhaps a better choice than some 108MP sensors. But the GT Neo2 lacks optical stabilization, which with a different chipset and of course processing algorithms means that the results cannot be identical to that on that model, which has a great reputation in this regard.