Xiaomi Viomi S9 Review - Vacuum to empty itstelf
The robot is very intelligent and thanks to the many built-in sensors, it will scan all the rooms, it is possible that it will work longer for the first time.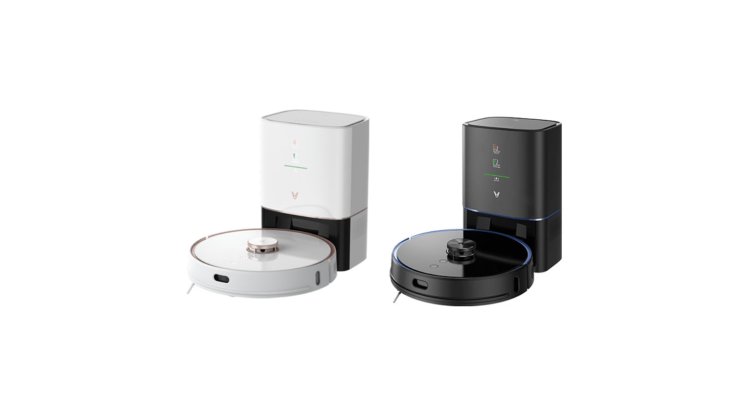 Photo Credits:
Unboxing
With devices like this, there isn't much in the box, but we found a lot in this one, and immediately noticed the first difference. Namely, the Xiaomi Viomi S9 robot cleaner comprises two separate units - a robot cleaner and a base with a garbage dump, an automatic suction station, which I will explain in more detail later.
The set also includes a water tank, two cleaning brushes, ten washcloths, a base on which you place washcloths, and three garbage bags. You're probably wondering what some of these parts will do for you, but we'll explain that in time, too.
Two parts, how?
As I mentioned earlier, this robot cleaner comprises two parts - the first is, of course, the robot cleaner itself, while the second is an automatic suction station. Ok, some other robot cleaners have a base for automatic battery charging, but this "charger" is much more than that, because you won't even have to get your hands dirty in the dust, everything is completely clean. That's why I have to first explain that extra station, which is both a battery charger and a dirt tank.
Why is she important? Precisely because instead of emptying the dirt tank yourself, which always fills up somehow quickly, the robot will do it itself. Namely, when the dirt tank in the robot is full, it will reach the station, dump the garbage into the station in a garbage bag of as much as 3 liters, and continue working.
The station runs on the Auto-Dumping 2.0 system which is much more advanced than the first generation for several reasons - the garbage can itself is shorter (only 381 millimeters), the power output is higher (950W), while a larger 3L bag is enough for a whole month regular cleaning, maybe more. The Viomi S9 can simply be described as "faster, better, stronger" compared to the vast majority of the competition.
There are three indicators on the station itself that show the fullness of the garbage bag, the discharge status and the battery status, but in practice it does all this automatically so that the robot will do everything itself. It is up to you to replace the garbage bag from the station approximately once a month.
Oh, mighty robots!
Powerful and durable are the two words that briefly describe this powerful machine. The Japanese Nidec electric motor has been installed, which boasts quiet operation and powerful suction of as much as 2700Pa, so it is about 30% stronger than most of the competition. In fact, it is less important, it is more important to you that this robot will vacuum even the tiniest invisible dust and dirt and make your home more comfortable. No matter what kind of dirt it is (dust, pet hair, pieces of food,…) Viomi S9 will do a great job. He also doesn't care what kind of surface it is, because it cleans equally well on parquet, laminate, tiles, carpet or some other surfaces. Also, a special HEPA filter has been installed that will very effectively separate dust from the air.
What is impressive is the very strong battery of as much as 5200mAh, so with one charge it can clean up to 320 square meters of space so it is suitable for large apartments and houses, and let's mention how it can cross obstacles up to 2 centimeters high. Of course, this robot can also clean and monitor so you can adjust its operation to the surface you plan to clean… more precisely, which the robot will clean. In the package, you will also receive an additional 10 cloths for cleaning fine fibers. Just washing the floors uses water that is in a 250 milliliter tank, and has three levels, and you can adjust that.
Cleaning planning
Although you can use the Viomi S9 robot on your own, you will use it much more efficiently by installing the application on your smartphone. The programming possibilities are really diverse - you can enter the rooms he will clean, even if you have several floors (up to five). The robot is very intelligent and thanks to the many built-in sensors, it will scan all the rooms in the first work, so it is possible that it will work longer for the first time.
The so-called LDS2.0 laser system has been installed, which has a detection of space up to a distance of 8 meters in all 360 degrees. Depending on the configuration of the space to be cleaned, the obstacles that will have to pass and the method of cleaning, you can even save on the battery, or clean more squares. There is even the possibility of a voice assistant that we have not tried because it requires a special speaker, maybe on another occasion.
Xiaomi Viomi S9 robot cleaner - key features
Model: Viomi S9 (V-RVCLMD28A)
In the package: robot, automatic suction station, water tank, 2 brushes, 10 cleaning cloths, 3 garbage bags, 1 doormat (garbage cloth is placed on it)
MAIN UNIT
Dimensions: 250 x 250 x 9.8 millimeters
Weight: about 3.8 kilograms
Voltage / power: 14.4V / 50W
Water tank: 250ml (3 pressure levels)
Obstacle crossing: up to 2 cm high
Additionally: connection to the application, cleaning mode programming (up to 5 programs), cleans and washes
BASE / STATION (battery charge + garbage dump)
Dimensions: 356 x 250 x 193 millimeters
Weight: about 4 kilograms
Input current (power supply): 220V / 10A
Output current (charging): 24V / 1.5A
Garbage bag: removable, 3L
Added: Auto Dumping 2.0 advanced automatic garbage disposal system (short tube 381mm), notification sensors on the housing
Check video bellow:
https://www.youtube.com/watch?v=d4fxSukQEzs&ab_channel=Viomi