Review of Trident Z5 RGB 2×16GB DDR5-6000 C36
The modern DDR5 standard is far from a hard start. It's not because of its performance, but like many of the technologies of 2021, it depends on supply and demand.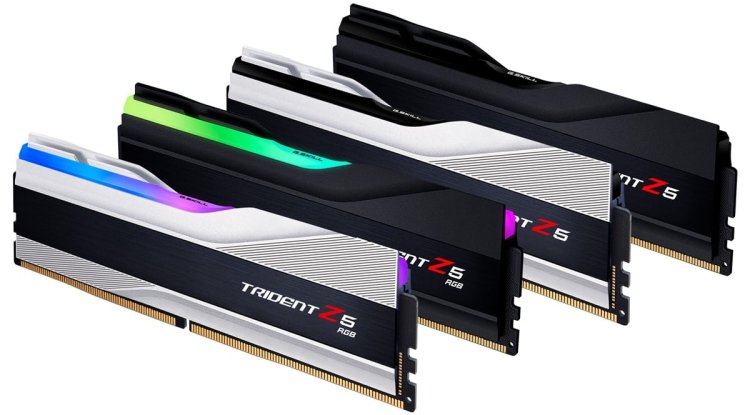 Photo Credits: G.Skill/Promo
The modern DDR5 standard is far from a hard start. It's not because of its performance, but like many of the technologies of 2021, it depends on supply and demand. So much so that a kit like the G.Skill Trident Z5 RGB DDR5-6000 we're looking at here is missing everywhere. From contacts with suppliers, we know that this will not always be the case, since since January the volume of stocks has been gradually increasing. So, instead of ranting about supply and demand issues, we'll focus on the kit itself, as we know that once inventory is available, people will look for a kit analysis rather than outdated reasoning about availability at a particular point in time.
Hopefully then this review will become more relevant when people actually buy it...
Whatever the background noise, you can always rely on G. Skill to free up memory with maximum performance. Its high-performance Samsung B-Die DDR4 kits are considered the best in the market. We always have high hopes for the company, and the DDR5-6000 kit with timings of 36-36-36-76 is almost as good as the first wave DDR5 kit.
The kit comes in two sizes of 16 GB with support for XMP 3.0 and an operating voltage of 1.30 V. We used this kit on various Z690 motherboards, and aside from some flaws with the pre-release BIOS versions, upon arrival of the newer BIOS, the kit worked seamlessly at the rated speed of XMP on all of them.
The look is always in the eye of the beholder, but from my point of view, G. Skill is a beautiful set. Our sample has a silver-colored heat diffuser, although there is also a black option if you prefer. It's not too conspicuous like some sets — like some G. Skill sets — and the RGB implementation looks great. Its opaque coating and diffused light are slightly thinner than some kits, with their overly branded and overly bright individual LEDs burning the eyes.
Trident
Z5
Specifications
Model Name: G.Skill F5-6000U3636E16GX2-TZ5RS
Memory Type: Unbuffered DDR5
Capacity:32GB (2x 16GB)
Rated Speed: 6000MHz
Rated Latency:36-36-36-76 Tested
Voltage: 1.30V
Warranty: Limited Lifetime Support Intel
XMP 3.0 (Extreme Memory Profile)
G.Skill has its own RGB application called Trident Z Lighting Control. This is a lightweight application that is only 6 MB in size. It's nice to see such a simple application instead of some excessive motherboard management software that users often have to deal with. Playing fast with the Trident app didn't present us with any problems. Standard effects and controls are present and work correctly. However, if you already have apps to control the motherboard, the G. Skill kit should also integrate seamlessly with asus, Gigabyte, MSI, and ASRock's RGB lighting management software.
With such a specification, you should expect good performance, and G. Skill modules certainly offer this, although, as is often the case with fast memory, the benefits tend to manifest themselves in rather limited ways. In other cases, a quick kit may operate within the margin of error of a kit that is twice as slow.