Review: Xiaomi Roidmi NEX X20 - For long distance
Namely, there is a special accessory in the box that is instantly placed on the magnetic contact, and also a special washing cloth on it/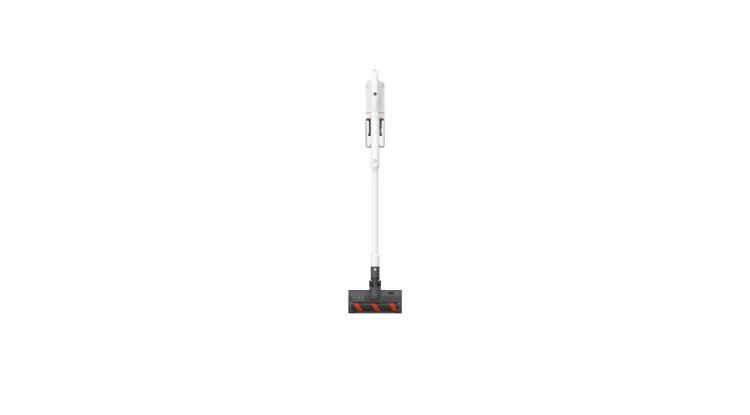 Photo Credits: Xiaomi/Promo
Unboxing
The box is very neatly stacked so it is compact and relatively small in size as each part has its place. It is a pleasant surprise that we got everything in a box. There are even 7 different accessories for cleaning different surfaces and objects, which means that this vacuum cleaner can do practically everything.
The box contains the following parts:
• Roidmi NEX X20 upright vacuum cleaner
• connecting rod
• soft brush
• vacuum cleaner head
• wall brush
• 2x filter
• carbon fiber roller brush
• multi-purpose brush
• Wet wiper attachment
• 2x damp cloth
• cleaning brush
• user manual
The look, how it works
As is usual with such vacuum cleaners, this is a model that has an electric motor, a dirt container and filters at the very top, at your fingertips, while classic vacuum cleaners have a "machine" on the floor, and you hold the pipe. Thanks to the special design and housing made of solid and robust white plastic, this vacuum cleaner measures 117.8 x 25.6 x 15.7 centimeters and weighs only 1.5 kilograms, so that members of the fairer sex will easily operate this vacuum cleaner.
When the container is filled with dirt, you can easily empty it and put it back. What is important to mention is that this vacuum cleaner uses so-called 6-stage filtration as well as two HEPA filters, so that in addition to cleaning dust and dirt, a small area of ​​up to 0.3 microns will clean up to 99.99% of allergens. Also, it should be said that all extensions are waterproof and very easy to maintain (they can be rinsed in ordinary lukewarm water), and you will find an additional filter in the box.
As this is a wireless vacuum cleaner, you will not have to pull the cable behind you, so you will feel more practical and comfortable to work with. This is a 2-in-1 vacuum cleaner that can vacuum and wash as needed. Namely, there is a special accessory in the box that is instantly placed on the magnetic contact, and there is also a special washing cloth on it (connected to the velcro).
All you need to do is fill the container with water (up to 180 milliliters) and while you clean the dirt by vacuuming a special cloth that will further wash the desired surface, this combination works great - for example, when cleaning tiles and parquet you will use washing, and when you reach the carpet just take off the cloth and keep cleaning. By the way, there are two rags in the box. I really like the practicality and ease of use as well as disassembly, cleaning and reassembly, or maintenance of this cordless vacuum cleaner.
Strong and efficient
A special story is related to the new generation of Engine-X brushless electric motors, which rotate at speeds of up to 120,000 rpm. It has a suction power of 145AW (Air Watt) and 23500Pa (415 Watts), which is more than enough for quality suction. By the way, world-famous vacuum cleaner manufacturers recommend at least 100AW for such vertical vacuum cleaners, so there is power. The extensions themselves have electric motors connected to the main part, all in order to make cleaning more efficient and, as they often say, deeper, especially if we are talking about carpets.
Technically speaking, efficient cleaning is also related to the creation of the so-called "multiple vortex" which draws dirt into a special 400ml container, professionally called "Air-X Dust Separation Technology". This same technology in combination with the electric motor and a special filter also enables the creation of less noise (up to 72dB). Depending on the amount of dirt or the surface on which you work, there are three strengths available. All you need to do is turn it on, determine the volume of the work and direct it towards the dirt, and the vacuum cleaner will do the restcleaner via a Bluetooth wireless connection so that it will download data on battery life, cleaning time when you need to replace the filter and similar data.
Battery
The Xiaomi Roidmi NEX 20 wireless vacuum cleaner has a removable 8x 2500mAh battery signed by LG / Samsung and depending on the speed at which you clean the battery will last up to 60 minutes (standard), up to 38 minutes (enhanced) and 10 minutes (maximum). With a single battery charge, you can clean up to 380 square meters of surface.
Just charge the battery can be wired through the charger, and in the box, there is a magnetic wireless attachment that mounts to the wall - all you need is to lean this vacuum cleaner on metal contacts and the battery will start charging (takes about 2 and a half hours). Also, the so-called BMS-X Battery Management System takes care of the battery consumption itself, which tries to optimize the consumption and extend the suction time.