ROGER DUBUIS JOINS LAMBORGHINI SQUADRA CORSE
Excalibur Spider Countach DT / X is the latest creation of the luxury watch brand for the automotive branch dedicated to motorsport. A collaboration defined by extreme performance and sharp aesthetics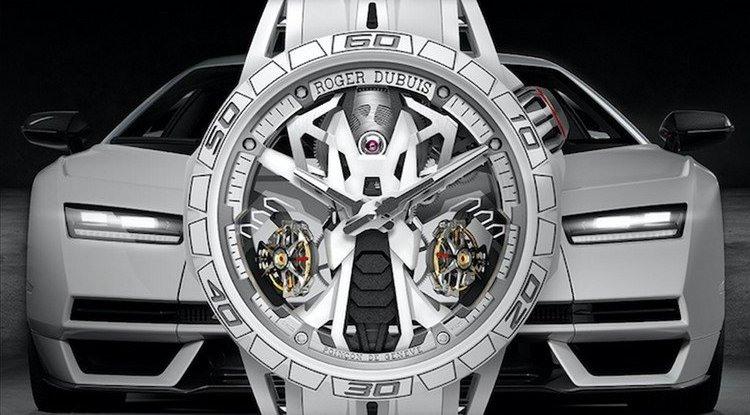 Photo Credits: Roger Dubuis
As a true innovator, Roger Dubuis, always faithful to the concept of passion for audacity and extravagance, has never liked conventions and is always on the lookout for innovative technologies and original designs. Thus, the luxury watch brand, with the launch of the new Excalibur Spider Countach DT / X, the latest creation by Roger Dubuis x Lamborghini Squadra Corse, strengthens its link with the world of motors. Built directly echoing the characteristics of the legendary Lamborghini Countach - the new watch is characterized by sophisticated innovative mechanics and iconic aesthetics Roger Dubuis is famous for.
AN EPIC "ENGINE"
Dubbed "RD112" in homage to the limited number of supercars produced, the Excalibur Spider Countach DT / X is powered by a caliber built to have the same performance efficiency as the supercar's engine. A movement unmatched in the world of Hyper Watchmaking: the two tourbillons are tilted exactly 90 ° relative to each other so as to compensate for the effects of Earth's gravity not only horizontally, but also vertically - a complex engineering achievement that has been long pursued in order to offer absolute precision. Additionally, the fact that the tourbillon cages are made from an ultra-light material such as titanium means less energy is required to spin them, making it possible to guarantee a 72-hour power reserve.
UNIQUE DESIGN
The hexagonal shape, immediately recognizable by its clean lines, is repeated several times and in different ways in the watch. The same hexagonal structure, which also defines the Countach's rear lights, is re-proposed and carefully positioned next to the "engines" of the double inclined flying tourbillons. In homage to the strong collaboration between the two nonconformist and rebellious brands, the red and black internal motif of the Countach DT / X is taken up inside the engravings of the watch, in parts of the glass, and inside the strap.
INNOVATIVE MATERIALS
Designed to maximize breathability and movement while always preserving the essential style inherent in the Maison's DNA, the three-dimensional rubber strap is ultra-ergonomic and made of different materials inspired by the supercar of the same name, while its technology is inspired by another partner avant-garde like Pirelli. The carbon fiber used on various parts of the car - including the monocoque frame, the air intake covers, and the rocker arm - offers the optimal ultralight solution on the track thanks to its torsional resistance. At the same time, the carbon fabric found on the car's rearview mirrors gives the car its unique aesthetic. This inimitable monochromatic checkered pattern is echoed on the side of the 47mm case, while the entire part of the timepiece features nylon mesh inserts placed between the layers of rubber to reinforce the structure.
By: Amber V. - Zexron