Samsung WAM7500 R7 Wireless 360° Multiroom Speaker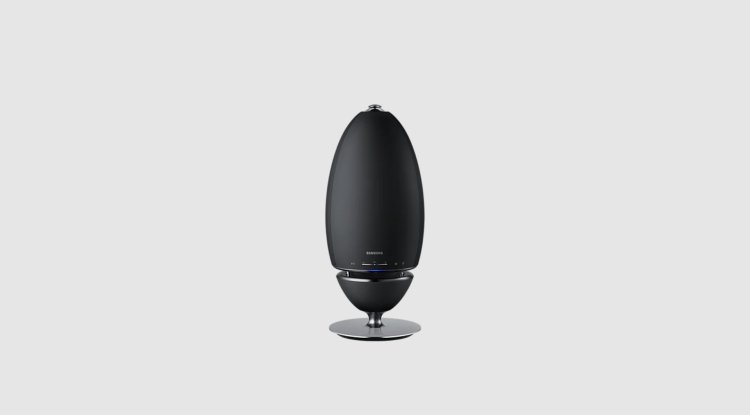 Photo Credits: Samsung/Promo
Unlike traditional speakers, which project the music in a single direction, the WAM7500's omnidirectional HD sound fills the entire room thanks to Samsung's 'Ring Radiator' technology, which disperses sound evenly in all directions.
The WAM7500 speaker has a sleek, aerodynamic rounded appearance and a selection of attractive finishes off the Wireless Audio – 360 it easily integrates with any home interior, and with the tripod Floor Stand and Ceiling Mount attachments it can be placed anywhere.
It has touch wheel dial navigation for easier music selection, straight play from the home screen right away, and easy switching between the Speaker List and Browser.
With the WAM7500's built-in WiFi and Bluetooth, you may stream music from Internet radio stations and online music services, as well as music stored on your phone or in the Cloud. You can also manage your music from anywhere in the house, regardless of which room you're in. The wheel navigation feature of Samsung's Multiroom App 2.0 allows you to quickly control your music.
The dimensions and weight of the Samsung WAM7500 R7 Wireless 360° Multiroom Speaker are 181 x 422 x 181 mm and 3.4 kg, respectively. It is available in Dark Grey and White, with a retail price of $499.99.
If you live in the United States, you can pre-order the WAM7500 directly from Samsung US; however, if you live outside of the United States, you can purchase both the R7 WAM7500 and the R6 WAM6500 models from various online dealers on eBay.
Xiaomi Mi AI Speaker is also a very interesting speaker:
The Mi AI speaker leverages artificial intelligence and has six built-in microphones as well as a 360° sound field that can detect spoken instructions from any direction. It enables the user to listen to music or radio stations. It also functions as a personal assistant, similar to Amazon Echo, providing information such as weather, news, traffic, and translations.
Xiaomi will launch the device in China in August through a test program in which 1,000 people will pay one yuan for a speaker. Users will assist in training the smart speaker by speaking to it. This is how voice assistants, such as Amazon's Alexa, become smarter. It necessitates data in the form of individuals conversing with it.
The Mi AI from Xiaomi, like the Amazon Echo, has a 16 million color ring that activates when the user speaks to it. It also, like the Amazon Echo, allows you to manage your smart home appliances, set alarms, and take notes with your voice.
Xiaomi, like Amazon, is enabling third-party developers to create apps for the Mi AI speaker. Xiaomi, on the other hand, has not stated whether or not this device would be made accessible to worldwide consumers following the beta trial.