Sharkoon Light 2 180 and Skiller SGP30 XXL
Sharkoon gaming mouse Light 2 180 in combination with Skiller SGP30 XXL pad makes a very good ultralight gaming combination.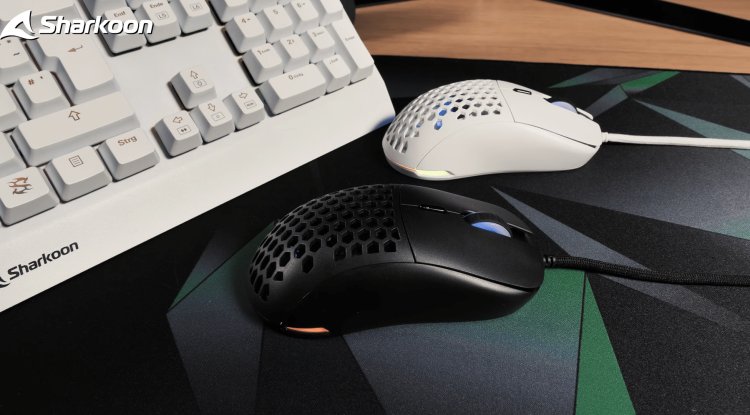 Photo Credits: Sharkoon/Promo
Gaming kit for excellence
Sharkoon offers us a very interesting combination of XXL pad and ultralight gaming mouse at a very reasonable price.
Sharkoon Light 2 180 is a very precise and responsive gaming mouse, while the visually attractive surface is made of quality material and enables flawless performance in all faster games
Sharkoon is another manufacturer of gaming peripherals that have introduced featherweight gaming mice primarily intended for competitive online gaming. Their Light 2 series of gaming mice has been expanded this year with new models that differ primarily in terms of design and capabilities, and especially in terms of the quality of the optical sensor used, which affects the overall price.
Sharkoon sent us a Light 2 180 gaming mouse for testing, and in order to experience the performance of this mouse in full glory, they also sent the appropriate XXL base in the package. Right at the beginning, we point out that the overall price of this gaming set is extremely affordable and budget gamers who want affordable quality peripherals will certainly come into their own.
Ultralight and super precise
Sharkoon Light 2 180 is an ultralight gaming mouse of relatively small dimensions and very affordable prices considering the possibilities. Its total weight is only 63 g and it is very comfortable to use. The common Sharkoon design has been spiced up with a very useful option of a removable mouse top cover. Nominally, the mouse has a perforated top cover as we are used to seeing some of these ultralight gaming mice, but the package also includes the usual cover, so you can use the one that suits you best. This is especially important if you have any concerns about an open perforated design due to, for example, dust collection or liquid spillage. Light 2 180 is available in black or white.
This Sharkoon ultralight gamer has the usual 6 keys, with the two main keys equipped with Omron switches specified at up to 20 million clicks. At the bottom of the mouse is a button that adjusts the polling rate / causation rate to 125, 500 or 1000 Hz. If you have a more modern, newer computer, we definitely recommend using 1000 Hz for the best possible response.
The quality of workmanship is at a very high level, the upper surface is very pleasant to the touch and not so sensitive to fingerprints, while being easy to clean. Let's also mention that a replacement set of Teflon feet comes with the mouse, which is certainly to be commended.
Sharkoon's Light 2 180 is equipped with a modern PixArt PWM 3360 optical sensor with a maximum sensitivity of 12,000 DPI. You can adjust the sensitivity of the mouse from 400 to 12,000 DPI using the button below the wheel or using a software application.
XXL gaming with the addition of RGB
We can say that Light 2 is a very responsive and precise mouse. Such features, combined with a very low weight, make it extremely suitable for playing faster games. In addition to excellent performance, Light 2 also stands out with its very impressive RGB lighting. The logo inside the mouse, the scroll wheel, and the bar on the back are illuminated.
Sharkoon SGP30 pad in the XXL version that we used when testing the Light 2 mouse stands out with its gigantic dimensions of 900 x 400 mm. This allows you to place a full-size keyboard on the surface in addition to the mouse without any problems.
The base is made of quality material and is extremely comfortable to use, while providing perfect precision. The lower part is designed to prevent slipping. Let's also mention that the upper surface of the substrate is resistant to liquid and easy to clean. Just make sure you have enough space on the gaming table because this is really a base of hefty dimensions.
Sharkoon gaming mouse Light 2 180 in combination with Skiller SGP30 XXL pad makes a very good gaming combination. Especially if we look at the total price of this gaming kit, which is very affordable.