SilverStone MS13 USB-C 3.2 Gen 2 NVMe/SATA M.2 SSD RGB Enclosure
Portable storage solutions have come a long way, and the SilverStone MS13 USB-C 3.2 Gen 2 NVMe/SATA M.2 SSD RGB Enclosure is a testament to the evolution of storage technology. This sleek and stylish enclosure not only offers high-speed data transfer but also adds a touch of RGB flair to your storage setup. Whether you're a creative professional, a gamer, or simply someone who needs fast and reliable storage on the go, the MS13 enclosure promises to deliver. In this article, we'll dive into the key features, benefits, and how the SilverStone MS13 USB-C 3.2 Gen 2 NVMe/SATA M.2 SSD RGB Enclosure can enhance your portable storage experience.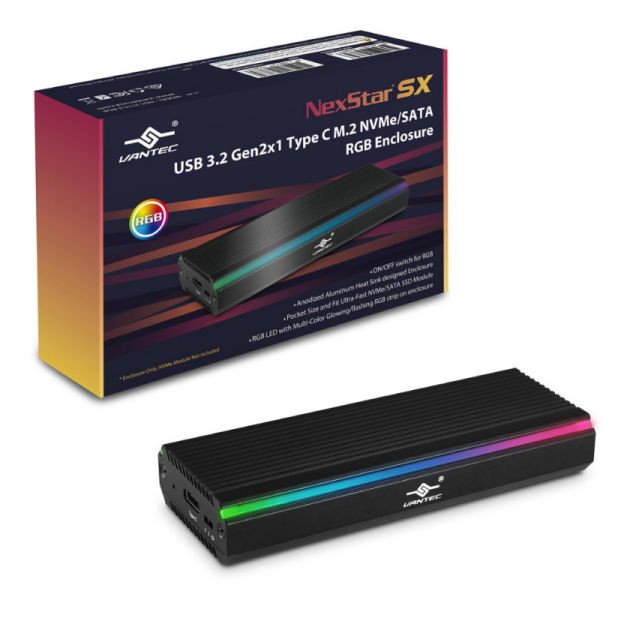 Photo Credits: aerocooler
High-Speed USB-C 3.2 Gen 2
At the heart of the SilverStone MS13 enclosure is the USB-C 3.2 Gen 2 interface. This cutting-edge technology ensures blazing-fast data transfer speeds of up to 10 Gbps, which is twice as fast as USB 3.1 Gen 1. Whether you're transferring large files, backing up your data, or working on high-resolution video projects, the MS13 enclosure can handle it all with ease.
NVMe and SATA Compatibility
The versatility of the MS13 enclosure is a standout feature. It supports both NVMe and SATA M.2 SSDs, providing you with flexibility in choosing your preferred storage solution. NVMe SSDs are known for their lightning-fast speeds, making them perfect for demanding tasks like 4K video editing and gaming. SATA SSDs, on the other hand, offer excellent performance and capacity for everyday use and general storage needs.
RGB Lighting
The RGB lighting on the SilverStone MS13 enclosure adds a touch of style and personality to your portable storage. The customizable RGB lighting can be controlled via software, allowing you to choose from a spectrum of colors and lighting effects. Whether you want a subtle glow or a vibrant light show, the MS13 enclosure lets you express yourself and match your storage to your aesthetic preferences.
Tool-Free Installation
Gone are the days of fiddling with screws and screwdrivers to install your SSD. The MS13 enclosure features a tool-free design, making it incredibly easy to install your M.2 SSD. Simply slide your SSD into the enclosure, secure it in place, and you're ready to go. This hassle-free installation ensures that you can get your storage up and running quickly without any technical expertise.
Slim and Portable Design
The MS13 enclosure's slim and compact design makes it highly portable. It easily fits in your pocket or bag, allowing you to take your high-speed storage with you wherever you go. Whether you're working from different locations, traveling, or simply need a backup solution, the MS13 enclosure is designed for on-the-go convenience.
Enhanced Cooling
High-performance SSDs can generate heat during extended use, which may affect performance. The MS13 enclosure addresses this concern with its efficient heat dissipation design. It includes thermal pads that help transfer heat away from the SSD, ensuring that it operates at its full potential without overheating. This added cooling capability prolongs the life of your SSD and maintains consistent performance.
Wide Compatibility
The SilverStone MS13 enclosure is compatible with a wide range of operating systems, including Windows, macOS, and Linux, making it versatile for various users. Whether you're using a laptop, desktop, or even a mobile device with USB-C support, the MS13 enclosure ensures seamless compatibility for all your storage needs.
Data Security and Encryption
Data security is paramount, especially when you're dealing with sensitive information or valuable content. The MS13 enclosure supports AES 256-bit hardware encryption, adding an extra layer of protection to your data. You can keep your files safe from unauthorized access, giving you peace of mind when transporting important data.
Also Check Pro-Ject DAC box DS2 ultra
Conclusion
In conclusion, the SilverStone MS13 USB-C 3.2 Gen 2 NVMe/SATA M.2 SSD RGB Enclosure combines speed, style, and portability to redefine your portable storage experience. With high-speed USB-C 3.2 Gen 2, support for both NVMe and SATA SSDs, customizable RGB lighting, and tool-free installation, it offers a versatile and user-friendly solution for a wide range of users.
Whether you're a creative professional who needs fast storage for video editing and content creation, a gamer who wants to carry your game library with you, or a regular user who values speedy and reliable portable storage, the MS13 enclosure delivers. Its slim design and efficient cooling ensure that it can keep up with your demands, even when you're on the move.
Adding a touch of RGB lighting to your storage setup is the icing on the cake, allowing you to showcase your personality and style. The MS13 enclosure is not just a storage device; it's a statement piece that complements your tech-savvy lifestyle.
Investing in the SilverStone MS13 USB-C 3.2 Gen 2 NVMe/SATA M.2 SSD RGB Enclosure is an investment in speed, convenience, and aesthetics. It ensures that your data is safe, your storage is fast, and your style is on point. Elevate your portable storage game with the MS13 enclosure and experience storage that's as fast and stylish as you are.