Sony X90J 4K TV Review: Revolutionary
The TV comes with 8 predefined picture profiles that are the same for both SDR and HDR, with a sign indicating the dynamic range of content currently playing.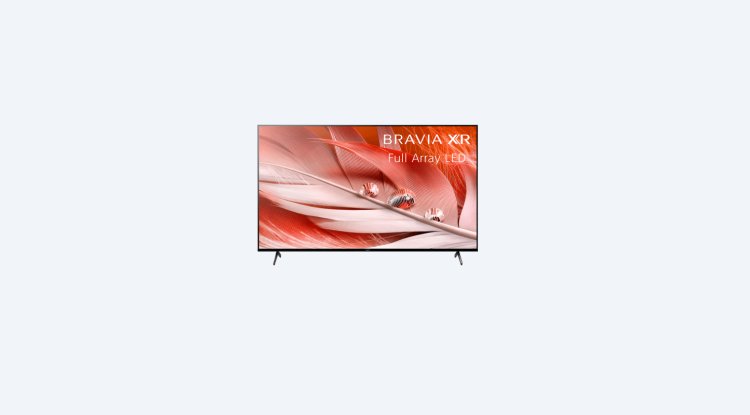 Photo Credits: Sony/Promo
The Sony X90J brings significant enhancements, a true HDR experience, the famous Sony image processing, Android OS and exclusive Sony features which will make it very interesting for anyone looking for a higher-class TV.
Compared to the competition, the X90J is definitely specific in many respects, so let's see what it actually offers and what Sony is doing this year in this segment.
Design and features
As far as looks are concerned, the X90J is not the most beautiful TV, primarily because plastic dominates in production, although aesthetically basically nothing can be blamed on it. The profile of the TV is slightly thicker, although this is a feature of most models with advanced lighting systems, and the panel surrounds a plastic frame that because of its specific shape looks bigger than it is, with a little extra margin to the panel itself. On the bottom strip, there is the inevitable Sony logo which is in itself an ornament of the company's reputation, and the stand consists of two metal rails with two pins, which can be placed in two positions, closer to the edges or closer to the middle. to adjust the shelf on which it is placed, but also to influence the overall aesthetics of the TV.
The back of the device is also covered with plastic, whose texture with large squares will appeal to someone more than us, but what is far more important is that practically all connectors are placed in one place in a section accessible from the side, which offers the lightest possible approach when something needs to be connected.
There are antenna and satellite inputs, LAN port, composite AV input, outputs for digital optical and analog 3.5mm audio, two USB ports, as well as two HDMI 2.0 and two HDMI 2.1 ports, plus a CI + slot which is the only separate and there is something above.
The presence of HDMI 2.1 will be especially important for those who want to connect the latest generation console or PC, as these ports support a 4K source with 120 frames per second. The fourth HDMI also supports Dolby Vision gaming, but according to some information, it currently only works with the PS5, not the new XBox, so the question is whether full support will be implemented at all. Also, it should be noted that VRR - variable refresh is currently just a promise in the specifications, and when it will be implemented through software updates is unknown. When it appears, it will only benefit owners of consoles and AMD graphics cards, while nVidia users are likely to remain short-sleeved. The input lag is 17.1ms, which is low enough.
In any case, a particular VA panel offers superior contrast over any IPS, true with average viewing angles for this type of panel and excellent lighting uniformity for a single LCD panel, with slight vignetting along the panel edges, most likely due to the way the frame is fitted. The specification of this model states a static contrast of 5600: 1.
Of course, the real contrast is much higher, because the X90J is also equipped with Full Array Local Dimming backlighting, which can completely turn off a certain zone if necessary, thus achieving true black. The screen is divided into four horizontal and 6 vertical zones, which is a small number compared to competing solutions, although in this case, the advantage is that the natural new black VA panels are much lower at the start than on the IPS. The so-called blooming is noticeable in dark scenes with bright objects because the fields are quite large, and the control algorithm is not restrictive, so the TV prefers to illuminate the adjacent zone if necessary, rather than focusing on better black at a loss. dark details.
What we have to praise is the brightness, which has been significantly improved compared to last year's Sony models. It provides a solid HDR experience, which is not offered by many models on the market.
The TV comes with 8 predefined picture profiles that are the same for both SDR and HDR, with a sign indicating the dynamic range of content currently playing. Besides the Standard, Vivid and Cinema image modes, there are also games, Photo and Graphics that are designed to connect to a computer and consoles. But with additional optimizations for the IMAX content available to you.
The standard mode actually looks the most impressive and uses the TV's capabilities in the best way, while the IMAX Enhanced mode offers a slightly more realistic display, true with a slightly paler color and just the correct display accuracy. The most accurate color display is in a Custom mode with a Delta E deviation of a very good 2.8, which is also the only mode with a deviation below the limit of 3 which is considered an imperceptible deviation for the average eye.
According to the specification, the panel is a real ten-bit, for colors, it is worth mentioning that the pixel arrangement in the BGR matrix is ​​instead of the standard RGB, which makes no difference for video and gaming content.
What traditionally stands out as Sony's advantage over other manufacturers is their image processing, which this year was further improved by using the so-called Cognitive Processor XR, which is Sony's version of algorithms that include artificial intelligence, which should consider image optimization take the way the human eye perceives what it sees.
And since this is the first time we meet Sony processing in the test with the opportunity to check in detail how it works, we can say that it really is extremely good, as well as offering slightly more options than what we saw with most leading manufacturers. First, in the Clarity section, in addition to the standard Sharpness filter, there is also Reality Creation, to say something like nVidia DLSS, which improves the level of detail in low-resolution content via artificial intelligence. We can't say that it works wonders, but it is definitely a step forward with scaling content, and many users who watch a standard TV program will benefit from it.
Also, motion processing is extremely flexible, so there are even two options - MotionFlow and Cinemotion. The first features a Smoothness slider that actually eliminates twitching, the so-called De-Judder and Clearness which is actually a backlight strobe, which will be useful for watching sports but also for playing games, as it improves panel response and clearer display of fast objects on the screen .
Another option, called Cinemotion, is actually interpolation of frames, which offers a smooth display, but it seems with a less noticeable Soap Opera effect than is the case with LG and Samsung, for example.
Overall, really great processing, which is one of the chief advantages of this model. Sony's focus in terms of processing and image seems to offer a less impressive and more natural look, so you may first need to look for reasons to choose this particular model over some competing ones, of course, if that's what you like.
As for the sound, we have to say that we still expected more from Sony, which has a good reputation and a lot of experience in the audio domain. The 2x10W power solution sounds very balanced and correct, but there is a noticeable lack of bass frequencies, which is why the sound is not nearly as convincing as we expect from a model of this class.
What is missing in the bass, this TV makes up for in the sound image, as there are openings on both sides of the TV in the upper part that help create the surrounding sound. Of course, the sound processing technology is quite, from Dolby to Sony's own algorithms, and there are quite a few options available to adjust everything from a seven-band equalizer, independent dialogue boost, surround effect control.
There is also a response change depending on whether you mount the TV on a stand or on a wall, and there is also AI acoustic calibration which can adjust the frequency response to the specific room and position of the TV and viewer via a remote microphone.
Another thing that makes this TV absolutely stand out is the SMART capabilities, the Android 10 platform, but in an edition we haven't seen before.
The recognizable Android TV interface that we have seen so far on many TVs has been redesigned beyond recognition and it must be said that this is exactly what he expects from a company like Sony. The main screen consists of search tabs, apps and a content library at the top, with a line of apps below and content suggestions to watch from various video services, TV shows and available local files and looks much more modern and functional than the vanilla Android TV variant.
Also, activating the menu will give you a Quick menu at the bottom of the screen where you can quickly change various important parameters, or access the full menu which is also redesigned compared to pure Android and integrates all system and TV settings. The level of sophistication at which this is done is an example for other manufacturers of how to make Android TV in their own, better way, and equally impressive is the software optimization, so the interface and all TV functions work smoothly and flawlessly although Mediatek was used MT5895 Quad Core processor that we have seen on models from other manufacturers. True, unlike the usual 1.5GB, the X90J has as much as 3GB RAM, and the only slight disappointment is the storage is limited to only 4GB, which is why some larger games like Asphalt will require a USB drive to expand capacity.
There are really a lot of applications available, everything you can find in the Play Store for TV, and besides all possible video services, a special exclusive is the Bravia Core service where you will have a huge number of movies available as a Sony TV buyer. owned by Sony Entertainment.
When you consider the standard powerful features of Android for streaming content from other devices, KODI and other useful applications, as well as a well-implemented Living decor gallery with static images and animated content, we can say that Sony offers a fairly valuable software package and probably the best Android implementation.
We would like to say that the remote makes an equally good impression, but the rubber buttons are not exactly at the level we expect in this class, although the selection of buttons is rich enough for everything you need. Although it is functional, we believe the remote is something where Sony could make a far better solution. We are still talking about a company that makes a DualSense controller for its PS5. It is known that they can well.
Final impressions
It offers a true HDR display, a high-contrast VA panel, superb image processing, HDMI 2.1 and one of the best SMART operating systems we've seen on a TV. While some of the competing models offer technically more advanced local dimming, even higher maximum brightness or better sound, the X90J has the trump cards that will make it a better choice for some users. We first think of those who, besides 4K and HDR movies and series, watch a lot of lower resolution television, as well as customers who just want a well-rounded TV that offers a great user experience.