Sound furniture Montana TV HiFi in the test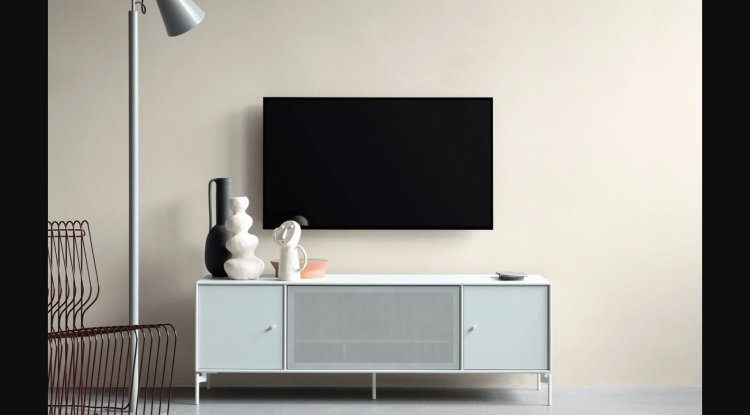 Photo Credits: Montana/Promo
Individual, modern, and powerful: these are the features of Montana, Danish sound furniture. The stereo sound low board is designed to replace large loudspeakers in the living room.
With its media furniture of the same name, Montana hopes to kill two birds with one stone: the low board should not only serve as a place for the television but also give great stereo sound in the living room. Anyone who chooses the shelving system can assemble it in three sizes from various rectangular modules.
The term "Made by you" is used as the program's tagline: Shelf parts range in size from 12.6 cm x 12.6 cm to 69.6 cm x 69.6 cm, with drawers and doors available in a variety of sizes and designs. The elements can then be installed on bases, feet, and castors, or hung on the wall using special fittings. Furthermore, when designing your own sound furniture, you have a choice of 42 colors and limitless surfaces - a lot to consider when selecting a piece of furniture. The proper size loudspeakers are then placed on the various shelves. These can stand or lie vertically or horizontally on the shelf, depending on the size of the shelf and the individual parts.
After the media furniture is in place, the installation and cabling process begins. Even inexperienced users can rapidly grasp the system's simplicity. The MSU is connected to the left and right speakers. The MSU is then fed data from a source device. Anyone who chooses a DVD or Blu-ray player can then connect a TV set straight to the MSU to output the picture and sound.
The operation is simple because of the well-organized remote control. The user will only find six buttons here; further settings must be chosen on the MSU using the rotary wheel. As a result, the remote control is neat, but not always comfortable due to the low board's height.
After the wiring, you may not only watch the latest blockbuster through Montana but also listen to music directly. The MSU is outfitted with WiFi, AirPlay, and DLNA in order to communicate wirelessly with various end devices. The amplifier may be quickly and easily connected using the source setting in the menu. The MSU can be positioned horizontally or vertically on the shelf and concealed by a variety of coverings.
Design is a personal preference. You must appreciate the appearance of the sound furniture and, most importantly, be able to incorporate it into your living area. Everyone who completes this will receive good and, most importantly, smartly disguised sound for the blockbuster with the media furniture. Although the bass range may be improved, Montana provides the user with both a piece of furniture and stereo sound without the use of big speakers.