The best support for your inspiration - MSI Creator Z16
There are laptops made for gamers, there are multimedia laptops, and there are universal laptops. MSI Creator Z16 is a laptop that created with creators in mind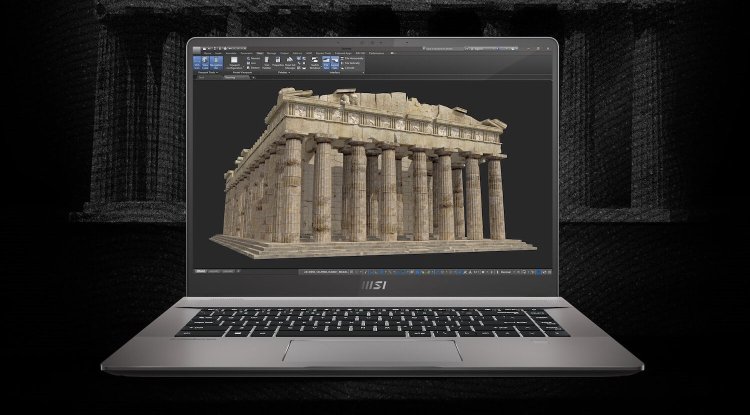 Photo Credits: MSI
Creators of all kinds, though with particular emphasis on the internet ones. It has a display that shows things exactly as they are and the components to give you the performance you expect. 
MSI Creator Z16 lives up to expectations, it is as efficient as needed
MSI Creator Z16 allows you to take full advantage of it, reacting instantly to your every command and carrying out the tasks given to it in the blink of an eye. This is primarily due to the  Nvidia GeForce RTX 3060 mobile graphics card with 6 GB of GDDR6 memory. This is an ultra-efficient system, on which no graphic or film projects are able to make a greater impression ... in contrast to the effects, which - on the viewers - can make quite an impression.
MSI Creator Z16 is compatible with Nvidia Studio, which is a technology that accelerates processes in creative applications. It is able to significantly reduce the export time of 4K, 6K or even 8K material.  MSI Creator Z16 also speeds up the editing and grading of colors. It also drives rendering, which in such Autodesk can be up to 13 times faster, and adjusting photos in Adobe Lightroom - 4 times faster. This solution will be appreciated by animators, editors, photographers, and architects. 
But how is this even possible? The secret lies in the Nvidia Studio drivers, which optimize the interaction of Nvidia GeForce graphics chips with the most popular creative applications. This applies to both third-party software and proprietary platforms such as Nvidia Broadcast or Nvidia Omniverse. 
Nvidia Omvierse allows you to combine your favorite tools and use the full potential thanks to artificial intelligence. In addition, RTX Renderer allows the use of real-time ray tracing, as well as path tracing, i.e. the cinema technique. In turn, Nvidia Broadcast turns your room into a professional studio, providing excellent quality and unmatched performance in applications such as Streamlabs, OBS Studio, Twitch Studio, and XSplit Broadcaster. 
This laptop works perfectly with modern graphics creation and processing software. It opens the door to new possibilities of composing content with the support of artificial intelligence, thanks to which the creative process is shortened as much as possible. Not without significance in this context is also the fact that its heart is the efficient, multi-core Intel Core 11th generation processor with clock speeds up to 4.6 GHz.
This laptop has a display to show things as they are
Continuing our tour, where the next steps are the key characteristics of this laptop, we have just arrived at the display. This is a True Pixel panel, compatible with True Color technology, factory calibrated with the Delta-E <2 parameter,s and featuring 100% DCI-P3 color space coverage. As a result, it is able to offer natural, faithful colors, so your photos and videos look exactly as they should. And since we mentioned movies, the 120 Hz refresh should also be mentioned. 
Due to the fact that the manufacturer used IPS technology here, the image looks flawless, regardless of whether you are looking at the screen perfectly straight or at an angle. The slightly larger diagonal (16 inches) and less panoramic proportions (16:10) provide a large working space - in other words: less scrolling, more action. Producer refers to the proportion of the golden ratio (1.618). High resolution is also important (QHD +, i.e. 2560 x 1600 pixels). The detail of the painting is first-class thanks to it. 
In movies, as important as the image is, naturally the sound is too. Also in this matter, MSI took care of decent components. It equipped the laptop with a Dynaudio four-speaker system with a Speaker Tuning Engine, providing strong bass and clear vocals. The whole thing is also compatible with the Hi-Res Audio format. 
Features are not without significance
Having the MSI Creator Z16 laptop in your bag or backpack is not a problem. The manufacturer has placed a 90 Wh battery in it, thanks to which you can work for many hours before the message pop ups that it's time to charge. 
Despite such a capacious battery, the laptop is less than 16 millimeters thick and weighs just over 2 kilograms. So without the slightest hassle, you can always have it with you, so that it will be ready and let you go straight to action when the vigor comes. In addition, rides and hikes are favored by the fact that the MSI Creator Z16 meets military durability standards (per MIL-STD 810G standard). Work at night is facilitated by the keyboard with an RGB backlight.
The manufacturer made sure that this laptop does not limit you in any way. Hence the Windows 10 system is on board (with the option to upgrade to Windows 11), hence the complete set of basic sockets. You have at your disposal two USB 3.2 ports, two Thunderbolt 4 ports, a microSD card reader, and a mini-jack for connecting headphones. A quick connection with the internet is provided by the Wi-Fi 6E card.
https://www.youtube.com/watch?v=JK3gEuyELIQ