Thunderbolt 3: new external graphic card housing
With the Gearbox 500, the hardware manufacturer Sapphire Technology from Hong Kong presents a new external graphics card housing.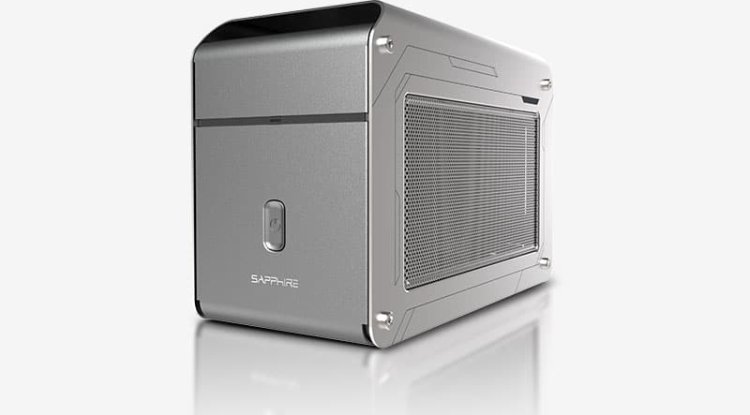 Photo Credits: Sapphire
Light, slim and portable, with optimized airflow in connection with graphics cards that increase the performance of Thunderbolt 3 or 4 capable devices on the Mac or under Windows 10: This is how manufacturer Sapphire Technology describes its new Gearbox 500 eGFX housing for Thunderbolt 3, which is available in a bundle with the Pulse AMD Radeon RX 6600 XT graphics card.
The specifications of the Gearbox 500 at a glance
According to the manufacturer, the Gearbox 500 eGFX housing has been developed for users who need the performance boost for operating bandwidth-intensive applications such as professional software or the latest 1080p games. It offers space for graphics cards from the graphics processor families from both AMD and Nvidia with up to 350 W for PCI-Express x16.
The Gearbox 500 is also equipped with a port for Thunderbolt 3 or 4 with a maximum of 40 Gbit / s, to which laptops and compact computers can be connected. With the help of the PD Charging (Power Delivery Charging) feature, the housing should be able to fully charge a laptop with up to 60 W. Furthermore, the eGFX housing offers Gigabit Ethernet for the use of high-speed Internet via a LAN port as well as two USB ports with additional connections for USB devices for data transfer or for peripheral devices such as keyboard or mouse.
The dimensions of the housing are 300 × 138 × 204 mm (L × W × H), while the dimensions of supported graphics cards can be a maximum of 266 × 125 mm (L × H). In addition, the internal power supply is 500 watts. If necessary, a list of all graphics cards that are compatible with the eGFX housing can be found on the product website for the Gearbox 500 from Sapphire and you are able to view it at any given time.