Trust GXT619 THORNE RGB Soundbar
Trust GXT619 THORNE RGB Soundbar is compatible with PC and laptop, we believe, aesthetically and with the sound quality, it will nicely complete your PC setup.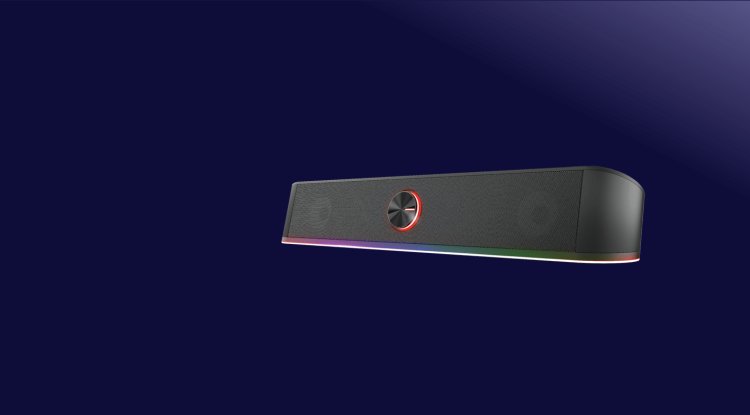 Photo Credits: Trust/Promo
General
Type of speaker

Height of main product (mm)

Width of main product (mm)

Depth of main product (mm)

Total weight

Weight of main unit
Soundbar

70 mm

400 mm

75 mm

700 g

700 g

Features

NFC

Hands-free phone calls

Tripod mount

Power saving


No

No

No

No
Control
Remote control

Controls
No

Volume control, power on/off, light color mode
Connectivity
Connection type

Bluetooth

Cables included

Cable length power cable

Cable length audio cable
Wired

No

Fixed on speaker

140 cm

140 cm
Audio
Power output (peak)

Power output (RMS)

Frequency response

Driver size

Driver units

Speaker impedance

Input impedance

Audio input

Audio output

Headphone connection

Microphone built-in

Microphone connection

True Wireless Stereo (TWS)
12 W

6 W

20 Hz - 20000 Hz

40 mm

2

4 Ohm

10000 Ohm

3.5 mm

None

No

No

No

No
Lighting
Lights
Yes
Protection
Waterproof
No
Power
Power cable detachable
No
Input
Power source
USB
Compatibility
Compatible Device Types
Laptop, PC
Here's another cool addition to your PC or laptop, which will interest you. It is a soundbar stereo speaker with RGB lighting from Trust. It is adorned with a cool design, reasonable price and solid sound.
Trust GXT619 THORNE RGB Soundbar is primarily an elegant horizontal speaker, which will fit under any monitor, including TV, but there are no restrictions, so if you want, it will complete your laptop experience.
We liked the big backlit volume control knob in the middle of this soundbar. Under the fingers, the button provides a clear response to rotation and provides fine volume control. By turning all the way to the left, the speaker turns off.
Although made entirely of plastic, THORNE does not seem cheap, and the mass is just enough to instill confidence in the quality of this device. Below the front grille at an angle are the openings of two 12W speakers.
Down along the lower edge along the entire length of the speaker extends a thin but clearly illuminated RBG LED strip. It can glow in one color, change colors dynamically, or be turned off. It looks very cool, and its operation is regulated by a capacitive button on the top of the soundbar.
There are six modes of RGB lighting, and one mode "dances" in the rhythm of the sound it reproduces, which ensures a very cool effect. Connecting to PCs and laptops and even TVs with 3.5mm audio output and USB port is extremely easy.
One cable comes out of the back of the speaker, and it combines a 3.5mm audio port and a USB plug, which it uses as a power supply, so no additional power source is needed.
The quality of the 2.0 stereo sound is more than decent as long as you don't overdo it with the volume when the usual distortions occur. Calculate that somewhere up to ¾ maximum sound quality is good and this should be enough for you, especially if it will be placed some 50-70 cm from the listener such as under the monitor on the desk.
Trust GXT619 THORNE RGB Soundbar is compatible with PCs and laptops and we believe, aesthetically and with the sound quality, it will nicely complete your PC setup.