Which external drive to choose for data storage?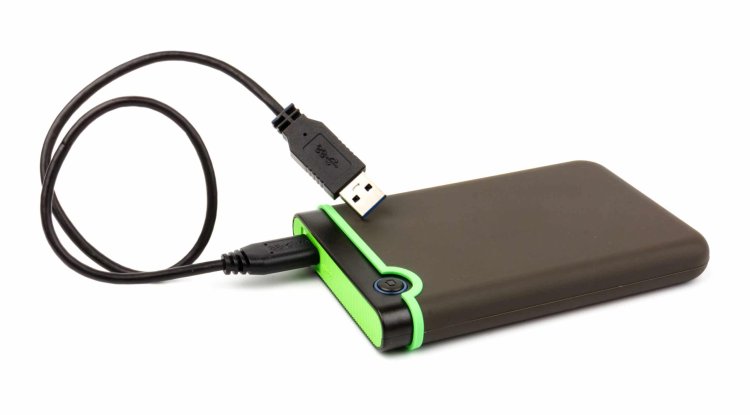 Photo Credits: Depositphotos
Are you undecided on which external drive to purchase? We recommend the best portable drives, including SSDs that are extremely fast and HDDs that are extremely large. It's great for backups as well as storing a huge quantity of photographs and videos.
Which external hard disk is the best? Because one customer will be searching for speed (portable SSD) and the other for high capacity, there is no clear answer to this question (portable HDD). As a result, the finest external drives are those that cater to the demands of individual users. If you prefer a NAS to an external drive, take a look at our list of recommended NAS for personal or business. Meanwhile, here's our list of the best external hard drives.
What external drive?
WD Elements Portable 2TB - inexpensive external HDD,
Seagate Backup Plus Hub 6TB - a large, portable external drive,
SanDisk Extreme Portable SSD  - fast SSD drive,
Adata SSD SD700 External Durable  - durable SSD,
Samsung T7  - a good SSD external drive,
bonus - Seagate Expansion Portable - cheap and good HDD.
What kind of portable drive are you talking about? Portable HDD drives, which are both inexpensive and large, are still a popular and straightforward method of data backup.
Seagate Expansion Portable - the low-cost backup
The Seagate Expansion Portable is an example of a low-cost, portable HDD that will suffice for consumers who aren't concerned with transfer speed. A sturdy casing and a USB 3.0 interface were provided by the manufacturer.
The most important features:
2.5 '' drive format
1000 GB capacity
USB 2.0, USB 3.0 disk interface
Rotation speed 5400 rpm
2.5-inch external drives with capacities of up to 2 TB are currently available for less than $ 75, and all external HDDs with a USB 3.x interface function similarly. We can pay a bit more for the ability to encrypt data or a more appealing design, for example. External HDDs with a capacity of 16 TB, such as the Seagate Expansion Desktop 16TB, are available if you need a VERY big capacity. It is true that it is a disk made to be kept on a desk, but because of its compact size, it may be carried in a backpack, for example.
What is the name of the external SSD drive? These days, the prices of portable SSD drives have dropped dramatically. 240/256 GB devices cost around $ 50, 480/500 GB models cost around 75 $, and versions with a capacity of 1 TB cost around $ 130 or more. In terms of performance, the lowest models of portable SSDs are about 3-4 times faster than HDDs (400-500 MB / s bandwidth).
What are the external disks with the lowest failure rate? External SSDs have a considerable advantage over HDDs due to the lack of moving components and shock resistance.
A USB 3.0 / 3.1 Gen 1 interface is required for a suitable external disk. Models with an older USB 2.0 version should be avoided. Portable drives, like the Samsung T5 carriers, are available on the market that uses USB 3.1 Gen 2, which provides twice the bandwidth of the previous generation (10 Gb / s against 5 Gb / s). The fastest external drives now employ the Thunderbolt interface, which allows for super-fast transfers of up to 40 gigabits per second.
WD Elements Portable 2TB - cheap external HDD
An alternative to the previously mentioned Seagate brand drive. External drive with USB 3.0 interface that is backward compatible with USB 2.0 for a low price. It's a universal connector that lets us attach the carrier to virtually any PC. The stylish and robust housing deserves special attention because it provides basic protection against physical damage. The dimensions and weight of this disk are 111 x 82 x 21 mm and 230 g, respectively.
The most important features:
2.5 '' drive format
Capacity 2000 GB
USB 2.0, USB 3.0 disk interface
Rotation speed 5400 rpm
Seagate Backup Plus Hub 6TB – A large, portable external drive
The suggested Seagate Backup Plus Hub drive has a storage capacity of up to 6 TB, allowing you to store a huge amount of data. Surprisingly, backup software is included with the disk, allowing you to effortlessly safeguard yourself against the loss of vital data. It's also worth noting the two built-in USB connections, which can be used to charge a smartphone, for example. For the drive to work, you'll need the accompanying power supply.
The most important features:
3.5 '' drive format
6000 GB capacity
USB 3.0 drive interface
SanDisk Extreme Portable SSD – fast SSD
This is the very first SSD on our list. It has a high maximum data writing and reading speed of around 1000 MB/s, which implies it will please much more demanding consumers in this regard. Splashes, dust contact, and falls from a height of 2 meters are all protected by the housing. The disk's dimensions are 100 x 50 x 9 mm, and it weighs 79 g, making it a relatively small device that will fit in your pocket. The built-in handle is an unusual design that also makes it easier to carry.
The most important features:
500 GB capacity
USB 3.2 Gen 2x2 disk interface
Adata SSD SD700 External Durable - durable SSD
For specialized tasks, use an external SSD. Its enclosure complies with the IP68 standard, indicating that the gadget is dust and water-resistant. It can withstand being submerged in water for an hour at a depth of 1.5 meters. Furthermore, the casing has passed the military standard MIL-STD-810 testing. As a result, it is resistant to mechanical damage from shocks and other factors. It's also worth noting that the disk's form is important. A square dwelling is found in only a few of the media on the market. The high strength has no bearing on the weight, which is 75 g in this case.
The most important features:
2.5 '' drive format
512 GB capacity
USB 3.1 disk interface
Write speed of 430 MB / s
Read speed of 440 MB / s
Samsung T7 - ​​a good SSD external drive
External SSD drives are extremely popular and relatively inexpensive. They have a fast maximum read and write speed as well as an attractive design. The metal housing adds a touch of class and provides protection from falls of up to two meters. PCs, Macs, Android devices, and game consoles are all compatible with the drive. The data on this drive is safe thanks to the 256 AES encryption technique, and it will most likely not fall into the wrong hands after encryption.
The most important features:
2.5 '' drive format
500 GB capacity
USB 3.2 Gen 2x2 disk interface
1000MB / s write speed
1050 MB / s reading speed