X570 FTW WiFi: EVGA with a second Ryzen 5000 mainboard
With the X570 FTW WiFi, EVGA has presented its second AM4 mainboard for Ryzen 5000 and Co. At just under 500 US dollars, it still costs a lot of money, but is much cheaper than the X570 Dark.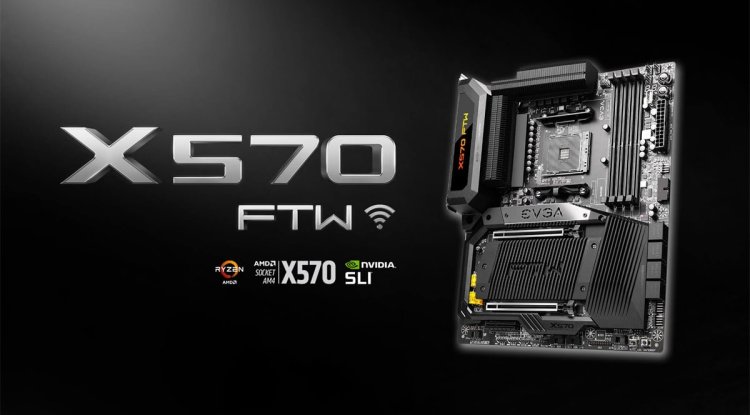 Photo Credits: EVGA
EVGA, best known for Intel mainboards, has introduced the X570 FTW WiFi, its second socket AM4 motherboard for Ryzen 5000 and other AMD processors. If the X570 Dark is aimed at professional overclockers, a somewhat broader enthusiast audience should be addressed here. Registered "Elite" members pay US $ 499.99 in EVGA's in-house shop. For the X570 Dark, EVGA still estimated it at the US $ 689.99.
In contrast to the Dark, where EVGA Extreme overclockers dealt with limiting signal interference, the X570 FTW WiFi offers the full four DDR4 DIMM slots. The manufacturer advertises this with "4600MHz +". Power is supplied via a 24-pin ATX and an 8 + 4-pin EPS connection. On the CPU side, a 15-phase VRM phalanx must be supplied. The whole thing is cooled by relatively large aluminum fins.
X570 FTW WiFi: Again no fan on "chipset"
Graphics cards are connected via the two PCI Express 4.0 x16 ports, whereby the X570 FTW WiFi only provides eight lanes when using two-pixel accelerators. The CPU provides four PCIe 4.0 lanes to an M.2 NVMe slot. Another M.2 NVMe Key M slot receives these lanes via the "chipset". Eight times SATA 6 Gbit addresses classic SSDs and hard drives.
The newer version of the X570 I / O hub comes as no surprise because it is fanless. In the connection panel on the back of the mainboard you will find two USB 3.2 "Gen2" (10 Gbit / s), one USB 3.2 "Gen2" with Type-C connector, and four, again with Type-A port, 5 Gbit / s "Gen1" connectors. The internal header provides two additional "Gen1" ports. The integrated audio solution uses the Realtek ALC1220 codec with an SV3H615 headphone amplifier. Network connectivity includes WiFi 6 and 1 GbE from Intel. Also on the plus side are two ARGB and RGB headers, a pump header, and a USB BIOS update port.