Xiaomi Mi Smart Bedside Lamp 2 - Very smart lamp
With a wide range of color temperatures - from 1700 to 6500 K, the lamp also has impressive support for as many as 16 million colors.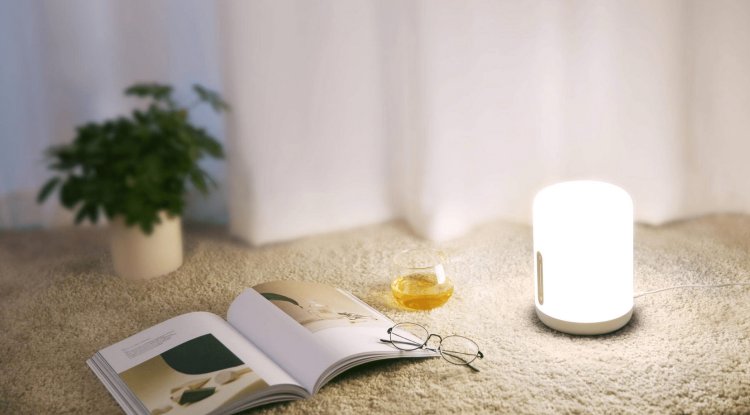 Photo Credits: Xiaomi/Promo
Very smart!
One of the leaders of this fourth industrial revolution is the technology company Xiaomi, which in recent years has been intensively expanding its portfolio of such "smart" home appliances. This time we present something that was unthinkable until just a few years ago - a smart lamp (lamp, LED light). Recall, Xiaomi debuted in the smart light segment in 2021 with the Mi LED Smart Bulb. And now it presents a complete lighting device - the smart lamp Mi Smart Bedside Lamp 2.
Mi Smart Bedside Lamp 2 has a very attractive, minimal, striking and timeless design, and if you have already seen any of the other products in Xiaomi's ecosystem, you will notice that it is very similar to them. The smart lamp has a recognizable cylindrical design and is made entirely of plastic. Let's add that the plastic is of exceptional quality and because of its finish, it looks like it is made of glass. And thanks to its plastic construction, it is very light and extremely strong.
The lower part of the lamp is made of opaque plastic and has a matte gray finish. There is a power input on it, into which a power plug is inserted, which, let's add, comes with a lamp. At the bottom, there is a rubber base that ensures a firm grip of the lamp on flat surfaces. In short, this is a very beautiful and unobtrusive lamp that is very well made, light and stable and can easily fit into any bedroom.
Installation
Mi Smart Bedside Lamp 2 is controlled primarily via a smartphone, but it also has a built-in control panel. There are two touch-sensitive buttons on it - the lower one is used to turn the lamp on and off, and the upper one has a dual function. With a short touch of this button, you can change the color of the light, while a long touch changes the mode, you change the colors in which the lamp will light. Between these two buttons is a slider, with which you can move your finger up or down to adjust the intensity of the lighting.
Let's add that you can turn on the lamp except on the power button and by touching the slider anywhere. While it may not seem like something particularly important, sometimes this option is useful if you need to turn on the lamp in pitch darkness. You can use Mi Smart Bedside Lamp 2 as an "ordinary" room lamp, but, as we have already mentioned, it is not an "ordinary" lamp…
Application
It is a "smart" device that can connect to the Mi Home application via WiFi and that's where the real fun begins. The setup process is quite simple, just as we are used to with Xiaomi devices. If you don't already have the Mi Home app, it's available for Android and iOS devices and can be downloaded from the Google and Apple stores. Let's add that users can also use the Yeelight smart lamp management app which provides a little more features. As for the basic Xiaomi application, Mi Home has a very simple and minimal, but very clear and concise design. When you start it, the home screen will appear showing all your paired Xiaomi devices.
With the standard Mi Home app, you can connect this lamp to the Yeelight app. It practically does the same thing with a lamp as Mi Home, but you will find an additional offer of lighting options in it. These include sunrise and sunset simulation, night mode, birthday party lighting, movie mode, romantic night light, home lighting and candle flicker simulation.
Mode of operation
As for the operation of the lamp itself, Mi Smart Bedside Lamp 2 supports three different modes of operation. So it can glow classic in white, but other colors from the spectrum are available, and it is possible to include a mode that changes colors every few seconds. As already mentioned, the brightness of the lamp can be increased or decreased by dragging your finger up or down the slider within the app, and note that the brightness can be adjusted with all three modes.
Mi Bedside Lamp 2 supports a really large range of color temperatures - from 1700 to 6500 K. Users can adjust the light temperature with the aforementioned slider, but we will add that this is only applicable to white light. With a wide temperature range, the lamp also has impressive support for as many as 16 million colors.
If you want to create a slightly different atmosphere in the home, Flow mode is available in the application, which can be used to select four colors and choose the speed of their change. Also, with the Mi Home app, you can set the time to turn the lights on or off, which is a very practical option. If you are bothered by the noise of the alarm clock every morning, maybe this is a better solution for you - wake up slowly with light… Add that Mi Smart Bedside Lamp 2 works great with voice assistants such as Amazon Alexa, Google Home and Apple Homekit, and can be controlled and voice commands.